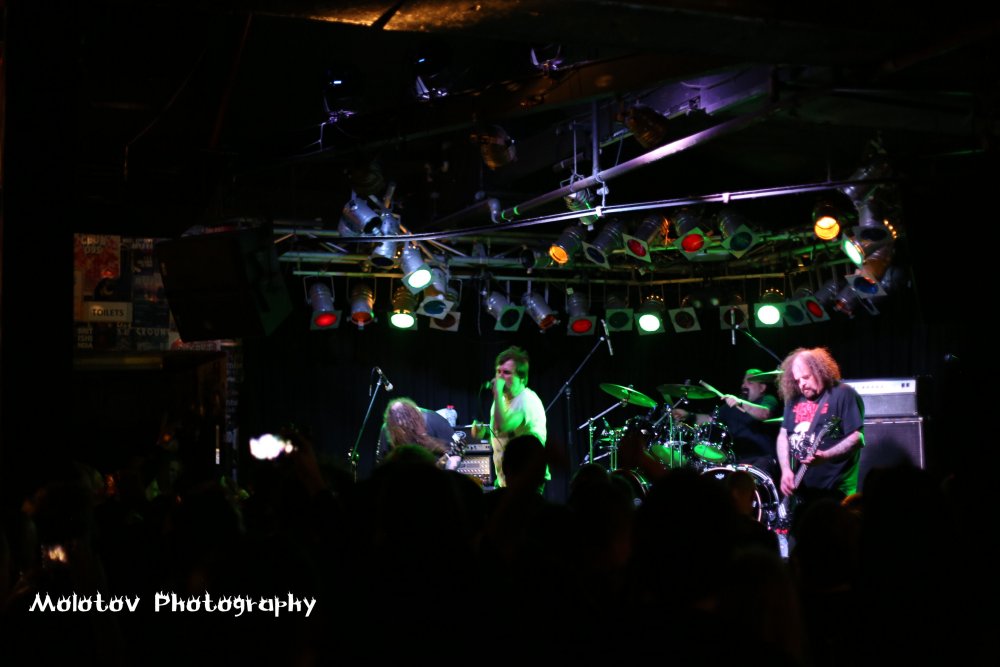 Campaign For Musical Destruction is the appropriate title for a tour that consists of some of heavy music's most brutally compounding and chaotic bands to walk the earth and seemingly only fitting that Australia gets to witness such an clash of bands that from the outsider, would be considered noise metal at best. But when you have a band like grindcore legends Napalm Death spearheading the whole thing followed by Lock Up, Brujeria and Black Rheno, there's nothing more to do than sit back and enjoy the undiluted craziness at hand.
Thrown into the mix for the tour were rising heavy hitters Black Rheno who hail from Sydney and who ultimately more than held up their own, a mash of frenzied attacks that instigated hard moshing in dangerously wide spaces and a hint of groove and hooks. Their second time in Perth showed an increase in ferocity, a sign of both added experience and a willingness to hit the floor and give it 110 percent no matter what the consequences. Sometimes that's the way to go to convince an unfamilarised crowd that you mean business and by the end of their set, Black Rheno proved they are heading for bigger things in the future.
Dubbed a "supergroup" by some obscure inner circle of fans and press, Lock Up are a brutal grindcore act that features the first of 3 performances of the night by Napalm Death bassist Shane Embury who pulls triple duty for the night (set to appear with Brujeria next) and consists of drummer extraordinaire Nick Barker, guitarist Anton Reisenegger and led by frontman Kevin Sharp who all click together like a set of lego pieces, all different in their own way but easily works. It was very much a case of come in, tear the place apart and then drop and leave. While a deep appreciation was felt by Kevin through the set, stating how remarkable it is that the band are still doing this after so many years and in Australia of all places, it was a contrast to the onslaught of riffs and tyranny of grinding hardcore metal seen  and heard from the stage. A definite highlight for the band's first ever tour in the country.
Mexican extreme metal act Brujeria are no strangers to Aussie fans even though this is also their first time on Aussie soil collectively. Brandishing a sound that mixes modern groove metal, grind and hardcore all in their native language, the 5 piece which can feature a revolving cast of numerous well known musicians at any time were set to make their mark in Perth and leave a sizable impression on the by now packed crowd. A return to music after a long absence also saw the result of a new album in "Pocho Aztlan" which was added to the set that consisted of fairly hefty political and socially poignant based songs (A humerous '"Fuck Donald Trump" chant one of the results of this!) but musically overall it had enough meat on the hooks to really drive in the point of how Brujeria have already made their mark on the musical world platform.
What's left to say about UK grindcore veterans Napalm Death after more than 30 plus years of musical brutality? A regular on the Australia live circuit has given us not only a deep appreciation for the band's chaotic live set but also a reminder each time just who rules the roost when it comes to this form of heavy music. The punk rock in Napalm Death will always be there but it continues to be bathed in beautiful and ironic forms of horrific grindcore metal that speeds along frenetically and switches tracks almost blindingly without cause or reason. It's that very nature that leaves others totally bewildered at the sheer wall of sound that eminates from the stage that Mark "Barney" Greenway struts back and forth like a wild man on, a sound by the way that has not waivered one bit in all the years they have been around.
2015's "Apex Predator – Easy Meat" was the last album from the band and also was the last time they hit Australia. They kick things off with the title track and from there it was a varied mix of this, that and the other from a back catalogue that stretches to a sizeable length. "Smash a Single Digit" is a highlight from that same album and it made an early entrance into the set, much to the delight of the crowd who by this stage had gone full mental in the mosh area. The last time Napalm Death played this very venue at Amplifier Bar was 2010 and to say it was one of the craziest shows ever, complete with smashed glass on the floor and bodies flying everywhere is an understatement. While it was a tamer affair this time around, those in the pit would probably argue otherwise as they enjoyed Napalm Death ripping through old and new – "Scum", "Suffer The Children", "Dear Slum Landlord" and an extra heavy dose of the Dead Kennedy's "Nazi Punks Fuck Off" all sounded as brutal as ever and once again we bared witness to another gloriously chaotic set from the boys from Birmingham who at this stage of their career, look nothing close to resembling any hints of slowing down at all.
PHOTO GALLERY
Photos by Tammie Molotov – Molotov Enterprises & Photography
NAPALM DEATH, BRUJERIA, LOCKUP & BLACK RHENO AUSTRALIA TOUR
Oct 4th – Auckland, Kings Arms*
Oct 6th – Hobart, The Goods Shed*
Oct 7th – Adelaide, Fowler's Live (The New Dead Metalfest)
Oct 8th – Perth, Capitol
Oct 10th – Melbourne, Max Watt's
Oct 11th – Sydney, The Factory
Oct 12th – Brisbane, Max Watt's
*BLACK RHENO not performing
TICKETS ON SALE at Soundworks Touring.