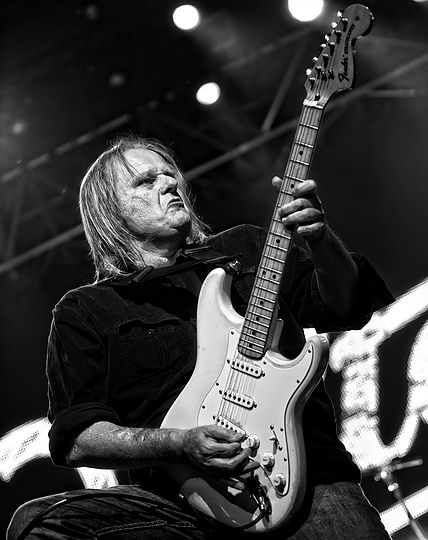 Walter Trout has had a long and varied career which began on the Jersey coast scene of the late 1960s and early 1970s before he decided to relocate to Los Angeles where he became a sideman for Percy Mayfield and Deacon Jones. During that decade he also worked in the bands of John Lee Hooker and Joe Tex. In 1981 he became the guitarist for Canned Heat which in turn led to an invitation to play in John Mayall's Bluesbreakers where he shared the stage with fellow guitarist Coco Montoya. He left the Bluesbreakers in 1989 and formed the 'Walter Trout Band' which developed a successful following in Europe.
Drafting fourteen A-list stars – including Joe Bonamassa, Kenny Wayne Shepherd, John Mayall and Randy Bachman – and writing an original song for each, Trout has made the most tantalising album of the year, and found solace after a run of solo albums that chronicled his near-fatal liver disease of 2014. We caught up with him to talk The Blues…
Mark: Thank you so much for talking the time to talk to The Rockpit today Walter. I love your new album 'We're All in This Together'. You must be eager to see it released?
Walter: I'm looking forward to getting it out there, seeing how it goes, hearing people's reaction. I'm kind of in a holding pattern now just waiting for it to get out to people.
Mark: Before we get into the album I have to ask about another Blues project which you guested on. You previously played with some of your guests on this new record a couple of years ago on Fabrizio Grossi's The Supersonic Blues Machine album, which I loved, how did you get involved in that project?
Walter: I've known Fabrizio (Grossi) for a long time and he just called up to say he was doing an album with Lance (Lopez Are) and Kenny Aronoff played on two of my studio albums, so I'm a good friend of Fabrizio, a good friend of Kenny and a good friend of Lance. And he just called up told me they were working with Billy Gibbons and a few other cats, and to e it was a no brainer – you don't say no! So I just said where do I need to be when!  I have to say that after my illness that was my first time being back in a studio and it felt great.
Mark: 'We're All in This Together' sees musical guests playing songs you've written with them in mind. You've done something similar before in 2006 you released the 'Full Circle' album – an album where you enlisted a host of great musicians you'd worked with in the past. I understand that originally this album was to be called 'Full Circle 2' what made you change the title?
Walter: Because the concept of the original 'Full Circle' was that anybody that wanted to play on that album had to be done in the studio and play live, that album was all done live. There were no overdubs. I had a few people that said I'd really like to pay on the album would you send me a track and I had to say no. "I have a studio in L.A. that has a big room, we're gonna set up, we're gonna look at each other and we're just gonna play it. That's the way it's gonna be". It's not like that on this album guys like Warren Hayes really wanted to play on the album, he asked me to send him a track as he wasn't going to be in L.A. for a while, same with Kenny Wayne Shepherd. The guys that actually came in the studio were Joe Bonamassa, John Mayall, Edgar Winter and my son, so there were four in the studio with us. Sonny Landreth, a good friend of mine asked me for a track wasn't going to be in L.A. so we couldn't call it 'Full Circle 2' as the whole concept of that album was playing live together.
Mark: Well I think it's a great title 'We're All in This Together' especially the way the world is today. Your last album 'Battle Scars' from 2015 was a pretty intense recording, dealing as it did with your illness. Was it good to just get back to letting it all hang out and enjoying the Blues on this one?
Walter: That's exactly the reason I came up with the concept. After 'Battle Scars' that was so heavy and so intense and so emotional and confessional and deep I just really wanted to sort of have some fun. I didn't want to be in the studio weeping at every vocal line that I sang. So it was really that I wanted to do something completely different. So instead of crying at the end of the album I hope that you're smiling.
Mark: I certainly am, I'm playing it back to back. When did you start to write the material?
Walter: Well I wrote the material depending on who we had lined up to play. Like I would say tomorrow I'm gonna go in the studio and play with the band and lay down some basic tracks, so I'd look on my list of who had agreed to play on the record and I would just go down the line and say "OK we need a song for Kenny Wayne, we need a song for Eric Gayle". Then I'd think well what do you do with Kenny Wayne? He's a Blues rocker like me but he but he comes out of the Blues like me, and he's a guy that started playing Blues and then he's taken it somewhere else with his roots. So for him let's write something Bluesy. Eric is more of kinda like a Funk and fusion kinda guy so write something kinda funky for Eric. Something that's gonna fit the style of each guest. And there were certain guests where it was like – I don't know what to write for this guy! I mean Edgar Winter – that guy does everything! So I listened to a lot of Edgar one night and he told me he that he didn't want to play keyboards he just wanted to play sax so I had to write something that was going to be conducive to a saxophone solo and something for him to sing on so it would be great to have a chorus where he and I sing harmony together. So it was really a matter of sitting down for a while thinking about who you're writing for. I didn't want to write a bunch of songs and divvy them out, each song is written with that artist in mind. Except for Warren which of course the reason we did that one (the cover of Elmore James' 'The Sky Is Crying') was I played with Gov't Mule at the New Orleans Jazz Fest and we did 'The Sky Is Crying' and we tore it up. I had dinner with him and Robben Ford in L.A. we went out for dinner when we did a photo and video shoot for The (Supersonic) Blues Machine and he and I were talking about when we played that song and we ripped it up and we said we should record it, why not!
Mark: I know it's hard to talk about favourites, it's a bit like choosing your favourite children, but for me I guess…
Walter: My favourite songs on there sort of depend on which day I'm listening to it. Song-wise I really like the one with Mike Zito and the song with Edgar because they were really melodic – we had choruses that had harmonies and were more an attempt at song-writing and creating something. Some days if I sit down and listen to the cut I did with John Mayall I lose it because he's like my father, my love for him and my respect for him is so deep and we're singing a song that I had actually written the lyrics to years ago which is about my best friend in my life, well except for my wife, she's my best friend, Jimmy Trapp who was my best friend for 30 years and who started my band with me and who died in 2005 basically from drinking. So it's taken me along time to be even able to sing that song without losing it. So when I'm doing that song with my surrogate father singing about my best friend that really gets me.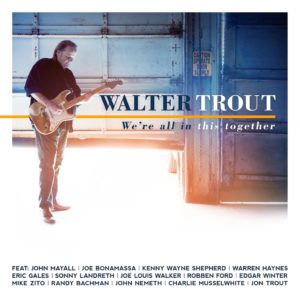 Mark: That's so intense. Some great songs, some wonderful performances across the board from as you mentioned the quite commercial sounding song with Mike to the wonderful one that I can't stop playing at the moment – the cut with Sonny Landreth – man what a slide player that guy is!
Walter: You know I have said this in interviews and I will say it to you Sonny Landreth is the greatest slide guitar player that ever existed in the Universe. I just did a gig with him about five days ago and I was hanging out with him. I always embarrass him, I'd say "Sonny man, are you like an alien from another planet, because what you do on that guitar is not human!" Nobody plays like that guy! When we're done look up a song of his called 'Pedal to the Metal' and listen to that and tell me that that guy is even of this earth! He's fucking on another planet man! There's him and then there's everybody else he's in a class of his own! And he's a dear friend, the nicest guy, and the thing that blows my mind is he doesn't even know how good he is! He gets embarrassed when I tell him and when he sent me the track he called me up and he's from Louisiana and he said (Note: At this point Walter puts on a passable Sonny Landreth impression and I can attest it was pretty good as I only spoke to him last month!) "Walter I did the song, and I don't know if it's any good. Man if you don't like what I did, you just let me know, I won't be insulted and I can do it over again until you like it, 'cause I can't tell if it's any good." And I listened to it and I thought "What the fuck man you're out of your mind this is awesome!" And that's my wrap on Sonny, he's mind blowing!
Mark: He's a lovely guy, when I spoke to him a short while ago he mentioned he'd played on your album and had similarly nice things to say about you too.
Walter: Oh that's nice because you know what I've played on stage with him a few times and I stood right next to him and I watch him play and I tell him "I'm watching you play and I still don't have any idea what the fuck you're doing! And I'm a guitar player!" (laughs) And I've been up there with some great guitar players but he's unique man! Nobody plays like that guy, nobody.
Mark: If you wanted to describe all that the Blues means to you to someone who had never heard it what song would you play them?
Walter: I would play them 'Dark Was the Night, Cold Was the Ground' by Blind Willie Johnson – that tome sums up what the Blues is and that is as deep a piece of music that anything Beethoven or Stravinsky or Miles or Coltrane ever did. That is one of the heaviest, most emotional, deep and devastating pieces of music I have ever heard in my life.
Mark: A wonderful song and one of the very greatest Bluesmen.
Walter: The depth of spirituality and commitment in that song the crying out of a man's soul, just thinking about it I'll start crying. That to me is what the Blues is – that song.
Mark: Thank you so much for taking the time to talk to The Rockpit today, you've got a wonderful new album out on September 13th 'We're all in This Together' which we suggest everyone runs out there and buys. There's so much more we could have talked about so we hope to talk again next time.
Thanks a lot man and thank you for supporting my music I appreciate it.
We spoke to Walter Trout on August 11 2017