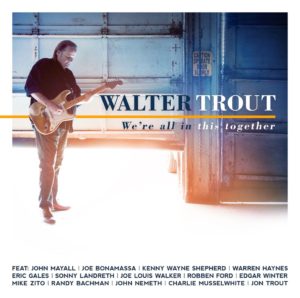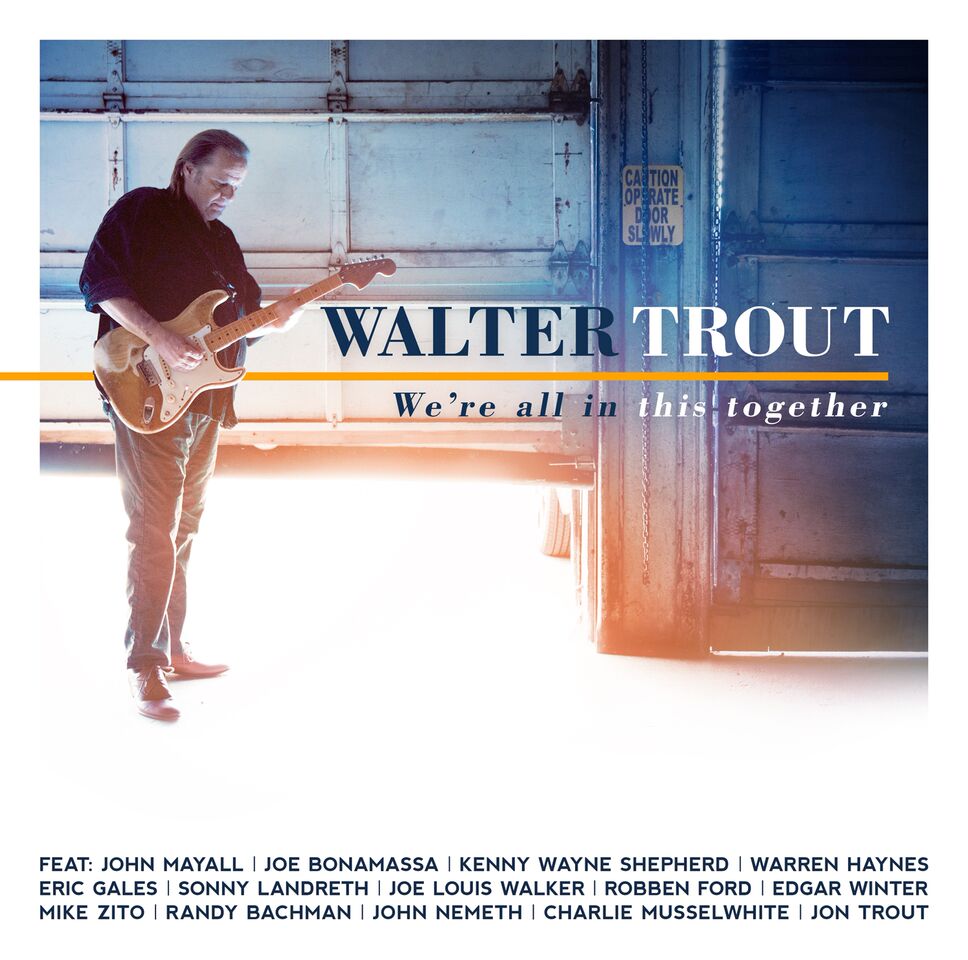 Way, way back as a kid when I was discovering Rock music by rifling the album collection of my best friend's brother which contained all the classics from Thin Lizzy, Quo, Heep, Hatchet, ZZ Top and more I stumbled across an album that wasn't quite the hard rock staple he usually bought – it was my first introduction to the Blues – The Walter Trout band's 'Life in the Jungle'. Even though my limited funds initially stunted my exploration of the genre that record and those sounds stayed with me and even though these days you could hardy call me an aficionado I know what I like.
After an intense previous studio outing on 2015's 'Battle Scars' – an album that dealt with Walter's illness and near death which left you weeping after taking you on an emotional roller-coaster ride this year's 'We're All In This Together'  is an entirely different side of the Blues – focusing on the joy of the form in all its variety rather than the pain. Both albums though show the power of the music that after all birthed every major musical genre of substance that followed.
On 'We're All In This Together' the concept is simple but beautiful – take a bunch of well known Blues musicians as guests and write a song for each of them that showcases their individual style then using the wonders of modern technology send the that track and let them go to town.
The thing that hit me hardest though about 'We're All In This Together' from the first listen wasn't the wonderful cameos, nor the searing solos from the likes of John Mayall and Joe Bonamassa it was the sheer quality of the songs. Songs that highlight all kinds of aspects of the Blues from the more traditional and earthy to the almost Blues pop of tracks like the collaboration with Mike Zito 'She Listens to the Blackbird Sing' which may even be my current favourite here.
With only one cover version, the blistering 'The Sky Is Crying' (featuring Gov't Mule's Warren Haynes) the rest of the album is packed with 13 stunning originals that range from the perfect radio friendly 'She Listens to the Blackbird Sing' through the fiery Blues rock of tracks like 'Gonna Hurt Like Hell' (featuring Kenny Wayne Shepherd) and the even rockier 'Got Nothin' Left' featuring Randy Bachman. Then there's the more traditional Delta Blues of 'Blues for Jimmy T' that John Mayall elevates with some wonderful harp, and a wonderful instrumental 'Mr Davis' which Robben Ford simply owns.
Elsewhere there's time to get funky with Eric Gales on 'Somebody Goin' Down'; soulful with Edgar Winter's sax on 'She Steals My Heart Away' and sublime as Joe Louis Walker shuffles off 'Crash And Burn'. On an album this good it seems disrespectful to miss any track out and I have to particularly single out Sonny Landreth's slide playing on 'Ain't Goin'Back' which is almost worth the price of admission alone.
This album quite took me by surprise as I said, Walter Trout as a songwriter and singer here is at the very top of his game and this isn't just one of my favorite Blues records of the year, it's one of the best albums of the year period.
Tracklisting:
1. Gonna Hurt Like Hell (feat. Kenny Wayne Shepherd)
2. Ain't Goin' Back (feat. Sonny Landreth)
3. The Other Side Of The Pillow (feat. Charlie Musselwhite)
4. She Listens To The Blackbird Sing (feat. Mike Zito)
5. Mr. Davis (feat. Robben Ford)
6. The Sky Is Crying (feat. Warren Haynes)
7. Somebody Goin' Down (feat. Eric Gales)
8. She Steals My Heart Away (feat. Edgar Winter)
9. Crash And Burn (feat. Joe Louis Walker)
10. Too Much To Carry (feat. John Nemeth)
11. Do You Still See Me At All (feat. Jon Trout)
12. Got Nothin' Left (feat. Randy Bachman)
13. Blues For Jimmy T. (feat John Mayall)
14. We're All In This Together (feat. Joe Bonamassa)