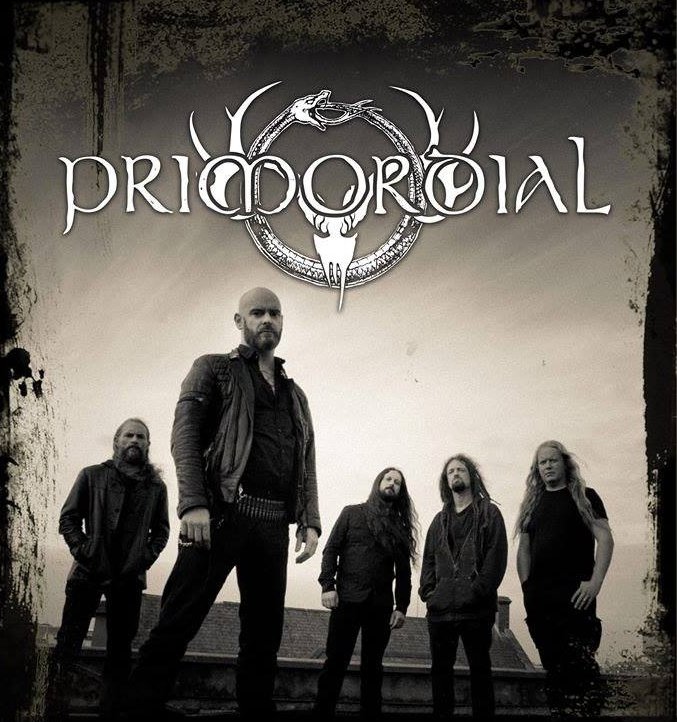 Irish pagan black metallers, Primordial make their Australia debut this week with 2 exclusive shows in Melbourne and Sydney and we caught a few words our way from the band ahead of the shows.

On Primordial's first time in Australia and what can be expected at the shows:
Just an intense and long show! Expect songs from almost all the albums stretching back to the beginning of our career. It's 5 guys on a stage. I'm not gonna dress it up in loads of cult and ritual language but it should be intense and emotional. Let's rouse the rabble…..
On previous shows with other Australian bands and first impressions of Aussies:
Haha wow there's a question. Ah it sounds like a cliche but usually the Irish and Aussies will find each other in a crowded field of other nationalities at a festival. Of course we have shared characteristics, ideals and sense of humour. We always feel more of a kinship with Aussies than most, as uncouth as you all are!
On how Primordial will be spending their time in Australia and whether there will be time for sight seeing:
Some will, some won't. May surprise you but Primordial is not a professional band. There's work issues involved in just taking a holiday down under and then missing shows in Europe or North America. We can't really do as we please sadly.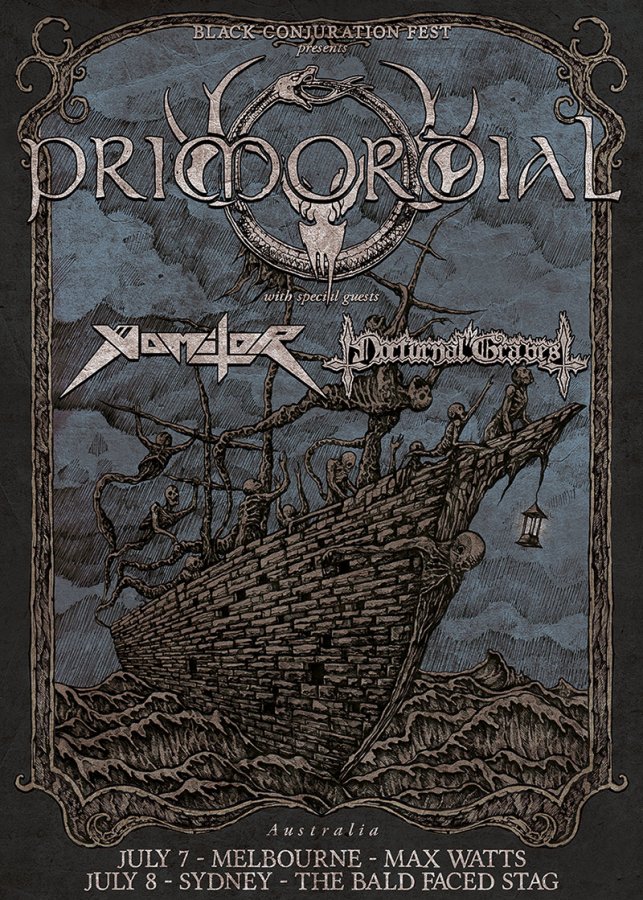 Primordial are unique in that they were the first black metal and to come out of Ireland where the country is not always known for breeding extreme metal. Blending traditional black metal that takes influence from pioneers such as Bathory and Celtic Frost with historical roots in Celtic folk music, the band's music is extreme on both ends of the spectrum. The early beginnings of the band go back as far as 1987 but it wasn't until the 1990's when the band started to really take shape and recordings taking place starting with the debut record "Imrama" in 1995. Since then Primordial has evolved into many different things, retaining the harshness of their roots but incorporating more melody and folk elements, more recently with the album "Where Greater Men Have Fallen".
On how the sound has evolved over the years in Primordial:
Hard to say, I think you can hear we are the same band since the demo. Just a natural progression as people and musicians. I don't feel confined by what metal is and we had no embarrassing electronic period. I've never felt it anything but natural.
Catch the band at 2 shows only in Australia this week.
BLACK CONJURATION FEST PRESENTS:
PRIMORDIAL
Exclusive Australian Performances, July 2017
Friday, July 7: Max Watt's, Melbourne – Tickets
Official Event Link
Saturday, July 8: The Bald Faced Stag, Sydney – Tickets
Official Event Link