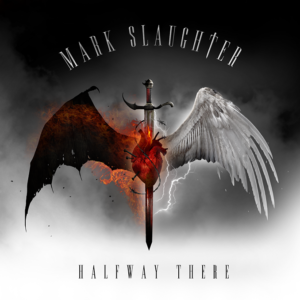 Back in 2015 after being in the business since the eighties Mark Slaughter released his first solo album 'Reflections in a Rear View Mirror' which we thought was a very fine debut and more diverse than you might have imagined. Indeed we called it "A great debut that lovers of Melodic Hard Rock should check out now". A couple of years later album number two is here and you could argue that 'Halfway There' is even better.
If anything 'Halfway There' is even closer to the more familiar Hard Rock sounds of Slaughter classics like 'Stick it to Ya' and 'The Wild Life' than his debut and on tracks like 'Hey You' and the emotional title track 'Halfway There' he shows he's lost nothing and gained much over the years. But there is of course more to it than echoes of the past and there's a maturity here that Mark hinted at on 'Rearview' and at times even a Progressive leaning like on the more metallic 'Devoted', 'Conspiracy', and 'Reckless' a trio of songs that really push the boundaries of his song-writing and add more Metal into the mix at the same time.
Last word here goes to the rather splendid 'Not Here' a song that starts out wearing Beatles influences on its sleeve before morphing into a refined guitar-led reflective ballad that shrieks class. It's a great way to end an album where Slaughter has again done it all – from the wonderful vocals to handling all instruments, song writing, production and engineering.
We love this even more than that wonderful debut, let's hope as far as a solo career goes we're nowhere near 'halfway there'…