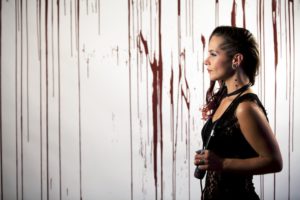 Metalocalypstick Fest is a Western Canadian outdoor festival that doesn't just  celebrate heavy metal, but embraces the power of women in metal. Held this year on Canada Day weekend on July 1st and 2nd, the Festival also gives back to the community by being a non-profit organization dedicated to raise funds and donating 100% of proceeds to local charities Girls Rock Camp, Vancouver Rape Relief and Women's Shelter, Earth Protectors plus sponsoring an independent band picked by Metalocalypstick Fest judges.
Festival organiser Kaija Kiinney is pretty excited about this year's lineup stating in a press release that if you think music on vinyl is heavenly then try listening to music surrounded by mountains! An intriguing thought given that some festivals around the world can look pretty ordinary when surrounded by dirt and mud and not much else. But that's one of the beauties of Canada is it's location, so it seems logical to organise a festival like Metalocalypstick in such an environment. So how did it all start?
"This all started with me researching festivals to apply to for my own band", explains Kaija. "I soon realized there aren't many female based music fests in the world. So naturally I decided to create one."
Organising such an event takes a lot of work. In Australia John Sankey (ex-Devil You Know drummer) has been trying for the past 2 years to get the Legion Music Festival up and running after the massive loss of Soundwave Festival. As John told us last year, he didn't have much experience organising a festival much like Kaija herself.
"This was my first big event that I have organized, I would say the most difficult part is finding the perfect venue and giving up every second of spare time in order to organize the small things." Ultimately though it was rewarding given the kind of feedback from both the fans and bands involved last year as Kaija tells us. "Both bands and fans involved with last year's fest have expressed how fun the fest was and how beautiful the area is!
Women in rock and metal has come a long way over the years, from pioneers like Doro Pesch and Lita Ford to bands like Lacuna Coil and Nightwish. I ask Kaija how she views women's role in today's metal and rock scene where it's much more common now compared to what it was like many years ago.
"I view woman in music as a very inspirational and empowering self evolution. Metal has typically been very male dominated and still is. Its viewed as masculine and aggressive which apparently isn't "Lady Like". But, well I don't tend to hang around many gals that are "Lady Like" and I feel like women are embracing metal and getting involved more every year. It's really all about inspiring more women that do want to get into it whether they are fans or musicians."
As much progress that there has been with women's role in rock n' roll over the years, it can still be looked at as a fairly male dominated genre. Is there still a stigma among female based bands today though? Many would say yes and so with that comes many challenges which women face in an already challenging music industry but one of the interesting things Kaija brings up is the difference between rock and metal.
"I mean without going off on the obvious reasons like women being sexualized everywhere they go. That for me is a huge thing. I find with any male dominated industry you'll get that. There are more women in rock music but I think that women in metal they tend to be a bit safer in that regards. Metal heads are super chill and accepting. There are meatheads everywhere you go."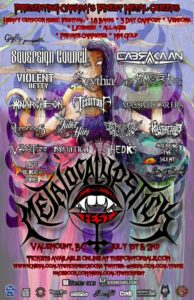 As mentioned before, there has been many pioneers for women in rock and particularly in metal. The range is pretty astounding especially in the vocal department, going from more straight edged singers to seriously harsh vocalists that push the boundaries even further. I remember the first time hearing Arch Enemy with Angela Gossow and at the time never even thinking it was a woman doing those brutal vocals which made me think who was the most influential woman in heavy music.
"I think this is really subjective, especially depending on the era you grew up in", says Kaija. "There has been many who paved the way in hard rock etc. For me it and the type of metal I liked I leaned more towards Otep, Sandra Nasic of Guano Apes, Cristine Scabbia of Lacuna Coil, Krysta Cameron of iwrestledabearonce, Angela Gosow for Arch Enemy. These ladies all have harsh vocals Incorporated into the music. That to me is super cool because it's thought of as "manly" and very deep voiced. I see people still being surprised at female vocalists that do this."
Kaija herself is in a band, Anarcheon and one of the main reasons the festival was started in the first place. As the vocalist in the band, her influences aren't just coming from the typical female voices in rock but also from the more growly and harsher tones of the more extreme metal bands as well as a bit of variety of other musical styles which led her to being part of the music world.
"I've always wanted to be a singer", Kaija states. "So naturally I suppose I gravitated towards the musical crowd in high school etc. My hugest influences or inspiring artists would be The Black Dahlia Murder, Dillinger Escape Plan, Parkway Drive, Eminem and probably Fleetwood Mac. Random but these bands came into my life when I needed them and really expanded my musical journey."
Anarcheon are also from Vancouver which seems to have a great music scene at the moment. Canada as a whole has also produced some brilliant bands over the years, both in the underground and the mainstream including such acts as Annihilator, Exciter, Anvil, Devin Townsend, Voivod and…well there is Nickelback but hey, you win some, you lose some! While some may not be too familiar with the Great White North's metal and rock scene right now, Kaija thinks things are changing and that the scene is becoming more accepted.
"I believe it's thriving and growing. People are getting sick of the same old radio crap. I see people become open to metal all the time, it's beautiful. It's also very misunderstood and most are pleasantly surprised they can find either a band or a genre in metal/hard rock that they like."
Sounds like the future is looking good for metal in the red and white nation! With a growing metal scene and the success of the festival so far, the obvious goal would be to try and keep it running every year which we hear is ultimately what will be tried to be achieved.
"We absolutely will be keeping this going every year", says the festival organiser. "We are hoping to be able to create enough funds with the foundation to donate to charities as well as sponsor an independent band each year."
So with that being said, can music change the world?
"Music can absolutely change the world. The beauty in it is that it's a universal language. It brings people together and unites the farthest reaches of the world without speaking a word."
Metalocalypstick Festival
Day and weekend passes plus camping available at http://metalocalypstickfest.rocks/tickets/ 
Ride Share – www.facebook.com/groups/metalocalypstickfestrideshare/
Event Page- www.facebook.com/events/1158984924137688/