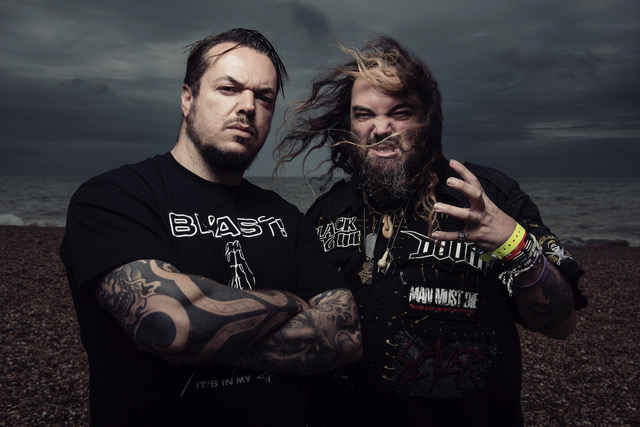 The mighty duo of Max and Iggor Cavalera [Sepultura, Soulfly, Cavalera Conspiracy] are returning to Australia to perform the Sepultura classic 'Roots' album in it's entirety in celebration of it's recent 20th anniversary. With a new Cavalera Conspiracy just announced for November, there was much to talk about as we chatted to drummer Iggor Cavalera about the iconic Roots album and more. Check out our recent interview with Max here.
Andrew: How has the tour been going so far? How has the crowds been responding to the tour so far?
Iggor: It's been amazing. I mean, we've already done South America, North America. We did a bunch of festivals in Europe, some club shows also in Europe, Canada. So it's been all over, so the reaction's been crazy from like old fans to new fans who never had a chance to see it. So it's a pretty cool combination of both.
Andrew: Oh, that's good to hear. I remember though when the album came out back in 1996, and I remember hearing it for the first time. And I was already familiar with a lot of your stuff at the time, but when I heard 'Roots' I just went, 'Wow! This is really amazing and very different for its time.' Looking back on this album 20 years later or 21 years later how do you feel about the songs? Do you think it still sounds really fresh and modern?
Iggor: Yeah, I mean, they are very energetic songs so to perform them live is really cool because it does have a lot of energy from that time that we can still translate to today, and it really stands the test of time. It's still a very powerful record and that's very cool for us.
Andrew: And how are they translating live today compared to how you played them live 20 years ago? Has much changed or have you made them evolve on stage over time?
Iggor: It's cool. I mean, it's different because we do play the whole record whereas when we toured the first time we only played a few songs. So it's really cool how we can still do as a whole show from beginning to the end as we've been listening. It's actually listening to the album so it's quite a challenge to play a record from beginning to end but I really enjoy it.
Andrew: Yeah, and  it's something that I guess has sort of become a little bit popular amongst a lot of bands who are now celebrating different anniversaries for certain albums. Some of the bands are sort of   twisting things around and playing the albums from back to front or mixing them around. How have you been approaching it? Have you been playing them from start to finish or are you mixing it up?
Iggor: Yeah, it's the whole thing so it's like exactly as if you put the needle on the record.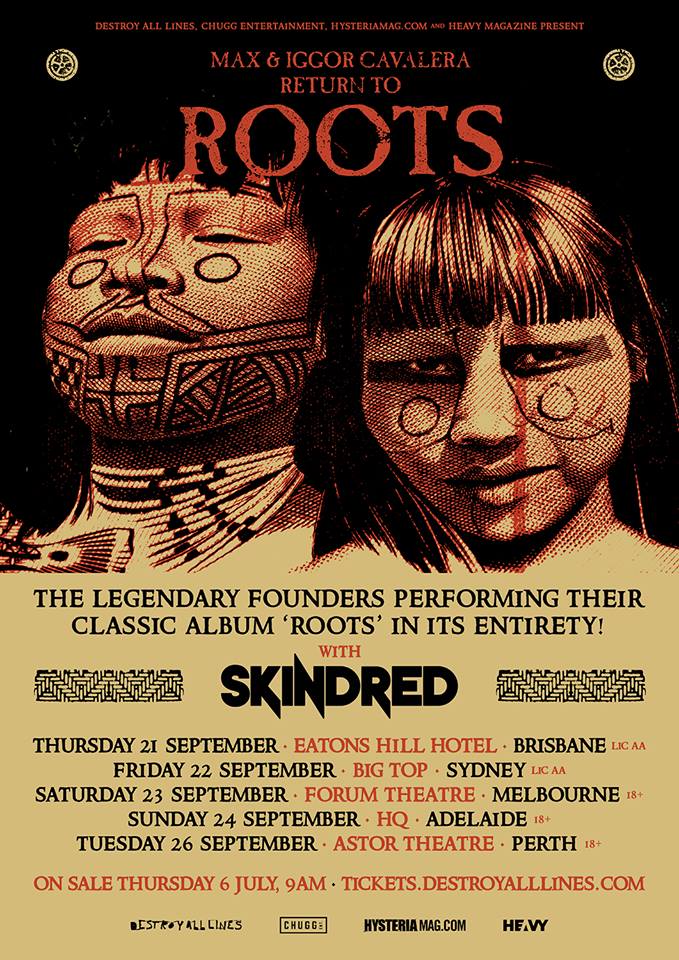 Andrew: Yeah, because listening to that album again now it seems like that album really had a very lively sort of feel. Was that the sort of approach hat you had when you wrote and recorded that album?
Iggor: Yeah, I was trying to capture the atmosphere of us playing in a room and also the whole thing with the Xavante tribe of going to a place and having that vibe of what we had in the jungle brought to the record, so all those things were just super important. And I think that's why it is a great record to reproduce live because it was based on the live performance.
Andrew: I wanna ask you about the Australian connection and I don't know which song it is, if it's even on the Roots album or if it was from another album. But you had done something with the Aborigines around that time. Can you explain to me a little bit about how that happened and which song it was, because I can't remember which song it was?
Iggor: No, we actually never wrote or recorded with the Aborigines in Australia. So it was more later on when we did a tour we did a special package for one of our records with the Aboriginal flag on it, but musically, we didn't get to experience that with them.
Andrew: Oh, okay! Because I know that you've done a lot of stuff with different tribes and stuff like that. So how was that working with that kind of thing on Roots? That must have been very interesting.
Iggor: It was. It was an exchange, that's the most important thing. It was not just us going there and appropriating of their heritage; it was exchanging ideas and writing music together. So that was the most important thing. That was the main idea behind it, it was if we could write a song that could represent the deepest way of going through the Brazilian roots to the natives to the Indians. So that was the whole idea behind.
Andrew: What inspired you to do that? Was there anything in particular that made you decide you want to incorporate a lot of that kind of stuff on the album?
Iggor: I think it was when Max came up with the name Roots, that's where it triggered a lot of those ideas. I remember we were like, 'Yeah, how deep can we go?' And the deepest we could record was with a Brazilian tribe so I think the name itself triggered a lot of those ideas.
Andrew: They are very cool ideas as you said. Now, one of our other writers recently spoke to Max just the other week about the new Cavalera Conspiracy album, so I've got to ask you about that. He said that the album is done, so is that true?
Iggor: Yeah I think it should be released in November. They have all the masters already, the album cover, everything. So November we're gonna have Cavalera record out.
[editors note: has now since been announced for November 17th – 'Psychosis']
Andrew: What can you tell me about the album? How does it differ to some of the other Cavalera Conspiracy albums you've done in the past?
Iggor: It's a very happy record. There's a lot of different influences. And it's hard to put in words right now because you haven't heard it, but I have to say a lot of people are gonna be surprised on how happy it is. It's a super happy record with a lot of different elements to it, so it really represents what me and Max are thinking about right now as musicians.
Andrew: It's interesting because I've been obviously following Cavalera Conspiracy since when you guys first got together. And initially it's sort of had a very punk sort of feel which has sort of evolved into something a bit different now. So is that something that you're very conscious of, the fact that each album keeps being very different from one another?
Iggor: Yeah, I think that's kind of how me and Max like to keep moving with our influences, with our ideas, and of course that translates when we write a new record and that's very different from each other.
Andrew: I definitely love what you guys have been doing for the last few albums. There's one question that I've been meaning to ask you for ages actually , and it has to do with your drum set up and the way you that have it set up, especially with the toms which I find quite interesting and unique. Can you tell me a little bit about what the story is behind that? And is that something that's sort of based around the kind of music you play or just a certain style you love to play?
Iggor: Yeah, it has a lot to do with the fact that I play a lot of my rhythms on the toms and trying to keep those vibes. So I try to set up my drums around that so I can be as comfortable as possible. So it's not a typical drum set up like other typical rock drummers we have; I have more of a percussive way of looking at drums rather than, I don't know, like the typical kick and snare in toms and stuff so I like to set up a little more like a percussion stand that I can play drums on it.
Andrew: Is that something that's also evolved overtime as well or is that something that you sort of conciously decide that you needed to change the set up?
Iggor: Yeah, it's something that I've been experimenting with for a long time, I think it's never gonna stop changing. Every album I do I try to do more and create more with the drums and sounds and tunings and all those things.
Andrew: How did you get into drumming in the first place? Was there a particular drummer when you were growing up that sort of inspired you to pick up the sticks and start banging around on the kit?
Iggor: No actually, I was really into drumming before I even start listening to bands. I was listening to like Samba rhythms and exploring those beats on the drums. And then later on over the years I started getting into more like bands and then of course drummers like Philthy from Motorhead and later on [Dave] Lombardo from Slayer but before it was just the drums itself.
Andrew: Is there anyone in particular at the moment that you think is doing something pretty unique or special as far as drummers are concerned?
Iggor: There is actually. There's this band called Full Of Hell and I think the drummer is just one of the most amazing drummers I've seen in a long time so you guys need to check him out, he's amazing.
Andrew: Okay, cool. I think I've heard of that band before. Where are they from?
Iggor: They're from America. We just did a tour with them and they're completely amazing. A very young band with a lot of energy.
Andrew: Okay I'll definitely check them out. What do you look for in drummers who are looking to push the boundary, so to speak? Is there anything in particular you look at and you go, 'They're doing something a little bit different?'
Iggor: I think it's more about the energy than the technique. For me, that's the most important thing is that you have the right energy. The technique comes with time. I think the energy is something that you really need to have it in you, how to play every gig in the pocket. So that's what I look at on any drumming from any style of music.
Andrew: Well, it's been great chatting with you, I really appreciate your time. Do you have last words for the Australian fans before you come down in September?
Iggor: I'm super excited and I hope to see all you guys in the pit!
Destroy All Lines, Chugg Entertainment, Hysteria Magazine and Heavy Magazine present:
Max and Iggor Cavalera: Return To Roots Australia tour

TOUR DATES:
Thursday 21 September: Eatons Hill, Brisbane – Lic A/A
Friday 22 September: Big Top, Sydney – Lic A/A
Saturday 23 September: Forum Theatre, Melbourne – 18+
Sunday 24 September: HQ, Adelaide – 18+
Tuesday 26 September: Astor Theatre, Perth – 18+
Tickets on sale now