A roundup of the latest news from Napalm Records including updates from Cavalera Conspiracy, Alter Bridge, Brant Bjork and Lords Of The Lost.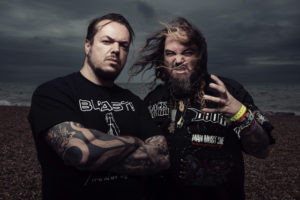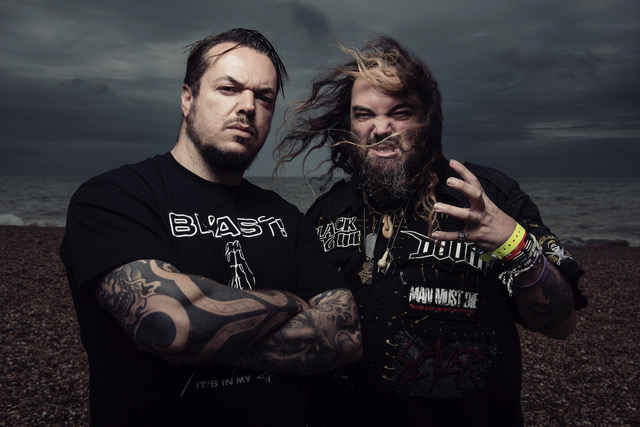 CAVALERA CONSPIRACY led by brothers and founding SEPULTURA members Max and Iggor Cavalera have unveiled first details about the release of their fourth studio album titled "Psychosis".
The upcoming record is set for release on November 17th 2017 on Napalm Records and is produced by longtime friend Arthur Rizk in Phoenix, Arizona.
Max Cavalera in a recent interview with Metal Wani:
"The album right now is finished. It was produced by Arthur Rizk, our friend and a great producer – an upcoming, underground producer. And he did a great job. I love the record. There are nine songs. We've got one song with Justin from GODFLESH – just a great NAILBOMB, GODFLESH, CAVALERA kind of song. The rest is all pure thrash madness. And we had it mastered a couple of days ago by Joel Grind from TOXIC HOLOCAUST; he mastered the album. And it's great, man. It's a beast of an album. I think a lot of people are are gonna be surprised when they hear it. It's, for me, the best of all the CAVALERA albums, my favorite one. And it's got the same intensity and energy of the old stuff like 'Beneath The Remains' and 'Arise'. So a lot of people are gonna be happy to hear that."
Max also spoke to The Rockpit recently about the new album which you can read here.
Just recently Max and Iggor have also left a message to their fans and the worldwide metal community with a first teaser and greetings from the studio.
Check it out right here
The brothers Max and Iggor Cavalera formed the legendarily trailblazing heavy metal band SEPULTURA as teenagers together in 1984. Across six studio albums the Brazilian punishers perfected the art of darkness and extreme music with thrash classics such as Beneath the Remains, Arise and Chaos AD, while exploring the underbelly of third world political issues and broadening the genre's horizons with an exploration of indigenous culture, culminating with the landmark Roots album in 1996. A decade after Max left SEPULTURA and meanwhile released seven successfull records with SOULFLY, the two brothers got back together in 2006 to form CAVALERA CONSPIRACY: A bold testament to the talent and power these two possess together. An invigorating mixture of speed and aggression, finest thrash power and the fiercest riffage.
Get ready for one of the most heaviest and hotly anticipated metal records of 2017!
Max and Iggor Return To Roots Australian Tour Sept 2017
Thursday, September 21: Eatons Hill Hotel, Brisbane
Friday, September 22: Big Top, Sydney
Saturday, September 23: Forum, Melbourne
Sunday, September 24: HQ Complex, Adelaide
Tuesday, September 26: Astor Theatre, Perth
Tickets onsale now
tickets.destroyalllines.com
—————————————
Alter Bridge have launched the digital pre-order for their upcoming Live At The O2 Arena + Rarities album that is scheduled for release on September 8th worldwide via Napalm Records.
The 30-track collection is now available via all digital retailers and can be ordered via iTunes and is also available via Amazon.
Fans who pre-order the album digitally will receive an immediate download of the live version of "The Other Side."
Live at the O2 Arena + Rarities that captures one of the biggest moments of the band's career, when they played their monumental show at London's famous O2 Arena on November 24th, 2016.
To coincide with the launch at digital retail, the band is releasing a video for the live version of "The Other Side."
The video is a montage of performance footage from the band's 2017 appearance at Download Festival in the UK and from their sold-out show at the O2 Arena.
The video contains rare backstage footage alongside live performance footage.
Alter Bridge also recently announced another career milestone for themselves. The band is playing two nights at the iconic Royal Albert Hall in London on October 2nd and October 3rd.
A 52-piece ensemble, The Parallax Orchestra, conducted by Simon Dobson, will back the band at these two unique shows. Adding to the excitement, both of these shows sold out in less than 7 minutes, another record first for Alter Bridge.
The album has been available for physical pre-order since it was announced last month.
The 3-disc collection in contains the double live recording showcasing a variety of fan-favorites including "Show Me A Leader", "Rise Today", the Tremonti sung "Waters Rising", the acoustic-driven "Watch Over You" and their mighty signature anthem "Blackbird".
In addition, this full-length "Rarities"-CD features the never-before released tracks "Cruel Sun" and "Solace" that were recorded during the One Day Remains sessions.
In addition, fans can order the limited deluxe version which also include an exclusive ALTER BRIDGE documentary with interviews with the band, their crew and family, giving the fans an amazing glimpse behind the scenes of this legendary show at London's O2 arena!
Check out the trailer HERE.
www.nervegas.com.au/alterbridge
—————————————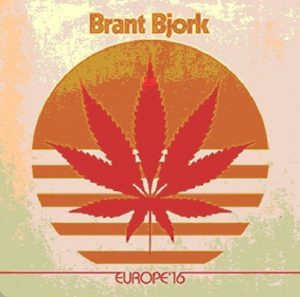 Welcome back you sweet sound of freedom and breath in the greeheen, as Kyuss- and Fu Manchu legend BRANT BJORK has come to revive your spirit!
Just recently announced his first live record ever, "Europe '16" will be released on September 22nd via Napalm Records!
Recorded on BRANT BJORK's 2016- tour in Berlin, this is controlled madness between trippy and doomy, groovy and sludgy tunes. "Europe '16" delivers exquisite Desert Rock grade A.
Now BRANT BJORK premieres a first track from "Europe '16" for the song 'Controllers Destroyed', dive into the live sound and spirit of the desert rock king.
Check it out here!
The track list reads as follows and will surely make every low desert punk heart beat faster:
1. Buddha Time
2. Controllers Destroyed
3. Humble Pie
4. Stakt
5. The Gree Heen
6. Lazy Bones-Automatic Fantastic
7. Stokely Up Now
8. Dave's War-Dave's Peace
9. Biker No. 2
10. Freaks Of Nature
11. Low Desert Punk
12. Let The Truth Be Known-Jumpin' Jack Flash
PRE-ORDER "Europe '16", available on CD + LP Gatefold, now
www.nervegas.com.au/?rf=kw&kw=brant+bjork
—————————————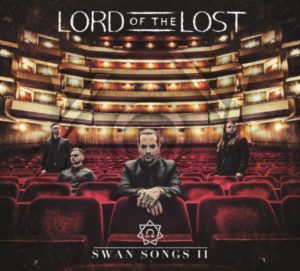 With their Swan Songs-series LORD OF THE LOST showcase their ability to create fascinatingly heavy classical music. This is the second time the Hamburg-based dark rockers have conjured their music with an ensemble album in such grandiose style.
Their upcoming masterpiece titled "Swan Songs II" will be released October 6th on Napalm Records and will feature some of the finest Dark Rock-sinfonia coated by dramatic arrangements with a chamber orchestra.
Now the band fronted by charismatic mastermind Chris Harms has unveiled first details about their hotly anticipated record "Swan Songs II" including the cover artwork, track listing and an initial album teaser.
"You could say Swan Songs is some kind of a side-project for us, but "Swan Songs II" is predominated with 10 brand new songs so we would like to emphasize its independence as a main album," vocalist Chris Harms explains. "After our show at Gothic meets Classic and when we started to re-arrange our songs with a symphonic orchestra in 2014 for the first Swan Songs release back in early 2015, this album turned out as a huge success. Sold out shows, many emotions and tears behind, on and in front of the stage, it's been a very touching record for us & our fans, so that kept motivating us as well as in our creative freedom to release the next chapter of new songs you won't hear as normal rock versions, and what should become "Swan Songs II"."
Get a first glimpse into "Swan Songs II with this exciting album teaser right here!
The track list of "Swan Songs II" will read as follows:
1. Waiting For You To Die
2. Lighthouse
3. The Broken Ones
4. My Better Me
5. Ribcages
6. Wander In Sable
7. The Devil You Know
8. We Were Divine
9. From The Brink Of The Other World
10. Fall Asleep
A true opus featuring ten brand-new songs, which showcase tender strings and charming piano play with a heaviness one has come to expect from the band.
Once more LORD OF THE LOST manage to deliver their songs with a new beauty and gloss, and prove that they cannot be reduced to their brute site only. "Swan Songs II" is a touching creation with top arrangements!
PRE-ORDER "Swan Songs II", available as CD Digi Pack, LP Gatefold or Digital Download
https://shop.napalmrecords.com/lordofthelost