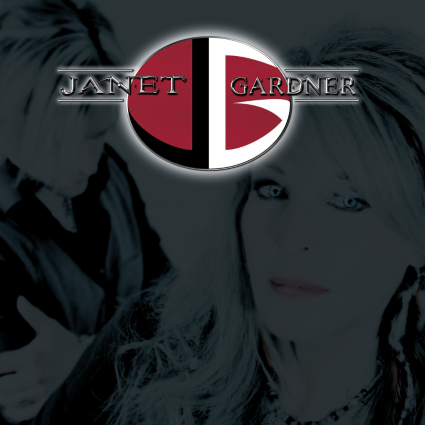 Bands from the 80's these days tend to be written off out of hand by those pompous souls that thought Nirvana's self obsessed misery dwelling really came out of the darkness and 'spoke to us'.  To me the only surprising thing about Grunge was the number of people that traded fun for misery. I loved the 80's and the fun of Hair Metal and Vixen were certainly part of that soundtrack and they didn't sound too bad either.
Janet Gardner was the lead vocalist of Vixen, and her vocals shone on chart bothering hits like "Edge of a Broken Heart" (still love that song) and "Cryin''" and whilst the band toured extensively (playing over 200 shows per year it says here in the release) like so many others they never really took that step into the major leagues where bands like Kiss and Bon Jovi danced gleefully.
Here Janet teams up with guitarist/songwriter/producer Justin James (who has worked with members of Staind, Collective Soul, and Tyketto and just happens to be her husband) and together they have "penned a collection of emotionally charged songs with gritty grooves, infectious hooks, and inspired lyrics that merge hard rock influences from the last four decades" (or so we are told).
Thankfully the reality is pretty much as it says on the packet, and whilst there is certainly a post-80's thrust and a real modern Hard Rock edge to the sound, there's not quite as much of a Grunge tinge as was evident on the Gardner-led 'Tangerine' (Vixen's 3rd album from 1998). There are even the occasional flourishes of Gardner's 80's pomp and all the fun that came with it but, let's be honest, those are only fleeting moments.
Opening with the enticingly catchy 'Rat Hole' you kind of get a condensed feel for the album, it's a hard aggressive song tempered by melody, and 'Hippycrite' (see what they did there) that follows, may start a little fuzzy but it quickly becomes a riff driven rocker again fuelled by a real modern rock muscularity. Its the sort of start that suggests o look to the past, and no particular bandwagon jumping when if truth be told either would have been easier options. This therefore we must assume is the real sound of Janet Gardner in 2017.
Elsewhere you'll be taken by the interesting 'If You Want Me' a song that seems to have a real 80's flavour but one which is grafted to a modern rock background groove; there's also the excellent 'Candle's' insistent thrust; the hard rocking retro glory of 'Your Problem Now' 9my favourite here) and the restrained and delicate tones of the beautifully constructed 'Let It be Over' the only really restrained song here.
This isn't half bad you know and for those that were fearing a divergence into 'Country' (or worse a Steven Tyler like half-hearted mish-mash) then you are in for a real treat. If anything this is more aggressive than I imagined, harder-edged than I'd hoped and really quite good indeed.