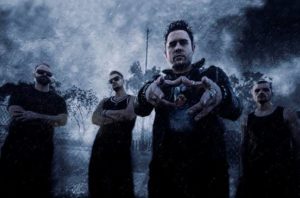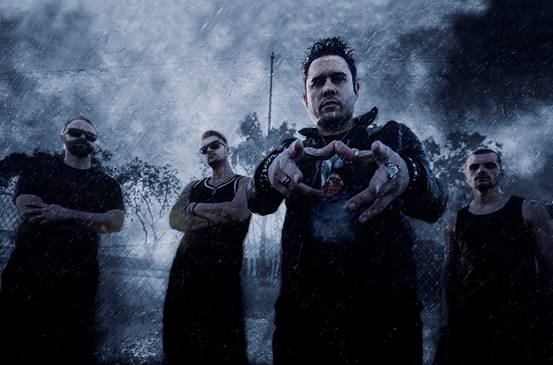 American rock titans Trapt are finally heading to Australia for their very first tour to the country in  their mega successful career. For many it's a reminder of those anthemic rock tunes like "Headstrong" and  "Echoes" and for those that never forgot, it's been a long wait but soon that wait is over. I managed to  have a quick chat to vocalist and guitarist Chris Brown about the upcoming tour during a run of intimate  acoustic shows the band were doing in the US which as Chris explains, is a very stripped back version of what Trapt are known for in their live shows.
"Yeah we're doing an acoustic tour, been doing great and we're doing some Trapt songs stripped down in front  of a few hundred people every night. Rolling into smaller venues, just a good change of pace from the huge  rock shows that we normally do that we're going to bring to Australia."
Of course the exciting news at least for Aussie fans is the upcoming first ever Australian tour and he  shares that excitement on the same level given that's it's been a long time coming.
"Oh yeah we're very excited to bring our energy that we bring and the emotion and all that to our Australian  fans", says Chris. "I know that they have been waiting for this and we can't wait to give it to them."
Chris  goes on to explain the absence of Trapt in Australia all these years but it's something that the band is not  always in control of. "I don't know how we didn't make it over there earlier, I don't know why it's taken  this long but you gotta find promoters out there who want to basically take you out there and take care of  the tour for you. Promote it and make sure that everything is run efficiently and done well so we waited for  that and finally got it, we're playing in Okinawa for our troops over there and we're already there so let's  see if we can take some shows down to Australia and our agent hit up a guy he knows there who's from  Metropolis and he said he loved the idea. And the day we put the tickets on sale, it just went through the  roof and it went really well and everybody is real happy that we're going."
The Trapt frontman is also excited about coming to Australia as a tourist so I ask him what his plans are  while in the country aside from doing the shows. "I've never been there so it's going to be great to be able  to see everything that Australia has to offer, I'm real excited about it", he enthuses but admits he isn't  sure what he might actually do during down time. "I'm going to rely on people who know the area best and let  them tell me where I should go." If that's not a call to the fans to throw in some suggestions, I don't know what is!
The most important part of the trip down under of course will be the shows. Trapt are a highly energetic  live band and it seems that's the biggest selling point of the band, as well as some of the hit songs like  "Headstrong" which are bound to make it onto the setlists.
"Yeah I think we're going to do a bunch of songs that people are going to be very excited to hear", Chris  says when asked about what songs fans can expect to hear. "We're going to pull out some of the best stuff we  got in our reportoire of songs and we're definitely going to show people a show that they definitely won't  forget. I know the songs that are really loved and [people] really want to hear and we're going to give all  of that to them and definitely break out some songs that maybe they aren't expecting."
Chris also goes on to explain the process of selecting which songs to play and whether there's a rotation  from show to show. "We try to come up with a game plan here and there but we'll throw in different songs  depending on our moods. We don't want to stick too much to a script or anything but we definitely know the  songs that we want to hear and that the fans want to hear."
Setlists are always a gamble as you can never please everyone in the crowd but there's probably got to be a  balance too to make sure that the band has fun playing those songs, even if it is a song everyone expects to  hear. I ask Chris if he had any personal favorites to play live and he says there isn't a particular song  that he can choose from a growing back catalogue.
"I like them all, each song has a different energy", he explains. "Anything that we make we feel it's a  special song to us so there aren't a complete favorite or anything but I definitely love "Headstrong" for  obvious reasons, people go crazy for that one and then there's "Echo" and "Contagious" and "No Apologies".  There's so many songs that we can always pull out."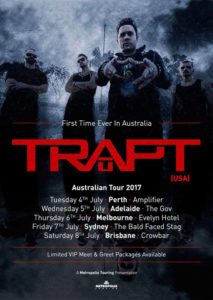 Moving on from the tour, we start gettin into a more in-depth conversation about some of his influences and  musical roots and how it all began. There didn't seem to be one particular band or musician that started it  all for Chris as it really came about through jamming with fellow musicians in his hometown in California  and following in the footsteps of his musical idols as Chris states.
"I don't know because I play guitar and lots of guys who also played musical instruments, we just started  jamming and lot of other people like music too and you just find those people. Chris continues, "It's just as a fan of music  and just wanting to do the same things that my favorite bands were doing, so that's what basically motivated  me to want to do music is just to follow the music that I was hearing and wanting to be a part of it. We're  fortunate enough that we can be on the same stage as a lot of our idols so it's living the dream."
Trapt first started out while the members were still in school in the mid 1990's and from there things grew  and grew. They eventually toured and shared the stage with the likes of Motley Crue, Papa Roach and  Halestorm amongst others and Chris has never forgotten that feeling of being right there with some of his  favorite bands.
"Yeah it was an amazing thing to be able to play with those kind of bands, it was surreal being as young as  were were getting up on stage with some of our idols at that time and it's no less of a great thing when we  get to do it still to this day."
With the world as it is now and the current state of the music industry as it stands, I had to ask whether  Chris felt that music was still important or relevant to people today and whether it can change the world.  Given the recent death of Chris Cornell (which occured only days after this interview was conducted), it  seemed only fitting that this question came up when reflecting back on this conversation.
"Yeah I think music can definitely help people think a little more about themselves and what they're going  through and all that kind of stuff", Chris expressed. "So sure, it changes the world by changing people's  consciousness."
On the lighter side of things, Chris had a final message for the Australian fans ahead of the tour and  invites everyone to come down and hang out with the band which is always great to hear from bands who leave  their egos behind and just embrace the community of like minded rock fans.
"We're excited to play the show and we're going to be hanging around after the show, talking to all our fans  because that's what we love doing. We love to talk to them and find out what their story is and what got  them into Trapt and what got them into music and all that good stuff so we always make it a point to hang  around and spend time with our fans."
TRAPT Australian Tour Dates
Tuesday 4th July – Perth – Amplifier
Wednesday 5th July – Adelaide – The Gov
Thursday 6th July – Melbourne – Evelyn Hotel
Friday 7th July – Sydney – The Bald Faced Stag
Saturday 8th July – Brisbane – Crowbar
Tickets: http://metropolistouring.com/trapt