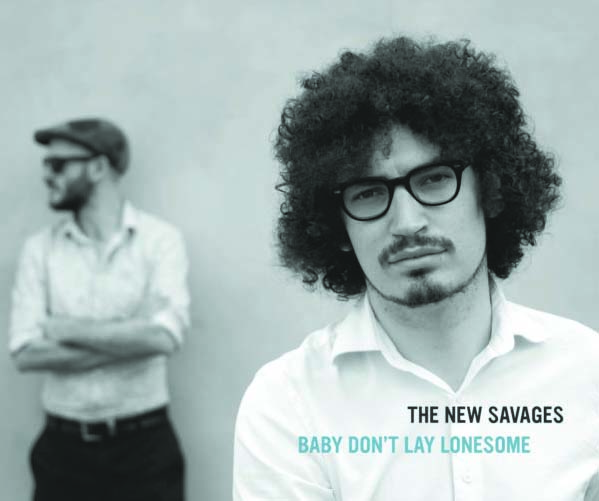 It's a hard life living the Delta Blues when you call Melbourne home, but on listening to this The New Savage's third EP you'd swear this two piece outfit from Victoria was from rather closer to the Mississippi than the Yarra. The band is made up of two great musicians – Milan Milutinovic who has a deep southern drawl that comes across vocally like a mix of Jim Morrison and Tom Waits – a real cigarettes and beer baritone, and Nathan Power who I think might just be one of the best drummers out there at the moment.
The new EP 'Baby Don't Lay Lonesome' is seven tracks of bluesy guitar and fine drumming shot through with a voice you'll not forget in a hurry.And like the previous outings the philosophy is the same – to recreate the power and the intensely spiritual and raw feel of the Delta Blues sound of the 1920's and 30's. There's no effects,no overdubs and of curse the EP was recorded in an old tin shed for added authenticity.
What's it like? Well it's like stepping back in time of course, perhaps not all the way to when Freddie Spruell became the first recorded Delta Blues when he laid down 'Milk Cow Blues' in 1926 and became a footnote in history for a form of music that had probably been around in similar form since the turn of the Century. No this is more like the sort of music that Tommy Johnson and Son House (Milutinovic's hero) were recording a little later.
Opening with the raw 'I've Lost My Little Girl' there's power in the sheer simplicity of the music, power in the delivery and deliberate approach, power just in the sheer craziness of trying to do this. But it works, and on songs like 'Storm's Comin' Mama' there's not only that earthy connection to the past but also a real timelessness that just makes you want to move. And that my friends is the power of music.
If you haven't discovered The New Savages for yourself yet, you really need to. This is heady stuff,powerful music and it's played from the heart. Highly recommended.