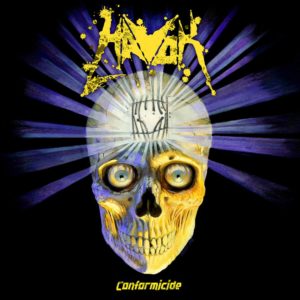 Denver thrash metalers Havok are one of those bands I picked up on pretty early with the now classic "Time Is Up" still regarded as one of the best thrash metal albums of the modern era and have been an avid fan ever since. With "Unnatural Selection" being an obvious follow up, it was always going to be interesting to see now in this part of the band's career in 2017, where Havok would lead to after that and "Conformicide" in many ways keeps the momentum going forward but still retains much of what Havok fans are keen for: Simply good old fashioned thrash metal.
Putting the actual musical side of things aside for a moment, "Conformicide" is a fairly politically charged album that uses the frustrations of our current political, religious and contemporary sociology to create aggressive and heavy music. You can hear it in David Sanchez's voice as he screams his way through an entire album of songs that comment on how the world is today and the abuse of corrupt power in the system that we essentially all help to produce. Whether he and the band are optimistic about the future and want to give hope for the best is a different story but the point of what the band try to express here is that things aren't alright and you need to decide if you want to do something about it.
Now politics aside, let's get to the real meat and potatoes of the music. There's no doubt as soon as the  off kilter acoustic intro of the opening track "F.P.C." branches out to a punky thrash groove, we got ourselves here a thrash album. The punk feel of this track may not be totally out of place as Havok tend to have a slightly punky feel in some of their songs and this album is no different. "Masterplan" is another example of this with anthemic choruses and a killer bass line that peaks on the high notes as well as the ultra short burst of "String Break" at the tail end of the album. But there's much more here than just the fast stuff, the prog elements are thrown in too which is always good to see in Havok albums, "Ingsoc" is almost instrumental in a way even though there are many vocal lines on here but the feel of the song and the long stretches of riffing and solos gives it some instrumentalisation. "Peace Is In Pieces" is the more out there track, again with some slightly proggy moments but stylistically it kind of sits on a different palette than the rest of the tracks.
Most of the other tracks are signature Havok, "Hang 'Em High' will be a crowd favorite at shows, "Claiming Certainty" just careens through while "Intention To Deceive" does exactly as the title suggestions, throwing you off with some political intros and groove based tempo stuff before switching gears and going extreme up tempo with bursts of blast beats, double kicks and some seriously killer riffage. This is Havok at their peak and when they hit those warp speeds, it's a truly joyful thing to listen to.
Aside from a few cool, new elements in sparsed out moments here and there, "Conformicide" is business as usual for Havok. It's got guts and aggression combined together with a sense of frustration on the world at large and of course, the machine that is Pete Webber on the drums who just absolutely nails every drum part flawlessly. On top of that, there's even a bonus cover track of the brutal Pantera song "Slaughtered", covered in the thrash style that Havok only know how to do. It's difficult to fault this album especially if you are looking for a thrash album that is done right and "Conformicide" more than meets those expectations.
TRACKLIST
F.P.C.
Hang 'Em High
Dogmaniacal
Intention To Deceive
Ingsoc
Masterplan
Peace Is In Pieces
Claiming Certainty
Wake Up
Circling The Drain