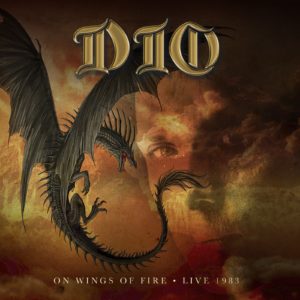 For Dio fans this is an interesting historical document – recorded in the October of 1983 just three months after their live debut it precedes the RAINBOW IN THE DARK CD which was recorded towards the end of this tour. On this tour of course the band played with a lot of different acts – at the onset supporting AEROSMITH, then after the MONSTERS OF ROCK show at CASTLE DONINGTON, they returned to the US and played with, among others: ROUGH CUTT, QUEENSRYCHE, Y&T and and WAYSTED.
During the tour there were a few set-list changes along the way, with songs being added and switched around. Sadly this set is considerably shorter than the tour closing release with a few gems missing. It is interesting though to have the original 'radio intro' still left in – a lung busting scream leading into the opener STAND UP AND SHOUT.
The first thing to hits you with this recording is how loud the drums are in the mix. They are absolutely thundering, and even this early on the tour the band sound amazing and as tight as you can get. Five on the nine tracks on the
HOLY DIVER album are showcased here with DON'T TALK TO STRANGERS added later on the tour.
The other thing you'll notice is how the crowd is getting into it – they are simply vociferous, and starting off with three straight from debut album instantly gets them going. Add to that the fact that it's never too shabby having stuff as good as his RAINBOW-era material to fall back on.
After SHAME ON THE NIGHT, which just happens to be one of my all time fave DIO tracks, STARGAZER is dusted off from the classic RAINBOW RISING album (voted the greatest heavy metal album of all time by KERRANG in 1981). Sadly this version comes in at just under two minutes before morphing into a guitar solo that is longer by 20+ seconds. It's one of the few disappointments and fortunately, things improve. HEAVEN AND HELL is not just the greatest track SABBATH ever released (in my humble opinion) it is also one of the greatest tracks to grace any album and no-one can do this sort of stuff better than the main man here.
Over the entire length of his career, Dio's voice never let him down once. He might well be the greatest heavy metal singer there will ever be. Engaging the crowd in a singalong always helps and RONNIE leads them like a conductor. Even after all these years, HOLY DIVER is still something special but if truth be told, it would be many years before he would write anything that came close to being called average.
Closing out the album RAINBOW IN THE DARK is a heavy, keyboard laden wonder as impressive today as the day it was released. MAN ON THE SILVER MOUNTAIN and STARSTRUCK are two further gems – absolute classics, but sadly here they are played together as a medley – something I have neverbeen able to understand. I'm a firm believer of 'play the song in full or don't bother at all'. That said, this is an impressive run through of some great material by one of the the best there will ever be. A great memento of a great tour by a great singer. Can't wait for more.
TRACK LIST: 1 Intro | 2 Stand Up And Shout | 3 Straight Through The Heart | 4 Shame On The Night | 5 Stargazer | Vivian Campbell Solo | 7 Heaven And Hell | 8 Holy Diver | 9 Rainbow In The Dark | 10 Man On The Silver Mountain / Starstruck | 11 Outro
Ronnie James Dio – Vocals | Vivian Campbell – Guitars | Jimmy Bain – Bass | Vinny Appice – Drums