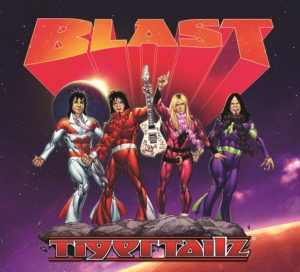 After not quite having a Eurovision adventure with track 'Pipped It, Popped It' Tigertailz is back with what is their first new album in ten years, and with new vocalist Rob Wylde on vocals they are sounding pretty damned good.
If you like your Glam sounding like it was forged in the coal fires of the seventies then (strange eastern opening aside) opening track 'Just For One Night' rocks like Tigertailz has been sent back via some crazy time machine to the original days of Glam rather than the 80's revival. It sounds good, it sounds big, it soars on the cool breeze of longhaired melodies and threatens to bring your sister home late, and that's only the beginning.
After the old school start 'All the Girls in the World' has the feel and cool of Rob Wylde's other band Teenage Casket Company, it's glorious fun, summer-sun melodic and rides a great big chorus into town. 'Pipped It Popped It' of course will be familiar to 'Tailz fans and Eurovision-boppers as the song that failed to represent the UK in the competition, need I say anything other than it's far better than that as it  grabs you by the scruff of the neck and beats you so, so softly in submission.
Elsewhere 'Bop Bop You' with its incessant riff and huge melody adds a touch of thrust and grind as it pushes it's glammy charms into your ears; it doesn't stand alone either as earworms go, with the heavier thrust of 'Bloodsuckers' giving a harder fix and the glorious (soon to be the next video single) cover of Mud's 'Dynamite' perhaps even more addictive. It's a pretty faithful version given the 'Tailz twist.
'In the Arms of Mary' isn't a cover of the 70's Sutherland Brothers and Quiver hit, but rather a moment of contemplation that sees original Tailz man Jay Pepper take vocal duties, it's the odd man out in the lineup but a nice change of pace and attitude.
'Bring It On' bursts forth with a dirty groove and plenty of menace, balanced by the sing-along chorus; and 'Crime against Rock and Roll' is all swagger and hard rock cool with a Kiss-like chorus Simmons or Stanley would be proud of.
Closing the album out the more you realise how solid this album is 'God's Country' slips down like the smoothest, coldest Jack and Coke on a Sunset Strip summer night and 'Cheap Talk' (a reworking of a track recorded for an old Kerrang flexi-disc and reworked here) kicks sand in the face of bands like Poison while closer 'FnA' takes you to a stomping Glam disco on the back of a glowing gang vocal.
On an album that pulls few punches Tigertailz manages to capture the essence of great 70's and 80's Glam but thrust it into the new millennium. Of course you've heard it all before but its not been this fun for a long time.  Add this to the 'must buy' list and get out to see them on the '21st Century Blast Off UK Tour'
Dates as follows:
Fri 8 Apr – The Diamond, Sutton In Ashfield, England
Sat 9 Apr – Dreadnought, Bathgate, West Lothian, Scotland
Fri 15 Apr – Underworld, Camden, London England
Sat 16 Apr – The Globe, Cardiff, Wales
Wed 20 Apr – Asylum 2, Birmingham, England
Thur 21 Apr – Yardbirds, Grimsby, England
Fri 22 Apr – Tivoli, Buckley, Wales
Sat 23 Apr – Bullingdon, Oxford, England
Sun 30 Apr – Russi, Ravenna, Italy
Fri 15 Jul – Bang Your Head Fest,  Balingen, Germany
Sun 30 Oct – Rock N Skull Fest, Ohio, USA