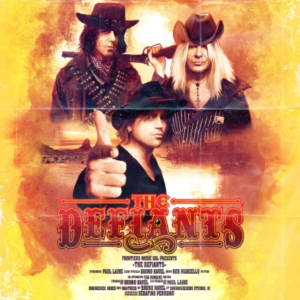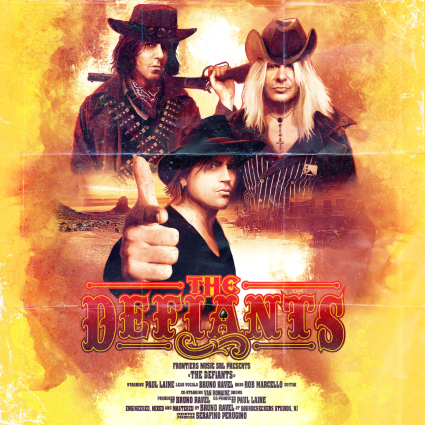 Bruno Ravel certainly like to keep busy. Apart from his long standing DANGER DANGER career, he has also worked with the likes of Y&T, TNT,HAREM SCAREM & STARZ, now he turns up with THE DEFIANTS. A band featuring one time former DANGER DANGER vocalist Paul Laine and current guitarist Rob Marcello. After the mini intro is out of the way (courtesy of Ennio Morricone) , the album starts properly with LOVE AND BULLETS.A fantastic opening track which shows Laine's voice is as good as ever.
WHEN THE LIGHTS GO DOWN keeps the pace going and is sure to get a live favourite. WAITING ON A HEARTBREAK is a song most bands would kill for. RUNAWAY may have the simplest chorus there is but is one of the standout tracks on an album filled with class, melodies and emotion. LIL` MISS ROCK `N` ROLL is a great summer track just made to be played full blast outdoors or in the car stereo with the roof down. (Love the DANGER DANGER, NAUGHTY NAUGHTY track mention).
The pace continues with the fabulous THE LAST KISS. The pace finally eases with the beautiful SAVE ME TONIGHT a stunning up tempo ballad. TAKE ME BACK is the massive sing along track on the album and another sure fire live show stopper with a massive chorus you won`t be able to get out of your head. WE ALL FALL DOWN is full of harmony with a great punchy riff.
THAT`S WHEN I`LL STOP LOVING YOU is the one true ballad on the album weighing in at nearly seven minutes, the time flies by. A track of true beauty. Album closer UNDERNEATH THE STARS chugs along with a great hook and chorus.
This is an an album full on great production, song writing and great performances all round. An album to be played all summer, and all year, round. My favourite album of the year so far.
TRACKLIST
TRACKLIST: 01.Intro (Carillon's Theme) 02.Love And Bullets 03.When The Lights Go Down 04.Waiting On A Heartbreak 05.Runaway 06.Lil' Miss Rock 'n' Roll 07.The Last Kiss 08.Save Me Tonight 09.Take Me Back 10.We All Fall Down 11.That's When I'll Stop Loving You 12.Underneath The Stars