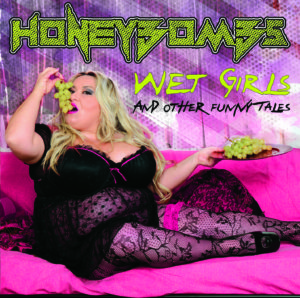 OK you can clearly see by the cover this isn't one of Italy's most politically correct of artists, you can also probably tell from the general composition of the cover and band names you're probably in for a bit of Sleazy Glam Metal? The only question therefore is not will this album change my life, but is this collection of modern sleaze tunes any good?
Well you know it's not bad really, for a debut there's plenty of life in the collection, a nice sense of irony dotted here and there amongst the dodgy lyrics, but the band plays well, the singer sounds like a Jack and Marlboro man and though well-worn templates are used to create most of the songs (I.e. you've heard it all before) it is fun and you can imagine seeing these guys live on stage would tick the big 'good night out' box.
The problem bands like  Honeybombs always seem to have is breaking out of their locality – every City, State, Shire or Province has their Sleaze band and to be honest a lot of them are pretty good, but you have to be pretty damned special to take music like this out on the road and that's the trick to longevity.
On this album there are, as I said, a pretty decent set of tunes but if you're looking for a game-changer you won't find it here. The closest you'll get are tracks like 'Radical Shit' which opens and has a nice hook or maybe 'BraXXersDotCom' which sort of poses the question whether these guys want to be the Italian Steel Panther or just a dirty sleaze band. I'd suggest if the former then they really do need rather more humour then merely shock in their lyrics. I mean a title like 'Fat Girls are Going Mad' may seem like a typical Steel Panther title but it lacks any sense of 'tongue in cheek' or a 'sing-along' dirty lyric to rile your parents. It sadly also seems almost incidental that musically it's not bad at all.
That story is pretty much repeated at every turn – some nice tunes, great application to carft, some nice arrangements but we're falling between two stools – are we a comedy band or are we far too darkly ironic to every admit that? Or God forbid do we really mean all of this! At the end of the day I quite liked this one, I didn't mind not knowing any of the answers to any of those questions and that's what music should be about. If someone told you one day that Vince Neil used to steal kids Christmas Presents would you stop listening to Motley? I think not.
Stick it up your sleaze pole and see if it flies…