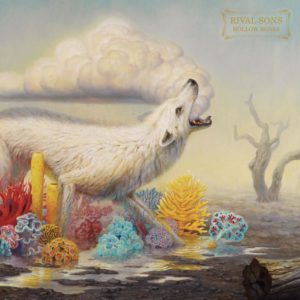 It's not long since we saw The Rivals Sons Downunder as support to Black Sabbath, and those that got to the shows early sure thought it was a nice contrast to see the Zeppelinesque Sons offset the grandfathers of Metal. I for one would have taken a little more of the young guns and a little less of the old stagers so let's hope they come back soon under their own steam.
To be honest it seems like only the other week that the Sons put out 'Great Western Valkyrie' (it was June 6th last year) and so to get another hit so soon is great even though again it's pretty short at ten tracks and just over 37 minutes. But to be honest if they can keep up this frequency of release and this quality everyone should be happy.
Of course it starts with a big ballsy riff – what else would you expect? 'Hollow Bones Pt. 1' is just wat you'd expect 5 albums in, classic, huge and sounding like a band in the prime of their lives. Rival Sons has finally managed to master their influences, add their own DNA and create something that sounds fresh and new while still keeping that classic rock essence intact.
'Tied Up' follows in inky bluesy swaggering footprints, before 'Thundering Voices' kicks it up again driven by drums and a Plant-like vocal before a chorus that takes it down and injects melody, it jarred me first listen but works so well as you ease into the track. Fuck we need bands like this to kick our asses the way Zeppelin did…
'Baby Boy' gets us back to Rock basics and primal sounds, and 'Pretty Face' shines soulfully, all laid back on elemental guitars before 'Fade Out' takes on a grander mantle, slow and surefooted it reaches out and ensnares you and grows to become a real rock classic, full of dynamics and guitar wail. It has to be one of the best songs in this collection.
The inclusion of the Ike and Tina Turner classic 'Black Coffee' has me immediately getting the tape out to measure it up against the classic Humble Pie version which Steve Marriott made his own: it certainly suggests that The Sons heard that Humble Pie version and we'll leave it at that – the next best cover of a classic song that still beats the original and a reminder that Jay Buchanan might just have the best white blues voice since Marriott himself.
After the coffee 'Hollow Bones Pt. 2' kicks in – it's an expanded trip out on the earlier track but more solidly Classic Rock and rounded with an even greater vocal from Jay Buchanan. The final word goes to the only track on the album written only by Buchanan 'All That I Want' which really shows where he came from musically with its simple bluesy vocal and acoustic guitar. It's a nice comedown from what has to be one of the best guitar-driven rock albums of the year.
by The Buffman