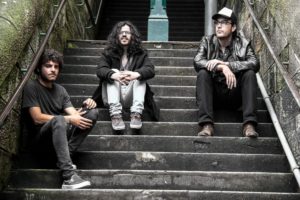 After blasting onto the scene earlier this year with their critically acclaimed debut album, Magnus are certainly not showing signs of slowing down with a new single and national tour recently completed. The bands latest offering "Ghost Town" is a darker sounding rock tune reminiscent of Iggy And The Stooges or early Queens Of The Stone Age and as Arne Heeres (vocals/guitar) explains "was written about a place that never was, ruled by cats that never cared". 'Ghost Town' features the band's trademark industrial chugging guitars, a technical riff based rhythm section and Arne Heeres's powerful vocals.
Magnus were recently asked to play a residency at Cherry Bar. The first time Cherry bar has ever done so!
TOUR DIARY – Week 01
We're relocating for a month.
The word is there's culture in Melbourne.
It's good for bands.
Car packed to the top, every crook and nanny filled with gear. Drive.
Get excited by big things along the way.
Big marino, Big sign-o and a submarino.
12 hours slide by like cold butter on dirty sheepskin.
St Kilda.
On first sight it appears to be a little special.
Boutique beach chique with a dash of junkee.
Also, five levels up and no elevator. Didn't read the small print when we booked the penthouse.
Okay, find something to eat. The thai with the great review turned into a chinese restaurant with a $39 all you can eat budget plan for poor musicians. How do we translate "No thank you, but thank you for insisting." in an un-polite way?
Italian restaurant it is. $5 Peroni's is all it takes. Pizza Hawaii is on the menu. Giulio swears every time someone orders that, a little italian virgin dies a horrible death. Whatever.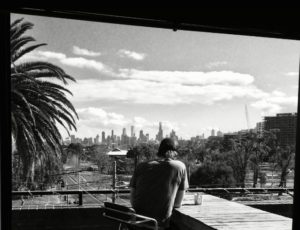 Cherry Bar #1
Sleep turns a Tuesday into a Wednesday. Show #1 of our Cherry Bar residency!
As we consider ourselves to be artists, this first gig is best expressed through a Haiku:
So long the drive down
A Cherry in a dark lane
Your God is watching
Yeah okay so maybe it is actually not best expressed in a haiku, but what is!?
It was a good night. It was funny. I have the standing up part of being a comedian down pat. And as if that wasn't funny enough, we did some more driving in the first week.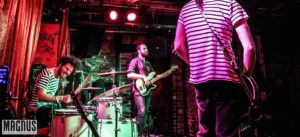 To Adelaide.
Which brings us to the question why everything is closing in that town once we drag ourselves out of our hotel by 3 pm on a Saturday. Why, Adelaide, why!?
We're dressed in leather.
We're bad ass.
We're walking the streets.
Looking for some fun.
This old dude (probably 127 years, and by the looks of it, didn't bother to shower for at least the last decade and a half) sets his hawkish eyes on our lost souls and asks:
"So you're a christian, are you…?"
I'm checking myself.
Leather. Yes.
Trucker cap that says Rock 'n Roll. Check.
Don't-fuck-with-me sunglasses…yes.
Did he say "Christian"?
"Eeeh…No."
Man lets out a classic impatient & dismissive old man groan and turns his face in disgust.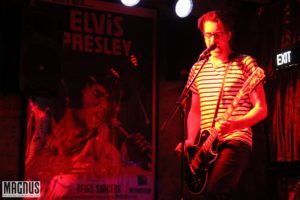 Week 02 – Cherry Bar #2
Soundies regularly make fun of my little amp. Sure, I'd love a big stack that reorganises my emo haircut every time I strike an A-chord. Until it comes with a couple of roadies and a big truck I'll be sticking to my trusty toaster & two 1×12's.
Today we're playing with The Balls however (how good is that band name!?)… They have a different opinion. They have an 8×10 bass fridge. It pumps out volume. It sounds great. Standing in front of it is like getting a massage.
However, my girl is in the audience and a few songs into our set has to explain to the soundy that besides bass she'd like to hear drums, guitars & vocals. Don't argue. She's right.
Geelong Another first on our cherry popping tour. Pete from As A Rival (go check out their latest album!) kindly offered us a spot. We don't even say no to a date with a raunchy goat so how could we say no to Pete? It's a punk kind of night. Wondering how we're going to fit in in that line up.
Giulio knows the answer to that and decides without a warning that we will play all our songs a good bit faster.
The room is pretty full and man, what an awesome crowd… Three songs in and people are actually twisting and contorting their bodies more or less rhythmically in sync with the noise we produce. And that to one of the weirder songs ("Pandora") in our repertoire, which changes direction just about every 30 seconds!
All to say it was a pretty special night. We even sold a t-shirt.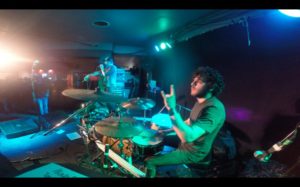 Week 3 – Cherry Bar #3
Living together, sharing a small space on tour and you're bound to get sick at some point. So what better time than round 3 at our new favourite hangout?
It didn't even slowly creep up on me – fine in the morning, lost my voice in the arvo. Horror. Drink four litres of water, I'm told. If that doesn't help, then four litres of whiskey. To make things "worse", a few friends show up and of course I need to have a chat.
Always have a chat with Seppo at the door. Great guy. Red is back as well to do the sound – still can't thank him enough for passing his recommendations on to the boss. Then there's birthday boy Pete, Sam from A Basket of Mammoths, the awesome guys from Khan who are there every week (legends!) and four mildly drunk and extremely happy guys from New Zealand who walked in by chance and couldn't believe their ears.
Again the room is full and, even better, people seem to be enjoying the bands that are playing. An audience like this turns the show into something really special. Go for broke, play extra hard.
Warrnambool
It's not often you get a green room, where you can enjoy a cold buffet and some quality wine next to all the dicks drawn on the wall. You get all varieties as well, alligator-dicks, eye-dicks, dick-dicks, rocket-dicks, you name it and you'll find it on the wall. And ceiling. Musicians are a classy bunch when in control of a pen. They take good care at you at the Loft. The night was pretty average though. A footy game, two bands that cancelled at the last minute and a sick me who couldn't get a note out. Shit happens. Surrender to it and move on. Back to Melbourne to cure the sickness though and not to Bendigo as planned. But first… get heckled by a few Harley riders who did make it to the pub. (We won. They were dancing & air-guitaring by the end.)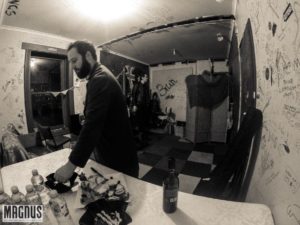 Week 4 – Cherry Bar #4
One thing you learn as a touring band is that you never know what you're in for. The night started extremely slow – in Australia you have to plan your gigs carefully around public holidays (which would be two days later and not tomorrow – big mistake) and sports (you may or may not be okay with after game shows, depending where you are and who is winning).
Anyway we got the people dancing and again had some intensely positive feedback after our show. One guy, who arrived from the UK that morning & went to the Cherry Bar on a whim, pulled me aside and we talked until the house lights came on. He couldn't understand how we weren't playing to hundreds of people and we should come to the UK. That is funny because I'm Dutch & Giulio is Italian…go halfway around the world to Australia to start a band and go tour Europe. We're working on it though. Hopefully a European tour next year!
The Way Back
Melbourne to Sydney in 9 hours defined how keen we were to get back home. We stopped for fuel once with perfect timing; tank was so empty we wouldn't have made it to the next petrol station and just when we were called by radio for an interview.
"Is Melbourne better than Sydney?"
Of course it isn't. Well okay, maybe just a tiny bit. But not a lot. We went out to see gigs and found out that also in Melbourne there are shows where there are two men in vizzy vests and a lost horse munching on a loaf of lettuce attending. We'll be back nonetheless.