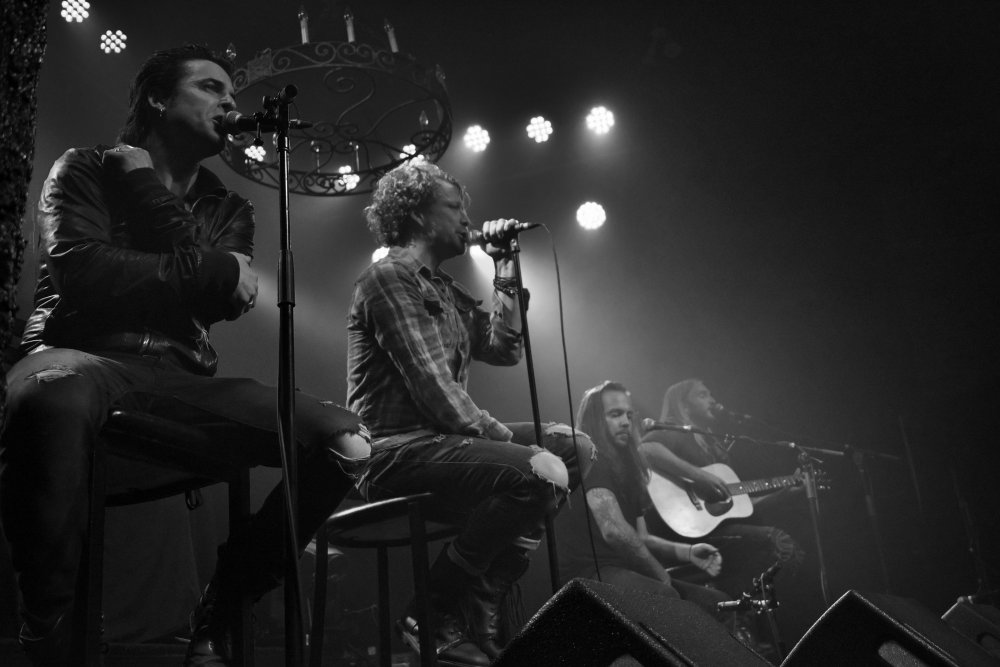 Why should an artist do the 'same thing different show', kinda press? I mean I love interviewing artists the day of the show, don't get me wrong. There's something about sitting down one on one and talking a few hours before a show that is super rad. When I reached out to the Art of Dying camp about covering their show at Trees Dallas, I noted that I could Go Live, cover their sound check, shadow them, or whatever else might be cool and different to do with these guys.
Now, Art of Dying are no strangers to the stage or doing press when on tour. When I interviewed Jonny Hetherington on the phone last summer, we had a great chat and I'll always remember that interview because after the initial pleasantries, and we started talking it was more like a conversation and not an interview. I love it when conversations stem out of interviewing a total stranger. The conversation is just natural; not forced or contrived. Trust me, this doesn't happen all the time so when it does, I file that one away under "Kick Ass Interviews"! What makes some interviews more memorable than others, what is that little blip of energy that not only ties you to their music, but human to human?
Here's my theory: the connection or something similar or familiar; a struggle, a victory, a right, a wrong – some thing that binds you to another person. Art of Dying as a whole has this ability to connect with people through their music. Jonny writes from the heart without being cryptic or vague and dark. They put it to music that warms the heart and sets off a chain reaction that sparking that commonality.
The men in Art of Dying are also some of the most genuine people I've met in this business. And they're not just like that on show days. that quality or trait is always front and center with the whole band. What was cool though, tonight I saw these connections in the band's fans; new and old.
My take on the show as a whole: The unplugged versions of all 4 band's sets were really, really good. And I'll be honest – there are times when acoustic versions of songs live, in venues goes over like a spinach and hot dog fart in an elevator I love a good acoustic jam around a campfire or sitting around with friends – you know? I mean we're all familiar with acoustic sets thanks to "Unplugged" (MTV or VH1? I don't recall at the moment…). Sometimes, a song doesn't sound better or more melodramatic acoustically, ya know? Well all of the bands on this bill had nothing to worry about during this show. I was entertained to say the least. Who wouldn't be entertained? Getting to sing some of my favorite Creed songs with Scott Stapp at the top of my lungs took me back to watching Creed on stage left after being pulled from the audience by guitarist, James Brogan of Samiam, just because.
From Rockett Queen's swooshing riffs that rise like the East Texas sun, to the powerful, uplifted chords that softly sound off from the brothers Willet, leading up to Art of Dying's dynamic renderings of their fully equipped stage show that left me feeling like I had just finished chugging three bottles of 5-Hour Energy, two espressos and chain smoking until the iconic voice of Scott Stapp and the songs of his band, Creed hit the stage. This tour was definitely thought out and orchestrated to entertain the ears, pull at the heart, and draw you back to another time – but not just to feel all gushy and miss "the good ole days:. No, this brilliance of this tour was that it was more about looking where you were, right then and where those days brought you. Reflecting on the present and what you could do in it to make a difference in someone else's life, your life, your family's life. The element of knowing that the mistakes made leading up to this point; some drastic some not and that you didn't die, that no one came to hunt you down and take away the spirit that is you. You and I and everyone in the audience. We survived and we could do it again.
In each band's set, these musicians shared a piece of themselves that you might not get from a loud AF rock show. The connections that were there from the past, rekindled. The connections with melodies and lyrics never heard, were made and the re-engaging of why you love songs like "Nevermore" (Art of Dying) and "What If"(Creed/Scott Stapp)..
Art of Dying's set was killer. I mean that with no pun, really. The band is Jonny Hetherington (Vocals), Tavis Stanley (Guitar), Cale Gontier (Bass), and Cody Watkins (Drums). Here's what I found amazing about their set; it was just Tavis on guitar and Cody playing percussion. That's all the instrumentation they were playing. Their sound was so full, clean and that box drum that Cody sat on was LOUD AF! The vocal harmonies were dead on! Gawd I am a sucker for those up and down steps on the scales! How they conveyed the material and it being so good, I loved it. Watching the emotion behind the story of Jonny's father dying of cancer moved me – not only because it happened to be Father's Day, but because of everything that music does; remind us that we can pull it together after something horrific and just be.
The best part about the performance was the band connecting with the audience. Even the people that had never seen Art of Dying before were plugged into this energy that pulsed off the stage for the 40 minutes they played. I have to say that "Nevermore", the current single off the 2016 release, had to have been my favorite song performed tonight although, as a fan, I loved everyone of them. It was a great sampler of songs from previous releases and they also threw a new song – although I can't for the life of me remember the name of it.
Now, what's really cool about Art of Dying is that not only do they create connections in fans with their music and their experiences, they have a connection between the four of them. There is a synergy that bounces around them that is as magical as a fairy chasing a unicorn.Spending just a little time with them and their fans before the show made this evident. They are hip deep in all things Art of Dying and how their fans relate to them.
Here's the proof:
See that pretty lady holding the guitar? That's Spring. She's been a fan since 2009ish and takes guitar lessons from Tavis on Skype. The band gave her an autographed guitar because she is so awesome! Spring and her friend Amy came by way of Lubbock to Dallas to see Art of Dying! How cool is that?? So. Freaking. Cool.
Even a new fan, Miles and his wife Kim from Ft. Lauderdale, FL came to Dallas to see the show as well. Miles was there to see Scott Stapp and wound up talking to the Art of Dying guys in Florida. Miles was just as excited about seeing them again as he was after he saw them for the first time.
With one more show on this tour, the band will go back to Canada where they're booked to play several dates with Skillet in the Great White North and then it's back to the office to start writing a new record. If you didn't see them on this tour with Scott Stapp or have never seen them, do yourselves a favor and add them to your list of bands to track. Check them out on social media so you can get all the scoop. Hell, if you're lucky maybe you'll connect with their music and the band too! And those connections are what life's all about, right? And how living it plugged into great music and great artists like Art of Dying  makes it so much better!
Til Next Time –
MRML – Cherri

PHOTO GALLERY