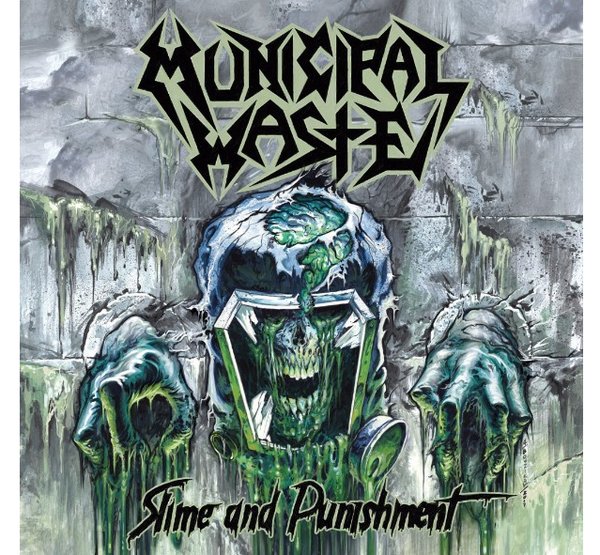 It's been 5 years since thrash metal party animals Municipal Waste unleashed the horror/sci-fi epic "Fatal Feast" and fans have been waiting patiently for the follow up which is finally upon us with "Slime And Punishment". It's signature Municipal Waste doing what they do best – a fun rollercoaster ride full of punk thrash metal with chunks of crude humour and more as you would expect.
There's probably no point going into the finer details of each of the 14 tracks on offer, it is what it is. A culmination of short bursts of punk and thrash fury with a wave of energy that feels like a moshpit coming straight out of your speakers. Straight out of the gates with opener "Breathe Grease", it's pretty apparent that the band mean business and get straight to the point with an all out thrash attack. It's the usual shenanigans from here on out as each track jumps from blistering speeds to heavy chugging riffs, all while maintaining a sense of catchiness and melodies that stick in your head for a long time.
Admittedly there are a few moments where Municipal Waste throw a few spanners in the machine. Nothing that's overly important, after all this is a band that doesn't take itself seriously nor do the fans who simply want to hear some headbanging face rippers but subtle things like the fade out on the speedy "Shrednecks" and a slightly more ferocious take on the guitar solos by new member Nick Poulos add a nice touch to the album. Then there's the cool instrumental "Under The Waste Command" which really brings some much needed dynamic to an otherwise thrashfest of an album.
Of course what's a Municipal Waste album without some silliness thrown in and the cop skit in "Parole Violators" is downright hilarious. One does have to wonder though if the "lengthy" track "Death Proof" is a throw back to the Tarantino film of the same name with it's maniacal laugh at the end followed by that epic car crash. Either way it's audio filled delight for the senses as the band rampage through another killer album that seems to have a bit more range than previous efforts while still retaining all the punk goodness that the band are known for.
In some ways "Slime And Punishment" may remind you of such classic albums like "The Art Of Partying" and "Massive Aggressive" in it's goofiness and killer riffing. The fact that artist Andrei Bouzikov who did the covers of those albums also happens to be the designer of the artwork for this album kind of ties them together in some respect but the fact is, these songs are memorable in much the same way as each other compared to later albums like "Fatal Feast". There's no reason to not like this album if you are a Municipal Waste fan, much less a thrash fan. It's just a damn fun album to crank up!
TRACKLIST
Breathe Grease
Enjoy The Night
Dingy Situations
Shrednecks
Poison The Preacher
Bourbon Discipline
Parole Violators
Slime and Punishment
Amateur Sketch
Excessive Celebration
Low Tolerance
Under the Waste Command
Death Proof
Think Fast