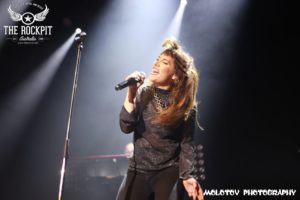 Aussie rock legends Killing Heidi returned to Perth on Friday night to kick off their national tour around Australia, the first time in more than a decade after a long absence from the spotlight. A packed crowd saw the band bring both a sense of nostalgia and an excitement not seen in some time in Perth.
There was a buzz in the air as you could feel the anticipation. A familiar sensation was present as the decade long wait was finally over – Killing Heidi return to a full-capacity crowd of die hard fans.
We kick the night off with the young, talented Elli Schoen who immediately intrigued the patrons with her delicate vocals. Collaborating with these vocals was an intense, but mellow, backing band – which, with perfect cooperation, created a deeply emotional sound which could unite young lovers and the broken-hearted alike.
A hauntingly beautiful rendition of INXS's 'Never Tear Us Apart' was included in the set which saw jaws drop and arms swaying in the air. The audience further complimented this tribute by singing along proudly and frantically screaming in appreciation upon it's completion. Elli Schoen is definitely one worth looking out for.
Up next was Sydney's Iluka – who's free-spirited style and attire had her looking like she'd rolled in straight from the 60's – graced the stage with her long blonde hair, velvet hat and flared white shirt. With sounds of soul, blues and indi-influenced guitar riffs, combined with up-tempo drum beats, this perfect blend of music and Iluka's original organic vocals created a surreal summer vibe, despite it being the cooler months of winter.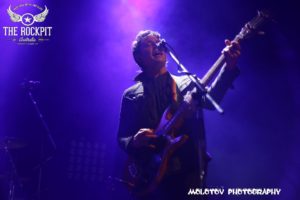 Last, but far from least, the band everyone had been waiting for! Event-goers errupted with passion and rose to their feet as Killing Heidi burst straight into their song 'Calm Down'. Frontwoman Ella Hooper – clearly excited and eager for her return – came storming out onto the stage and greeted everyone with a smile from ear-to-ear on her face. Instantly captivating the Perth audience, it was obvious that she had truly missed performing, and proceeded to interact with them by cracking jokes and revealing that she had suffered wardrobe malfunctions prior to the show.
As a bonus to playing all of the much-loved Killing Heidi classics, they even treated us by performing a variety of Ellas favourite solo hits from her career – as well as Jesse (co-founder of Killing Heidi and brother of Ella) and Ella's other project 'The Versus', which was greatly received and welcomed.
During every break between songs, there were audience members devotedly yelling out "I Love You" to Ella. It was clear that 'Killing Heidi' missed playing as a live band, and it was apparent they were having an absolute ball. Whether you have been following this train that is 'Killing Heidi' for years or this was your first voyage, I am certain this will not be your last. This night was full of love and passion – from fans young and old – and I loved viewing this concert nearly as much as each band loved performing for their faithful followers.
As for 'Killing Heidi' – this was the performance we had all been promised and so much more.
PHOTO GALLERY
Photos by Tammie Molotov – Molotov Enterprises & Photography
Killing Heidi 2017 National Tour
Supported by Iluka and Eliza & The Delusionals
Tickets on sale now: Live Nation
Friday, 2nd June – The Astor Theatre, Perth
Saturday, 3rd June – The Gov, Adelaide
Thursday, 8th June – The Metro, Sydney
Friday, 9th June – 170 Russell, Melbourne
Saturday, 10th June – The Tivoli, Brisbane