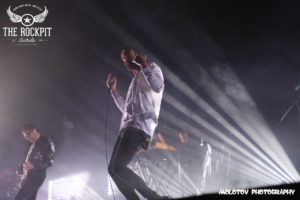 Perth rockers Birds Of Tokyo kicked off their Australia tour in fashionable style in their hometown on Thursday night in support of their latest album "Brace". Our newest reviewer Melissa was at the show to give us all the highlights from the night.
Back at Perth Metro City tonight to witness the wonder that is Birds of Tokyo along with Supporting acts Pat Chow and Strangers. First up to the stage were Perth based 3 piece band Pat Chow. Relatively new to the scene these boys are just starting out on their musical journey.
Next up to tantalise the punters musical taste buds were Sydney based band Strangers. Having a Punk Rock backbone feel to them with some wonderful melodic tones, they excited and delighted the crowd. I for one was very impressed and others around me looking in amazement commenting "Wow, These guys are great" or "Hey, I really like these guys". I particularly enjoyed the newly released song 'Mirrorland' and 'Warm' a song written about living in Cronulla and being embarrassed by the racism that is said to be rife there. Their music and style had me floating on cloud 9. I think Strangers made quite a few new fans last night, I know I will be definitely adding these guys to my collection. I strongly urge you check them out, you're missing out on some exceptional talent if you don't.
On to the Headliner, Birds of Tokyo. A short set, only about an hour in length. But that didn't stop the audience from singing along to their favourites such as 'Lanterns' and 'Wild at Heart'. The crowd immersed themselves into a trance, rocked out and went wild to 'Silhouettic'. I really enjoyed 'Empire' and 'Harlequins' from the new album 'BRACE' released on November 4th. An amazing heavier album that Birds of Tokyo have clearly poured their heart and soul into.
Birds of Tokyo were exceptional as they enthusiastically ploughed through the set. An illuminating display of talent and skills, rarely seen. As the lights dimmed it was almost time to say goodbye to Birds of Tokyo. But before they left us with sweet rock ringing in our ears, they played 'This Fire'. It was fantastic; People were happily dancing and singing along on stairs, chairs, in corridors, at the bar and even quite loudly in the Ladies Bathroom!
As we started to make our way out of the venue, I was left with a sense of pride for the awesome Perth boys turned international Rockstar's. Perth has so much talent to be explored and Birds of Tokyo really showcased that tonight with their exceptional brand of talent and music.
PHOTO GALLERY
Photos by Tammie Molotov – Molotov Enterprises And Photography