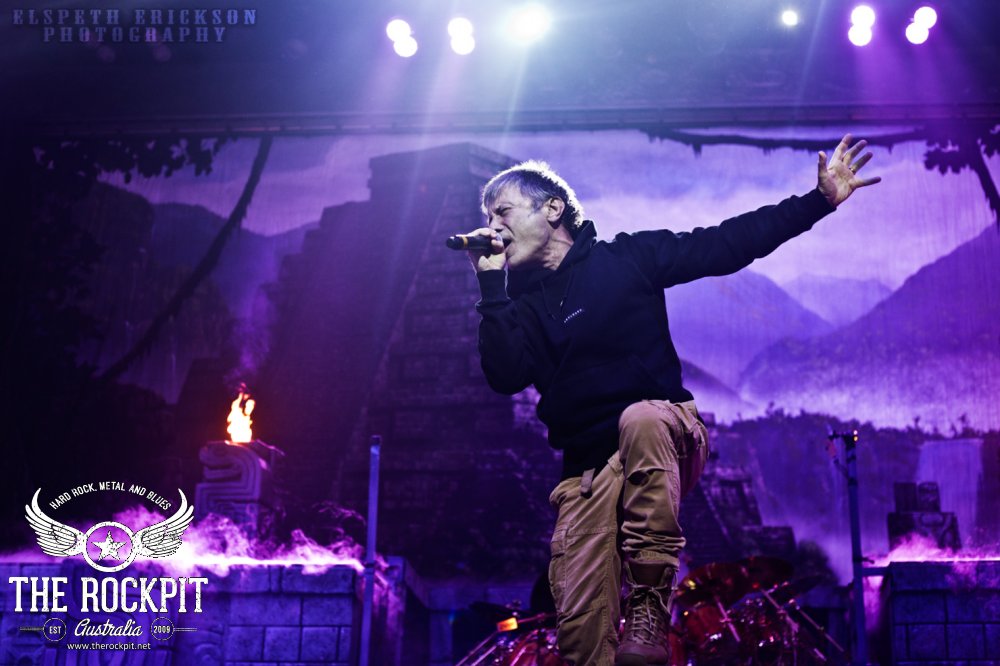 There's not much left to say about Iron Maiden that hasn't already been said before. Legends and masters of old school heavy metal, the veterans brought their "Book Of Souls World Tour" to Australia with Perth being the final show in the country. Their last appearance here at Soundwave Festival in 2011 was mighty impressive and tonight's show was no different.
Arrivng a little late, I managed to catch the tail end of The Raven Age opening the show for tonight who brought their own traditional side of metal that leaned more towards hard rock. They were a decent opening act as they played the big stage to an already fairly packed crowd early in the evening.
It was the opening intro bringing in the start of Iron Maiden's set however that brought the crowd to a thundering roar as we prepared for the epic show. The openers of their latest album "Book Of Souls" kicked things off and the huge production set on stage immediately caught the attention of punters everywhere. To see such a massive set that featured Aztec inspired imagary and props together with a cool 3D like effect indoors at Perth Arena was mesmerizing but ultimately after a few songs in, you realize that there's band playing right in front of it! Hard to ignore obviously when a classic like "Children Of The Damned" is busted out much to the delight of the young and old audience, a fact by the way which is great to see as generations of fans from kids to grandparents filled the 20,000 capacity arena.
Most of the mid-section of the show was filled with newer material and while it's fairly decent stuff, I was always more familiar with the much older classic songs like "Trooper" which made an early entrance. Frontman Bruce Dickinson with his youthful energy, bounded across the stage flying the British flag as he has always done and riling up the crowd who were more than pleased with this classic roaring through the PA. The whole band really looked fantastic and from a distance, you could have mistaken them for being from 1985 as they looked scarily the same. Of course the video screens up close showed that noone escapes time but physically the band seemed as fit as ever as they flailed and jumped around like they were a bunch of school kids rocking out. Essentially they still are, mentally speaking I suppose and in a way, we all kind of feel that youthful energy as we cheer them on.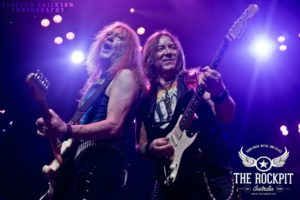 I always admired Steve Harris the most out of all the band members, his finger work on the bass is truly mind blowing and really not a surprise that so many musicians have been influenced or inspired by this man. Also one of the nicest guys in the business too from what I hear and one of the many reasons people love Iron Maiden. But moving back to the show at hand, the second half of the show was littered with more veteran songs like "Powerslave", "Hallowed Be Thy Name" and my personal favorite, "Fear Of The Dark". The hooky melodies and catchy lyrics make this one a top song and clearly a favorite for many fans who went crazy for it.
The band went into encore mode soon after and the ultimate Iron Maiden song "Number Of The Beast" with it's oh so familiar spoken word intro rung through, the devil himself making a quick appearance in the background which for some reason, reminded me of a viking as well! It was a couple more songs after this with "Wasted Years" ending it all and there we had another great show from the veterans of heavy metal. Whether you are a fan or not, Iron Maiden know how to put on a top show and people definitely got their money's worth.
PHOTO GALLERY
Photos by Elspeth Erickson Photography