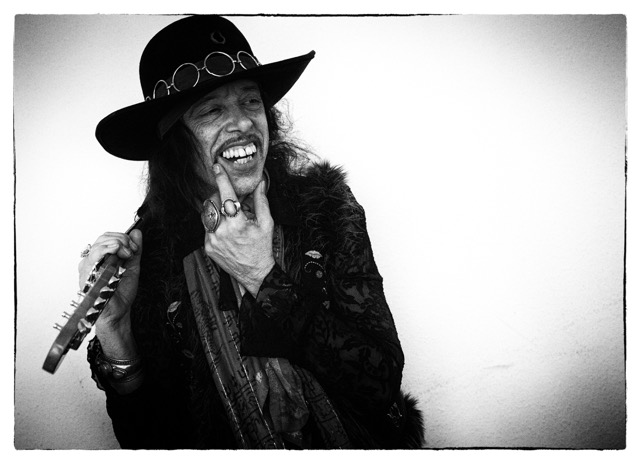 Born in Seattle in 1954, Randy Hansen is a legendary guitar player in his own right who is the biggest tribute act to Jimi Hendrix. Having been on the music circuit since the 1970's including a musical appearance on the 1979 film "Apocalypse Now", Randy has toured the world emulating one of rock's greatest musicians while at the same time, forging his own career that is built around a style that Hendrix helped create. I spoke to Randy ahead of his first ever tour to Australia to talk about the Hendrix Revolution and why Hendrix is such an important part of his life.
Randy Hansen may be a familar name if you follow the music and legacy of Jimi Hendrix so to be able to speak to the man himself in a sort of roundabout way, was a step closer to actually talking to Hendrix himself. More than just a tribute act, Randy's uncanny resemblance to the great man himself (although I think there's a bit of Carlos Santana in there too!) as well as his flair for understanding the music and the attitude at a deeper level is something that comes from being more than just a fan. It's his life in some ways so out of all the guitar players in the world to pay tribute to, why Jimi Hendrix?
"Because he was the best", says Randy. "The one I was most in love with…and it's a passion that has never faded. In fact I still learn something new from Jimi every time I hear his music."
So what was the one thing he learned the most from Jimi Hendrix?
"Morality…he formed my morality". Randy goes on. "Other than what my father taught me (which was more than Jimi has), he has had a huge influence on that part of my life. He was a very creative person and I have learnt so much from him on that side but I also know he cared a great deal about people. His music reflects his sensitivity and I think that is such an admirable quality."
Music can do that to people, it can bring people together but it can also form a way of life and have a major impact that goes all the way back to chldhood. We all remember that first time we heard our favorite band or song and hearing that music triggers those memories of being mesmerized by a piece of music for the first time. Randy gives his thoughts on the first time he heard Jimi Hendrix.
"The first time I heard Are You Experienced [was] because a guy tipped me off at school that I should listen to him", Randy explains. "I was already playing the guitar as I was all into The Ventures so I thought that this is as far as the guitar is going. Then I heard Are You Experienced and I just was amazed, immediately, just like everybody else that heard it, you know. And then it just became like, some kind of, how the hell did he do that? I really need to know this."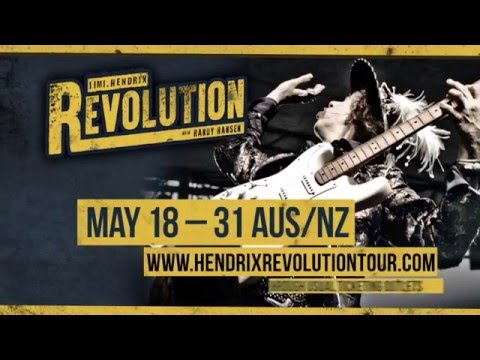 This will be Randy's very first time performing live in Australia so it begs the question of whether the Aussie fans will get a different experience to other tours he has done or if this will just be a good representation of he does as a guitar player. The guitar hero thinks it will be both.
"Every show we try to make it the best show we have done but it is a different show every night. The music allows me to play differently every night. I mean, Jimi never played the same song the same way and neither do I."
Paying tribute to someone of such legendary stature is probably difficult in more ways than one but in a sense, it helps to keep that legacy alive. However Jimi Hendrix will forever be a fixture on the rock hall of fame no matter what as Randy points out. "Jimi does not need me to keep his legacy alive but it is an honor that people see that in what I do. This is just the most fun I could figure out having playing the guitar and it has been a lifelong love affair."
Hendrix was also known to improvise a lot and while Randy tries to stay true to the originals, he also has his own style which he incorporates into the songs. "I improvise the songs in my own way but influenced by Jimi and his style & technique", Randy says. "I know a lot of Jimi's tricks and his approach to music. For instance, a lot of people will only play a major chord in the same way but Jimi would play a basic chord with added features. His approach to something simple is to make it complex. He listened and watched piano Floyd Cramer and adapted that style to the guitar. That is just one of the many things he figured out."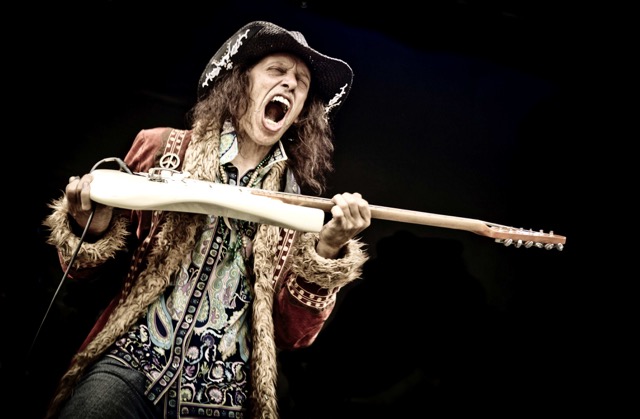 Obviously there will be noone else like Hendrix but there have been many great guitar players around that time and since then who are hugely influential and musically exciting. Randy rattles off a few names which definitely fit that description. "Jeff Beck, Richard Blackmore, John McLachlan, Pete Townsend among many others". An A-list of guitar players indeed. We move on to the creative side of things and Hansen also writes his own material which can be described as something along the lines of what Hendrix did but in many different ways as well. It made me curious though if he approached his own material in the same way that he takes on Jimi's songs.
"Sometimes but not always." Randy explains further, "Sometimes it is just a song that comes up and try to get it out…'cause I have written a lot of songs that sound nothing like Jimi and I try not to use the same tricks."
I then ask him if he was not playing guitar, what would he be doing and it sounded like an easy answer. "Probably a commercials artist – drawing and design, painting", Randy says. "I think I would still be creative as it seems to be what I am drawn to".
Makes sense really. Music is art and you need to be creative to do it for a living which is something that Randy seems to really be grateful for. I did feel honoured to talk to the guitar wizard as we came to the end of our interview and look forward to seeing his show. So any last words for the Australian fans?
"I will be back!!! I'm looking forward to playing across Australia and would like to be back to do it again."
HENDRIX REVOLUTION AUSTRALIAN TOUR 2016:
Wednesday, May 18: Enmore Theatre – Sydney
Saturday, May 21: The Palais – Melbourne
Tuesday, May 24: Concert Hall – Perth
Wednesday, May 25: Thebarton Theatre, Adelaide
Tuesday, May 31: Concert Hall, Brisbane
Tickets and tour details can be found at Hendrix Revolution.