A roundup of the latest news in the rock music scene. Updates include Burn River Burn, Kevlar, Jaw Bones, Elder Abuse, Fathom Farewell, Mars Red Sky, Artificial Agent and The Black Cape.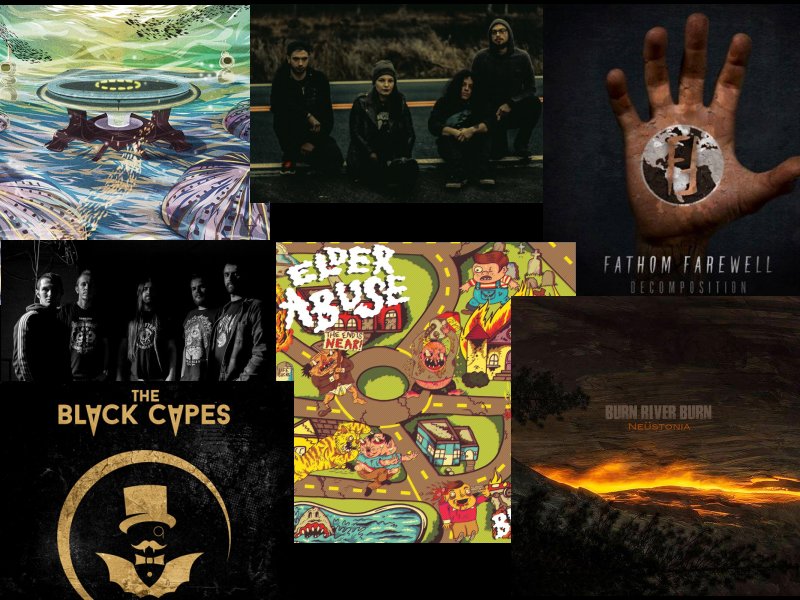 San Francisco, California hard rockers BURN RIVER BURN have unleashed to the masses their brand new video "Thanks For The Ride", the lead off track from their new sophomore full length album "Neüstonia".
——————————————–
Pennsylvania hard rock band KEVLAR have just signed with CB Entertainment for representation. With that, launching a brand new music video. The hard-hitting rendition of Katy Perry's "Dark Horse". Heading to Michigan, the single was produced and recorded with Nick Sampson (Asking Alexandria, Born Of Osiris, Miss May I). KEVLAR have just won the Hard Rock Battle of the Bands: Niagara Falls Edition in late May and will advance to the semi-finals. They will also be touring across the United States through the rest of 2017 including a stop at LOUD-N-LIMA Music Festival alongside Bobaflex, Brett Michaels and more.
——————————————–
Jaw Bones, one of the most rapidly rising bands of heavy-rock music in Greece, launch new cooperation and state full sail "present" in music with brand new promising suggestions. The heavy-rock band from Thessaloniki proudly presents its new record label Sliptrick Records, a debut album and its first music video under the management of Access in Music.
Jaw Bones launch this cooperation by releasing worldwide their highly anticipated debut album «Wrongs on a Right Turn» on 30th of May 2017. It is the band's first full record, proceeding a series of successful live performances next to bands like Clutch (USA), Monster Magnet (USA), Therapy (Ireland) and the Greek Nightstalker, Planet of Zeus, 1000Mods among others.
The first, strong taste of the forthcoming album comes via the release of the lead single "Ego Tripper", which was recently out by the exceptional director Dimitris Vavatsis.
——————————————–
Winnipeg, Canada-based punk rockers, Elder Abuse have dropped their new EP 'Burnt'! The four piece formed in 2012 and features ex-member of Daggermouth.
When talking about the writing and recording process of 'Burnt' the band said: "It was long but fun. We spent a lot of time couped up in an old farmhouse studio."
They went on to say: "I think first and foremost the record is about growth and experiences. Our band has gone through a lot since 2012, personally, professionally, both individually and as a group of friends. A lot of our reality was poured into 'Burnt', which may sound cheesy, but it's true."
——————————————–
Massachusetts Rock/Bluescore artists Fathom Farewell release the video for their song Take This World.
Take This World is off Fathom Farewell's new EP Decomposition which is out now. The video for Take This World has premiere New Noise Magazine and can be seen HERE
——————————————–
As announced recently, French heavy psych mongers MARS RED SKY are releasing a very limited 12″ EP entitled "Myramyd" this June 17th.
This brand new track was recorded and mixed live on analog tape at La Nef venue in Angoulême, France. Limited to 500 copies, "Myramyd" will be available on 12″ EP vinyl only from June 17th through their online store. Artwork and layout were designed by Carlos Olmo.
200 copies out of 500 will be numbered and come as a special "Hellfest edition" bundle, including a unique silkscreen created by French design team Arrache Toi Un Oeil, a totebag and other goodies. All pre-orders will be picked exclusively at Hellfest and on any show of their summer tour.
With ''Myramyd", Mars Red Sky deliver a dreamy, highly poignant, yet thick-sounding 17-minute instrumental that will drag you into the trio's hazy lands without warning. Constantly pushing the boundaries of their own trademark sound, Mars Red Sky amaze once again.
PRE-ORDER MARS RED SKY'S NEW 12″ EP HERE
Out June 17th, 2017 on the band's online store
——————————————–
Devil In The White Dress is the NEW single by Artificial Agent. Devil In The White
Dress appears on full length release PROGRAMMED TO DESTROY. Recorded at The
Tempermill . Produced by Tony Hamera.
The band will be direct support for RATT at the UNCLE SAM JAM on July 7th 2017 in
Woodhaven Michigan.
Artificial Agent has effectively opening for the likes of Vince Neil, Eagles of
Death Metal, Queensryche,Buckcherry,Poison, Ace Frehley,Alice Cooper, and several
opening appearances with Steel Panther.
——————————————–
Greek gothic rockers, The Black Capes, featuring members of Potergeist and Inactive Messiah, have just shared a new music video for the track "Sarah The Witch", off the band's debut album "All These Monsters" out today via Dark Tunes.