A roundup of the latest news from Nuclear Blast artists including updates on Anthrax, Venom Inc, Blind Guardian, Testament and Comeback Kid.
Legendary New York thrashers ANTHRAX will return to European shores later this month in support of their current hit album »For All Kings«, which hit the world charts on #8. To mark the occasion, the band has released a digital 2-track single entitled »Leftoverthrax«, including cover versions of KANSAS' 'Carry On Wayward Son' and 'Black Math' by THE WHITE STRIPES, today. Purchase »Leftoverthrax« or stream both tracks, here: http://nblast.de/AnthraxDigital
ANTHRAX live:
17.06.  D         Hockenheim – Matapaloz
18.06.  D         Saarbrücken – Garage
19.06.  D         Wiesbaden – Schlachthof
21.06.  H         Budapest – Barba Negra
22.06.  SRB      Kragujevac – Arsenal Fest
23.06.  I           Natz – Alpen Flair
25.06.  F          Strasbourg – Festival des Artefacts
26.06.  D         Regensburg-Obertraubling – Eventhall Airport
27.06.  D         Osnabrück – Hyde Park
28.06.  B          Liège – Reflektor *SOLD OUT*
29.06.  NL        Alkmaar – Victorie
01.07.  DK       Roskilde – Roskilde Festival
02.07.  NL        Uden – De Pul
04.07.  E          Pamplona – Zentral
05.07.  P          Corroios – Cine Teatro
06.07.  E          Viveiro – Resurrection Fest
13.07.  USA     Cadott, WI – Chippewa Music Fest
14.07.  USA     Chicago, IL – Chicago Open Air
15.07.  USA     Oshkosh, WI – Rock USA
29.10. – 02.11.            MEX    Cancun – Metal Maya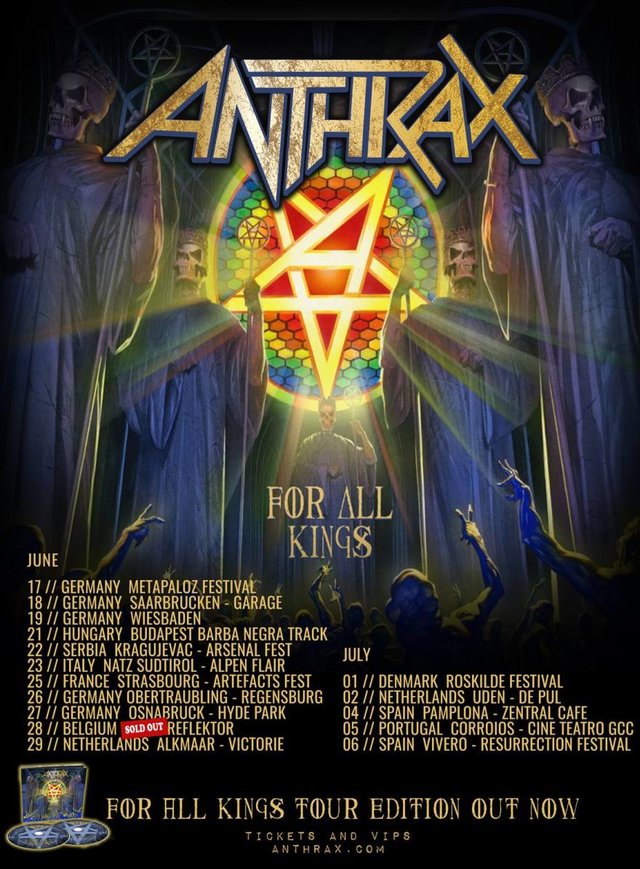 Regardless of your take on black metal forefathers VENOM, they are the undisputed originators of extreme metal as we know it. Almost 40 years after their inception, the revitalized 1989-1992 line-up of guitarist Jeff "Mantas" Dunn, vocalist/bassist Tony "Demolition Man" Dolan and drummer Anthony "Abaddon" Bray have returned with a monster of an album.
After months of anticipation, VENOM INC. will release their upcoming full-length opus, entitled »Avé«, on August 11, 2017 via Nuclear Blast. Pre-orders for the new album are available now at: http://nblast.de/VenomIncAveNB
The first single from »Avé«, entitled 'Dein Fleisch', can be streamed now via the Nuclear Blast YouTube channel: https://www.youtube.com/watch?v=HKBb24JaLXM
Pre-order »Avé« digitally to receive 'Dein Fleisch' instantly or stream the track:
http://nblast.de/VenomIncDigital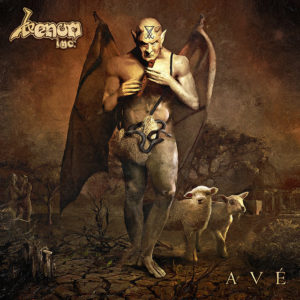 Krefeld, Germany-based progressive power metallers BLIND GUARDIAN announced the release of their first live record in 14 years just a few weeks ago. The 22-song package entitled »Live Beyond The Spheres«, will be purchasable as a 3CD-DIGI as well as a 4LP-BOX. It's scheduled to be released on July 7th, 2017. Besides all-time classics such as 'The Bard's Song (In The Forest)', 'Valhalla' and 'Mirror Mirror', rather rarely performed songs like 'And Then There Was Silence' are also a part of this live record.
"We compiled one 'show' out of the best tracks from more than 40 live performances, recorded during our European tour in 2015. That's how we pinned down the most beautiful and atmospheric moments on this medium," explains guitarist André Olbrich.
BLIND GUARDIAN unveil the live track clip to the song 'Prophecies'. This video is a really special one as it was put together by drummer Frederik Ehmke himself using only the material shot with one single camera, which witnessed each show of the tour!
Bay area thrash giants TESTAMENT have announced to bring the »Brotherhood Of The Snake« headline show to European shores this winter.
The band will be touring in support of their latest album. »Brotherhood Of The Snake« received raving reviews from all over the world and hit the charts in numerous countries upon its release in October 2016.
TESTAMENT will be supported by fellow thrashers ANNIHILATOR and label mates DEATH ANGEL in support of their latest release »The Evil Divide«!
Tickets will be available from Tuesday, June 13, 10am CET!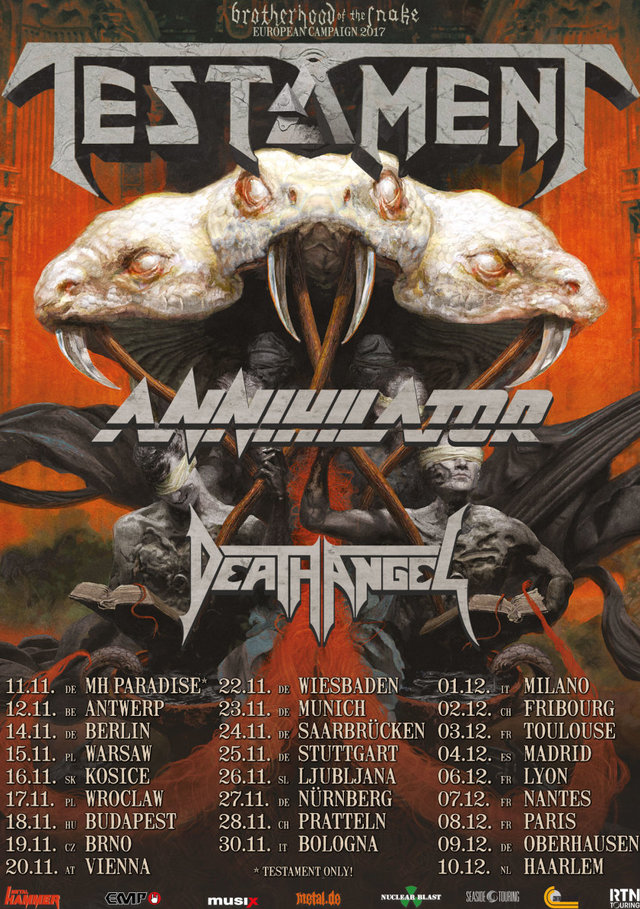 For the past months, the band have worked hard on the eagerly awaited follow-up to 2014's critically acclaimed »Die Knowing« which is scheduled for a release later this year. Today COMEBACK KID in co-operation with NOISEY present the first single off of the as of yet untitled new album. 'Absolute' features fellow Canadian music legend Devin Townsend and can be checked out here: http://nblast.de/CBKabsolute
Purchase 'Absolute' (find single cover art below this message) as an instant grat track here: http://nblast.de/ComebackKidDigital
COMEBACK KID will soon hit European shores for a 3 week run of shows through sweaty clubs and big summer festivals.