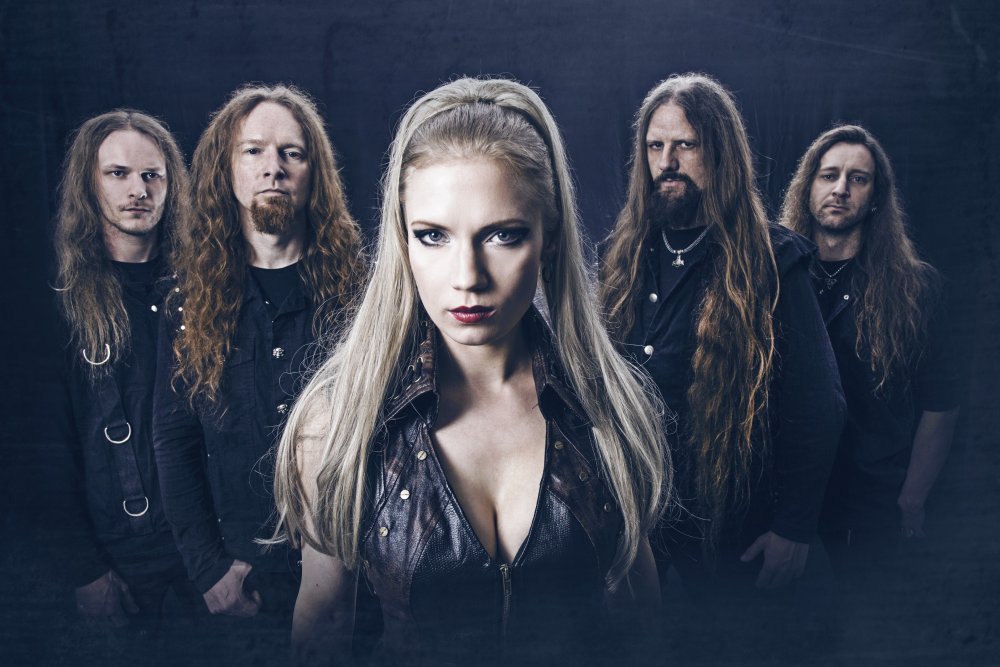 Metal goddess Elina Siirala has come to earth from the Nation of Angels to take the mic and front Leaves' Eyes for what has proven to be an epic move for the band. Siirala's powerful operatic vocals have enabled the band to expand the Leaves' Eyes universe following the departure of former frontwoman Liv Kristine and a new Leaves' Eyes album, according to Siirala, will conquer the masses at the beginning of 2018.
Elina took the time to talk to us about her recently completed second North American tour with Leaves' Eyes, her beginnings into music, joining Leaves' Eyes after the departure of Liv Kristine, and her own band Angel Nation.
The Rockpit: Elina, thanks very much for taking the time to speak with us. We really appreciate it.
Elina: It's my pleasure!
The Rockpit: You recently completed your second tour in North America with Sabaton and Battle Beast. What were some of your favorite memories when touring North America the second time?
Elina: Yes, it was really amazing tour! I would say it was overall just a great experience, again meeting a lot of new people and of course touring with two amazing bands like Battle Beast and Sabaton who are super nice people. Almost all the shows were sold out so crowds were great!
The Rockpit: You don't have a lot of time to sight see when touring. Is there anything you would have liked to have done while in North America that you definitely want to try the next time you tour here?
Elina: Yes, unfortunately there isn't usually very much time but we still got to see a lot. This time we stopped at the Niagara falls which was of course something I wanted to see and missed last time. It would have been great to see more nature so hopefully next time!
The Rockpit: What was it like touring with Sabaton and Battle Beast? Did you already know them or was the North American tour the first time you met them?
Elina: It was really amazing! Such nice people including all the crew! I had met Noora very briefly once in Finland where we played the same festival but this was a good opportunity to get to know her and the rest of the guys better. I had never met Sabaton before but I've definitely made new friends!
The Rockpit: I saw your show in Tampa with Battle Beast and Sabaton. What an excellent concert! When we spoke last year, you mentioned a new Leaves' Eyes album was forthcoming, but the band was too busy at the time and you still had to complete the 2017 tour with Sabaton. Is Leaves' Eyes planning on heading into the studio this year for work on the new album?
Elina: The new album is already in full production and will be recorded in the coming months and release will be in January 2018. So the wait is soon over!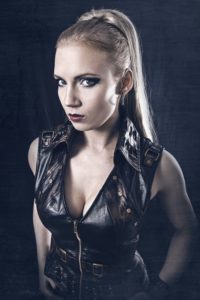 The Rockpit: Your operatic vocals blend very well with the Leaves' Eyes style of metal. I'd imagine however that your vocals would be amazing in whatever style they lend themselves to. Will the band stay with the more operatic vocal style completely for the new album or can fans expect something a little different than they're used to hearing?
Elina: It will always depend on the song which vocal style suits it best and there will be different type of songs just like King of Kings had.
The Rockpit: Will you be involved in any of the writing of the music for the new album?
Elina: I've been helping with the vocal melodies since they have to be at the right pitch for my voice. Sometimes there needs to be small changes too just to make sure it's the best way to sing a certain line.
The Rockpit: Could we expect a Leaves' Eyes tour back to North America in support of the new album?
Elina: I'm sure there will be a tour after the album is out.
The Rockpit: Could you give us a little history of Elina Siirala? At what age did you and your family realize that there was a talented singer/musician in the family in you?
Elina: My parents have told me that I used to sing all the time and everywhere from a very young age. As my family are all musicians, singing and playing was a very big part of everyday life. I learnt to play piano and started writing little songs when I was about 7-years old. I really wanted to play violin and finally started lessons when I was also 7 and played until I was 13. I kept writing songs throughout the years and decided to start taking singing lessons when I was 17.
The Rockpit: You're also classically trained and a vocal coach. Could you talk about that?
Elina: After starting the singing lessons I went on to study a degree in classical singing. There's a large variety of subjects such as music history, music theory etc. and also a big emphasis on teaching so I started teaching already when I was 19. I really love teaching and I've had such a pleasure to have so many different students over the years. It's challenging and rewarding at the same time.
The Rockpit: I read online that several of your relatives are musicians and that you're a cousin of Tuomas Holopainen of Nightwish. What other members of your family are musicians besides Tuomas and yourself?
Elina: Yes, I'm the second cousin of Tuomas but unfortunately haven't met him (except sometime as children in summer parties). My mother is a violinist and both, brother and father are pianists. Most of my other relatives are musicians too so it would be easier to ask who isn't a musician [laughs].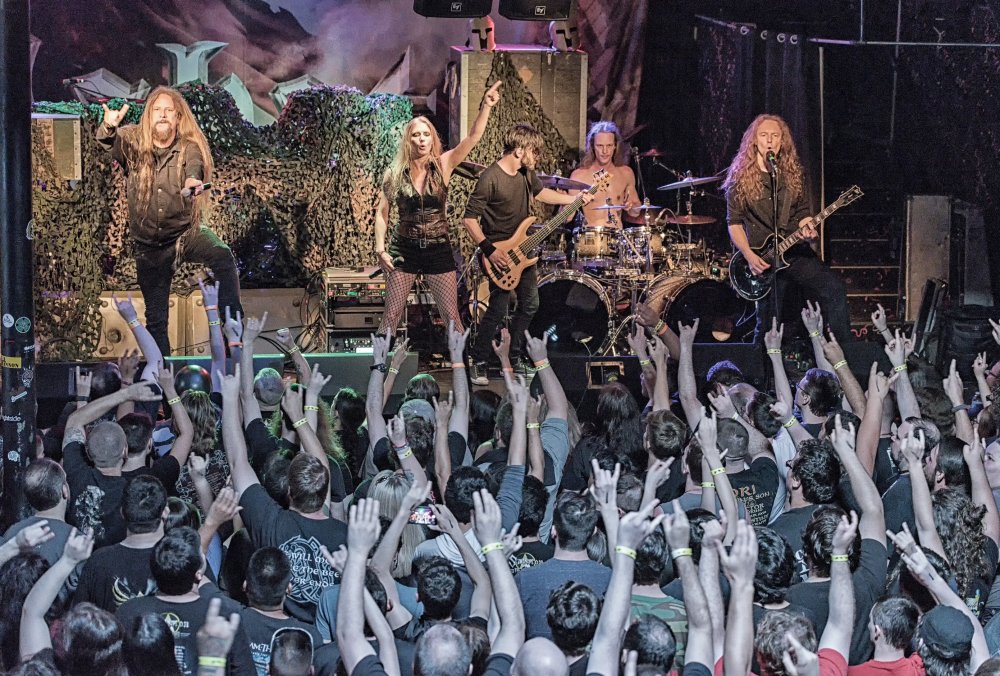 The Rockpit: Your voice is beautiful. It was that voice that caught the attention of Leaves' Eyes when they were in need of a new singer. How did that come about?
Elina: Thank you very much! We played at the same festival back in 2015 and later that year my own band Angel Nation supported Leaves' Eyes in London. I only met the guys very briefly but that's how they got to hear my singing.
The Rockpit: You've got your own band called Angel Nation that has one studio album out. Could you talk to us a little about that and how your own band was formed?
Elina: When I moved to London to study in 2008, a lot happened in a couple of years which resulted in me starting to write music again.  I really loved rock and metal but felt like I'd want to write something specifically for my own voice and after having a few songs I thought it would be great to perform them live so I decided to form a band, originally called EnkeliNation (we changed our name to Angel Nation later on).
The Rockpit: I read that you're working on music for Angel Nation's second album. How is that coming along?
Elina: Actually we started working on the album already a long time ago and were ready to start recordings when I got the call from Leaves' Eyes. So recordings are now finally done and the tracks are being mixed as we speak.
The Rockpit: Are you able to tell us a little about the upcoming Angel Nation album?
Elina: I had fun writing this album! I get inspired by loads of different things so there's different type of songs on the new album just like Tears of Lust had. It sounds like a cliche but it's important to me to write from the heart, try new things and create what I feel is true to me musically (not trying to calculate or please anyone). This is of course also reflected in the lyrics which are little stories of my mind and life.
The Rockpit: I went to your website elinasiirala.com and was reading some of your information there. I think it's a good idea to have another business while growing your music career. Do you see the time when you'll make the jump to full time frontwoman?
Elina: I think it's always good to do many things and be part of the music world in different ways. I'm also sure there would be a lot more full time musicians if it was easier but the music industry is a tough world to be in. I continue to work hard and it makes me appreciate the times I get to do what I love even more.
The Rockpit: As a vocal coach and successful singer, what would you say to women who want to pursue a singing career, particularly in metal?
Elina: Weather you're a man or woman it always takes a lot of work and dedication. What seems like an overnight success is pretty much always followed by relentless work so keep following your dreams and don't give up. If the quality and passion is there, people will see it!
The Rockpit: So when you're alone and the Leaves' Eyes music has stopped, whose music are you listening and singing to?
Elina: There probably will be silence [laughs]. I like so many different kind of music but I must say I do love 80's rock.
The Rockpit: We look forward to seeing you and Leaves' Eyes back in the states again soon. Thanks very much for coming to tour North America again this year!
Elina: Thank you and looking forward to seeing you too!