A roundup of the latest updates from the underground metal scene around the world. News includes Fall Of Carthage,
FALL OF CARTHAGE "Suffer The Pain" videoclip and tourdates
German modern metallers FALL OF CARTHAGE have released a new video for the track "Suffer The Pain".
Taken off the band's latest album "The Longed-For Reckoning", "Suffer The Pain" is not your typical performance video, but a complex and cinematic staged clip, directed and produced by Michael Ciesla (SuidAkrA).
The shooting took place in the middle of February in Kleinrinderfeld, near Würzburg.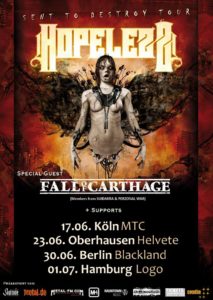 Methane reveals Olle Ekman as new drummer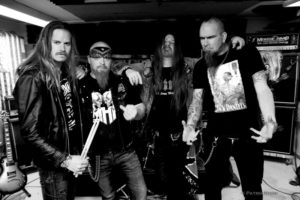 Methane reveals Olle Ekman as new drummer. Late 2016 Andreas Strom gave notice that he would not be able continue as Methane's full time drummer and the band set out to find someone to fill his drum seat.  In February Methane found him, non-other than a veteran in the Swedish metal scene, Olle Ekman. Ekman is probably most known as lead singer from Sweden's Deals Death and touring with Amaranthe. Tim Scott (bass and vocals for Methane) and Ekman have both played in death metal band Volturyon, only not at the same time. Ekman sang on the first 2 albums from 2008-2011 and Scott played bass a short time in 2014 on the Human Demolition EP.    Olle has not always been a singer. He originally was a drummer and has been it aching to get back behind a drum set.
Methane has recently released it's debut album 'The Devil's Own' on Sony/Dark Star Records, and is now booking tour dates for 2017. with already confirmed dates in Finland in the beginning of June.
06/01 Tampere
06/02 Turku
06/03 Vantaa
Methane formed in 2012 by American brothers living in Sweden Tim Scott and Dylan Campbell along with Jimi Masterbo. Methane's 'The Devil's Own 'has been released on Sony/ Dark Star Records February 17,2017. This is the bands debut full length album. Methane has previously released 2 Eps 'Southern Metal' 2014 and 'Spit on your Grave' 2015 as well as to music videos. They have also been featured in the world's first e-novel with music and on Metalhedz TV series among numerous compilation albums. 
https://www.facebook.com/methaneband
NY Death Metallers Incontinence Reveal 'Prey For Us' Details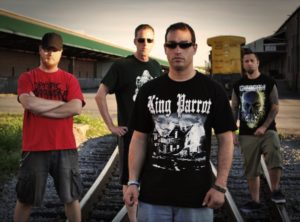 Spearheaded by four New York death metal veterans involved in venerable acts including Skinless, Held Under, Armor Column, Dry Heave and Burial, Incontinence proudly reveal details for the release of their debut album, Prey For Us. Scheduled for release on May 15th 2017 via Ultimate Massacre Productions, Incontinence have came up with a record intent on bringing brutality to the metal-minded masses, within a package of strong songs that hook the listener in and don't let go.
As a taste of what's the come the band have also unleashed a track from the album entitled 'Cryptofascist' which is streaming in full right here!
https://soundcloud.com/ultimatemassacreproductions/incontinence-cryptofascist/s-5uBcL
"The biggest underlying theme of the album is the theme of being under control, losing control and misery in lower-to-middle-class America", comments the band. "For example, 'Capitalist Martyr' deals with a lower-level employee of a large corporation being shamed and forced into working longer hours. 'Phantom Heart,' 'The Outrage Machine' and 'Inner Psychopath (Believe the Lie)' all tie into the theme of being under control, being manipulated and losing one's mind. Elsewhere, 'Escape to the Slaughter' is a song loosely about a real-life event in which a herd of bison escaped from a Buffalo meat farm just south of the Capital Region. They eventually got cornered and slaughtered by marksmen. This was written from the perspective of the bison herd. 'Cryptofascist' is without question about the rise of Trumpism/nationalism in the USA, but you could also apply it to other parts of the globe, as nationalism has seemingly become trendy. The song was written in the middle of the ridiculous US presidential campaign, prior to the election, and was never meant to be a prophecy. Several of the songs on the album were written structurally in the vein of what Chuck Shuldinder did on the last four Death albums as well as on the Control Denied album. Death was a big time influence on Prey For Us."
Ottawa Doom LONGHOUSE Stream 'No Name, No Marker'; New Album 'II: Vanishing' Out April 14th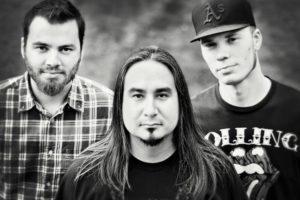 Ottawa, ON's LONGHOUSE came into being in 2013 when guitarist Marc Casey and bassist/vocalist Joshua Cayer turned their long-standing song-writing partnership into a full band with drummer Mike Hache to complete their circle of dark, riffy, heavy textured doom metal. They released their debut album 'Earth from Water' in 2015, a spiritual odyssey into the perseverance of the human spirit and the lessons we can learn from the natural world.
In November 2016, LONGHOUSE returned to Wolf Lake Studios to record with Mike Bond (Loviatar, Norilsk, Arms of the Girl) once again as producer and engineer for the outcome to be their sophomore album entitled "II: Vanishing". The album continues the pleasing progression of their debut while retaining the band's core sound of heavy, intricate riffs, splashed with a touch of post-metal to guide you on a dark and visceral journey spanning nearly 40 minutes over five tracks.
"II: Vanishing has a logical evolution that is evident in the composition, as well as production. I also think that fans should take a moment to reflect on some of themes that are threaded throughout the album." says vocalist / bassist Joshua Cayer. "The bulk of my ideas musically and lyrically come from exploring Indigenous ways of knowing. I am Algonquin First Nations. My family's community is Kitigan Zibi, outside of Maniwaki, QC. However, I grew up in the city, mostly detached from my culture. As a father, I have been trying to immerse myself in the stories, wisdom, and strength of our Elders, knowledge keepers and story tellers, so that I can pass that on to my daughters. Because this takes up so much space in terms of who I am, and who I am becoming, it plays a very large part in terms of influences I draw upon."
Those influences can be heard in LONGHOUSE's first single "No Name, No Marker", a song written for the voiceless Indigenous children who were abused and died while forced to attend residential schools in Canada and were buried in unmarked graves.
"No Name, No Marker" streaming at https://longhouse1.bandcamp.com/track/no-name-no-marker-2
"II: Vanishing" will be unleashed digitally on April 14th via their Bandcamp with physical cassette release June 2017 (date to be determined) via Sunmask Records.
Across The Burning Sky: publish lyric video for the track "Sacrifice"
After the lyric video for "Bloodlines", melodic death metallers Across The Burning Sky, who have committed themselves to the Gothenburg style, are releasing a brand new lyric video for the track "Sacrifice", a song taken off the band's current album "The End Is Near". The video, which was premiered in cooperation with Metal Hammer Italia, is a combination of lyric video and religious motifs and rituals, which, in the context of the lyrics as criticism of religion denies the existence of a god and accuses his worship practices.
"Sacrifice" is once again a fast and ferocious ode to the early melodic death metal of the nineties and will also be on the forthcoming fourth part of the "Hymns Of The Underground" compilation series.
Death Thrash Titans MORTÖR Set To Release 'Burn Up The Dead' Album; Tracklisting And Cover Art Revealed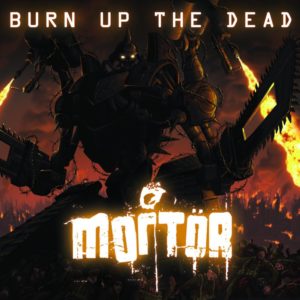 Where the fast tempos, low-register, complex guitar riffs of thrash meets the brutality of death metal, you will find Canada's almighty MORTÖR. Like any cross-over band with its weight in salt, Mortör come armed to the fucking teeth with muscular grooves, bold imagery, and a party-like live performance and overall attitude.
After launching two pulverizing albums back to back, METAL RIDE in 2010 and SHOOT 'EM UP in 2012, the war metal household that is MORTÖR fell back to recharge its line up and compose their third album. In 2016, the band resurfaced, more vicious than ever, with a new secret weapon ready to be dropped upon the face of the world, entitled BURN UP THE DEAD.
BURN UP THE DEAD follows in the tank tracks laid by previous MORTÖR albums, utilizing similar firepower and tongue-in-cheek themes, yet, at the same time, advances considerably on all fronts. Buzzwords such as 'dynamic' and 'organic' fit easily alongside the proven descriptors, such as 'catchy-as-all-fuck' and 'head-crushing brutality'.
MORTÖR is more than a celebration of metal, and BURN UP THE DEAD is without a doubt its greatest delivery — with all guns blazing.
Burn Up The Dead is set to release April 21st via CDN Records. Pre-orders can be made here.
MINDMAZE: "SIGN OF LIFE" MUSIC VIDEO RELEASED
The US progressive power metal band MINDMAZE just released a music video for "Sign of Life", the first single from their new album "Resolve". The album will be released on April 28th in Europe and North America through Inner Wound Recordings.
Over the span of 68 minutes of melodic and powerful music ripe with recurring themes, the band takes the listener on a whirlwind journey through the scope of human emotion in hopes they will be able to project their own experiences into these intensely personal lyrics inspired by an amalgam of real-life events.
Resolve reprises the band's ever-present influences from bands like Queensryche, Dream Theater, Iron Maiden, Savatage, and a mixture of contemporary power metal and melodic rock hooks and songwriting while moving the band further into progressive and theatrical territory with more atypical song structures used to best serve the concept of the album.
The band continues to forge their footprint as one of the most promising and unique female-fronted bands to come along in recent times.
Canadian tech-death band Seismic release new single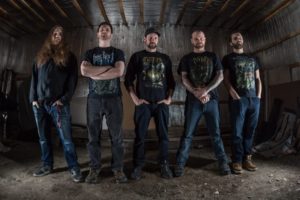 Technical death metal band SEISMIC, from Rouyn-Noranda, QC, will release their first song, 'Comorbidité interne' (Internal Comorbidity), on March 31st via bandcamp, and in late April on all major music distribution platforms. The song takes cues from tech-death, thrash, and groove metal to make a song with a lot of forward momentum. The lyrics are about mental illness and are sung in French.
Fans of Hadal Maw, Dying Fetus, Crator, and Inferi will be in familiar territory, and will most likely enjoy this new band too.
SEISMIC are playing together since 2015 when two prior projects – Wrath of Terra and Hécatombe – joined forces to create Seismic. In 2016, bassist Dave Tremblay joined the line-up. 'Comorbidité interne' is the band's first recording, but they are already working on an EP for next year.