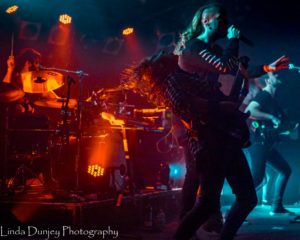 Perth prog masters Voyager and French Djent progressive rockers The Algorithm joined forces on Friday in Perth as part of their duel Australian tour with Voyager launching their brand new album "Ghost Mile". Our newest reviewer Matty James took in the show and gave us a few highlights from the night.
Well, what a night for the Perth show of Voyager's 'Ghost Mile' Album Launch Australian Tour. The venue packed out as soon as doors open with a very enthusiastic crowd which boasted a lot of die-hard Voyager fans, as well as many new fans; who they undoubtedly would have gained upon their new album release.
Opening up the night was the Industrial Metal/ Rock act 'Sparrow', who started their set with a daunting dark, evil intro which lead to the set being packed with lots of heavy, yet groovy songs, with lots of dance beats, all of which involving a prominent chorus. It felt like the audiences interest was evolving rapidly as their performance was becoming more captivating as each song went by.
Making their way over from Perpignan, France, the two piece Hardcore Techno/Metal/Instrumental band – The Algorithm – blew the entirety of the audience members minds within seconds of their performance. Due to their technical, deathcore-like drumming with precise, energetic tendencies, blended with Drum 'n' bass/Trance DJing and Djent-like guitar riffs, the audience were bopping their heads to the music as their jaws dropped like they didn't know what hit them.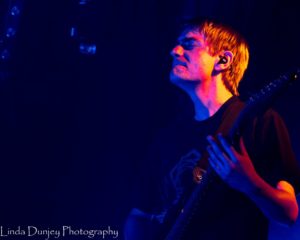 During slight technical difficulties, the drummer took everyone's breathe away with a chest pounding drum solo, which amazed the audience, and led to The Algorithm's final two songs which left the crowd extremely impressed and in awe. I can honestly say that The Algorithm were the most suited act for the main support for Voyager's tour.
Returning to their home town of Perth, Australia, Voyager kicked off their set with their new single 'Ascension'. This track was overwhelmingly impressive. With so much raw, individual talent as each band member busily showcased their abilities, to witness this display performed live lifts the song to a whole new eye-opening level. When you go to a Voyager concert, you will see more than just a live band.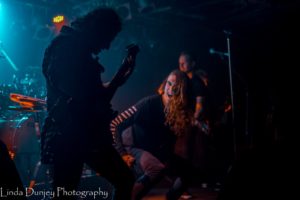 Besides the fact they are the tightest, grooviest, most fattest sounding band in their genre, you also witness the greatest lighting show on offer – gluing your eyes to the stage. With all members going absolutely nuts on stage, laughing with each other, the vocalist [Daniel] making sure the crowd watches him drink his Chinese cough syrup – as well as jumping on the shoulders of a fan in the mosh pit – you can definitely see that Voyager love doing what they do and that leaves everyone in the venue 100 percent satisfied.
Voyager are definitely the most entertaining live band, whose professional nature appeal to music lovers of all genres. If you have not seen Voyager live, I highly recommend that you do so – and quickly!
PHOTO GALLERY
Photos by Linda Dunjey Photography