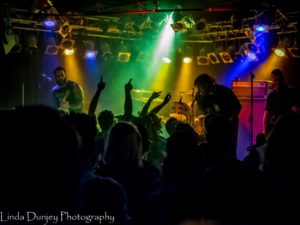 Tonight saw some of the biggest names in hardcore decimate the amplifier, the first band to kick off the show were fresh faced Perth locals Vacant Home with their own brand of melodic hardcore. If I'm honest not much movement from the crowd but I guess in reality most opening bands face the same difficulty on a nightly basis. Taking tracks from last years EP "Reflect" the tracks "Back Bay" and "Shiver" stood out for me, well done guys, solid effort.
Next to take to the stage was Sydney heavyweight's Relentless and from the get go this band were not here to muck around. Taking tracks from the 2013 album "Turn The Curse" the musicianship on display here was breathtaking to say the least, the lead singer who's name escapes me was charging around on stage like a man on a serious mission hyping up the by now maniacal crowd.
"All We Know" was razor sharp, the energy in the room was unbelievable. I highly recommend catching this band live to truly soak in the sheer grit and vigor that these guys pump out that's not to be missed.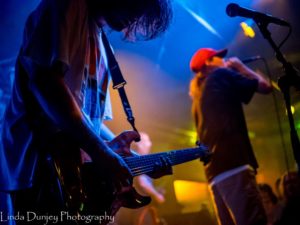 Speaking of power house band's, Knocked Loose enter and this is one of the heaviest bands I've seen in a long time.  "Oblivions Peak" was a sinister snarling beast of a track and tonights set felt like we were collectively being run over by an out of control semi trailer. Lead singer Brian Garris has a formidable stage presence, head banging and moshing on stage and generally looking every part of a man in complete control. The guitar duo of Cole Crutchfield and Issac Hale is of note, also I'd go as far as to say these guys are the next big thing and should be kept firmly on your radar. You've been warned!
Finally the moment the sea of fans have been waiting for as Stick To Your Guns takes to the stage and I don't know if it was just me but I felt very captivated by front man Jesse Barnett. Every song in tonight's set had some meaning or back story to it, for example "The Bond" was dedicated to a family member lost under tragic circumstances only 2 months prior and a fairly new track "The Suspend" was dedicated to the strong women in Barnett's life. At one point in the night some of the crowd were stage diving and dancing around which was, dare I say almost primal. One stand out track in this set was "No Tolerance" for the amount of energy shown by each member of the band, overall a solid line up and I'm banking on the fact that people will be very sore and sorry in the morning.
PHOTO GALLERY
Photos by Linda Dunjey Photography