Another stellar lineup from the Aussie metal scene rocked the Amplifier Bar on Friday night in Perth which featured local boys Remission open up with Victorian thrashers Mason, Tassie's rock gods Taberah and Perth's premier power metallers Silent Knight round out the bill.
It's good to see punters show up in droves for a local show, even if half the lineup were interstate bands which is always a strong motivator for Perth metalheads to come out of their caves and check out what's happening in the real world. The fact that Silent Knight pull such a crowd consistently on their shows sums up a very bright future for them which evidently, this show will see them off to Germany to perform at this years Headbangers Open Air festival in a couple of weeks.
Much luck to them of course but back on their home turf, we witnessed a mixed bag of some of Australia's best metal and rock acts going around right now starting with Perth's own Remission who have been actively making a name for themselves and jumping onto some choice support slots as of late (including an appearance at this year's Metal United Down Under in Melbourne). Certainly the darkest band on the night, it was a heavy start for the show and enough to get the audience curiously intrigued.
In town as part of their national tour in support of their latest album "Impervious", Mason are a thrash force to be reckoned with and their performance tonight was, as recently heard and so eloquently stated, "tight as a nun's nasty". No truer words could be said as the Melbourne thrashers brutalised the crowd with their brand of unadulterated vintage thrash that proves that Melbourne truly is a breeding ground for some of the best thrash metal not only in Australia, but in the world.
The rock gods from Tassie (at least as we at The Rockpit like to call them), Taberah rolled onto the stage soon after and it was good to see them only just over a year since they were here last at the Stormrider Festival. Unlike last time however where they were relegated to the floor in the room next door, tonight was a main stage appearance and the crowd lapped up every moment, complete with crowd banter, rocking tunes and a special appearance by one retro Nintendo 64 t-shirt courtesy of a fan who decided to volunteer his shirt to frontman Jonathon Barwick upon request. It was all fun and games and while their last appearance reminded me of classic rock mixed with spurts of heavy metal, this time there was a hint of that goofy Airbourne/Steel Panther vibe going on but as the set progressed we were reminded that the music was still the focus of what Taberah were truly about.
Their latest album "Sinners Lament" has been one of our favorite picks of the year so far and it translates really well live. One does wonder occasionally  though how the band would sound if they took on those huge metal breakdowns and riffing moments that they sporadically throw in, to the next level and really stepped into a more heavier approach. Either way, Taberah are definitely worth checking out again if you missed them this time around.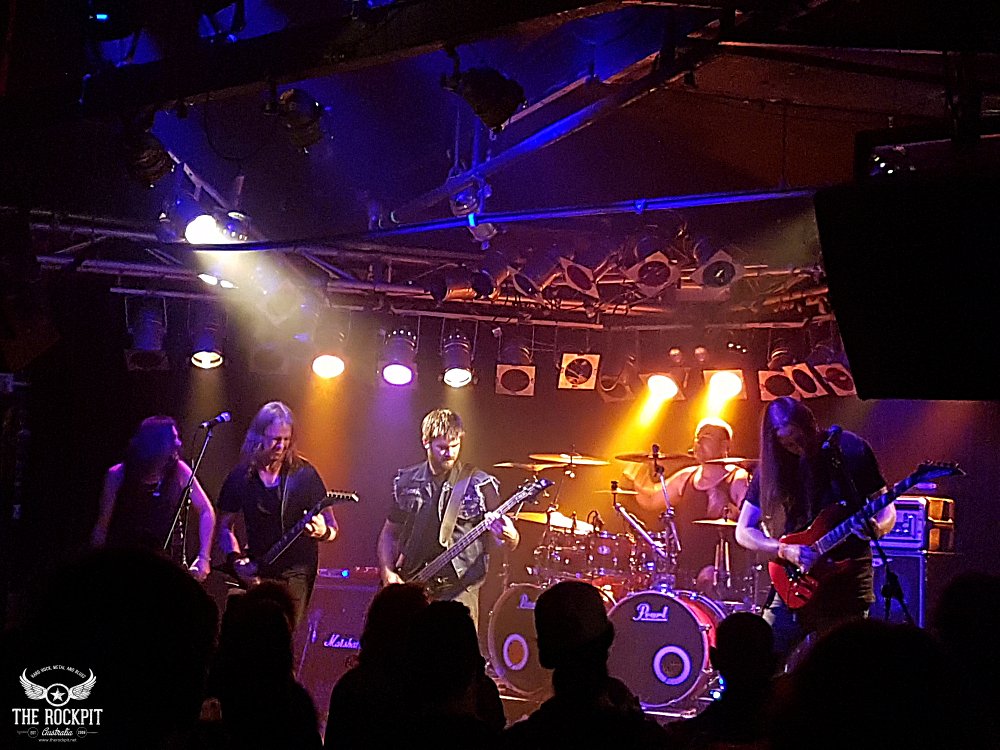 The power metal behemoths that is Silent Knight stepped into the firing line next and it was all systems go from start to finish, putting on a pretty relentless set with a mixed bag of songs including a barrel full from their new re-release "The Masterplan" which sees the band go back to their debut record and bring it to a modern level. After seeing them just recently tear it up supporting Dragonforce, their headline show sees an extended set that showcases why they are unbeatable in their field right now and with an impending tour to Germany set to light the Europeans on fire which is sure to go down pretty well to a fanbase who love this niche style of music, things are on the up and up for the band.
A few surprises in the mix including the brilliant "One By One" with it's Iron Maiden-esque, NWOBHM infused sound and even more surprisingly, the absence of the Europe classic "The Final Countdown" that usually rounds out their set kept the fans on their toes and which also instigated a rowdy moshpit which is always a good sign that the show is being thoroughly enjoyed. It's another indication that things are going pretty well for Silent Knight right now and it's well deserved.