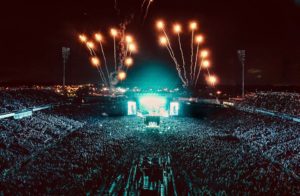 The 11th annual Rock on The Range has come and gone leaving most of us with mixed feelings. The festival has always been a huge success with some of the most incredible line ups and massive crowds. The Zippo Encore Experience allowed fans to get up close and personal with different bands during acoustic sets. Let's not forget about The Music Experience Tent were fans can get up close to the music gear that so many of their favorite artists use on a regular basis and run into their favorite artists from time to time.
Rock on the Range has never disappointed their fans in that regard.
This year was different. The passing of Chris Cornell of Soundgarden left a feeling of sorrow and grief hovering over the entire venue. How do you mourn the loss of someone that has had such a deep impact on so many people and celebrate their life at the same time?
The answer: with music. That's how. Music is the universal language that brings people together in a time of mourning and/or celebration.  A song can bring you back in time; remind you of a special moment, or a special someone.  A song can also remind you of a darker, not so special time in your life. Just remember that there is always someone that can relate regardless of the situation. You are never alone.
FIND HELP
Hope is real. Help is real. Your story is important.
https://twloha.com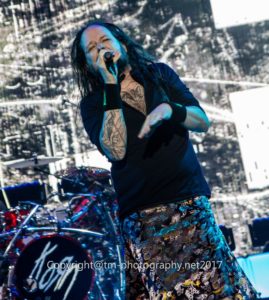 This weekend was no exception. The music, the voice, the image of Chris Cornell resonated throughout the entire stadium for three days. Numerous artists performed emotional and heart felt versions of Spoundgarden songs all through the weekend. Taylor Momsen from The Pretty Reckless struggled to get through her touching tribute to Chris Cornell, singing "Like a Stone". Kyng played an acoustic version of "Hunger Strike" in the Zippo Encore Experience tent. The most anticipated performance of the evening materialized when Corey Taylor took to the stage to pay tribute to Chris Cornell Friday evening at the exact time and place that we expected to watch Chris perform on stage along with his band mates in Soundgarden.
Everywhere I wandered I could hear fans reminisce about their Soundgarden experiences. I always hear about how a band or a song made a different in someone's personal life or how it helped get them through a tough time. Friends of mine told me about how their newborn would fall asleep to the soothing sound of Cornell's voice.
A plethora of emotions surged through the crowd for the duration of the festival along with the rain.
Friday's festivities came to an abrupt halt when mandatory evacuation announcements were being played over the sound system starting around 3pm. A severe weather forecast forced all attendees to return to their vehicle and seek shelter. Fortunately the show did continue shortly after 7pm and the show was extended in order to complete the scheduled line up including the Soundgarden tribute.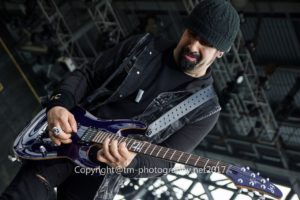 Saturday was off to a late start as the weather threatened to take over again. Set times where pushed back, but the rest of the day continued without interruption.  Rangers came out in full force for the remainder of the weekend after feeling deprived of their usual 3 day venture.
All three stages were roaring with thunderous fans rocking out to their favorite performances. Crowd surfers were out in full force and the bands did not disappoint.  Sunday evening a colossal down pour threatened to shut down the festival the end of the Volbeat set and minutes before Metallica was to hit the stage.  Fans were not having it. Volbeat was able to finish off their set after the rain settled and the mighty Metallica headliner set was pushed back, but did take place. Everyone had come too far to miss what we all came for.
Metallica was able to perform their set in its entirety to a sopping wet but boisterous crowd. Naturally the guys did not let their fans down. Check out the complete set list below.
Hardwired Intro
Hardwired
Atlas, Rise!
For Whom the Bell Tolls
Creeping Death
The Unforgiven
Now That We're Dead
Moth Into Flame
Harvester of Sorrow
Welcome Home (Sanitarium)
Whiplash
Sad but True
One
Master of Puppets
Fade to Black
Seek & Destroy
Encore:
Blackened
Nothing Else Matters
Enter Sandman
PHOTO GALLERY
Photos by TM Photography
Friday
Live, Chevelle, Bush, Of Mice & Men, Thrice, Beartooth, Goodbye June, Badflower, I prevail, The Amity Affliction, Motionless in White, Sum 41, Pierce the Veil, Aeges, Cover your Tracks, Bleeker, Red Fang, Norma Jean, Gojira
Saturday
Starset, Skillet, Alter Bridge, Seether, Papa Roach, Offspring, Korn, Fire From the Gods, Skylar,Kyng, The Story So Far, Taking Back Sunday, Coheed & Cambria, One less Reason, Frank Carter & the Rattlesnakes, Turnstile, Attila, White Chapel, In Flames
Sunday
Rival Sons, Nothing More, Biffy Clyro, The Pretty Reckless, Primus, Volbeat, Metallica, As Lions, Dorothy, Radkey, Dinosaur Pile up, Zak Sabbath, Dillinger Escape Plan, Amon Amarth, Mother Feather, Royal Republic, Wage War, Every Time I Die, Suicide Silence, Deafheaven