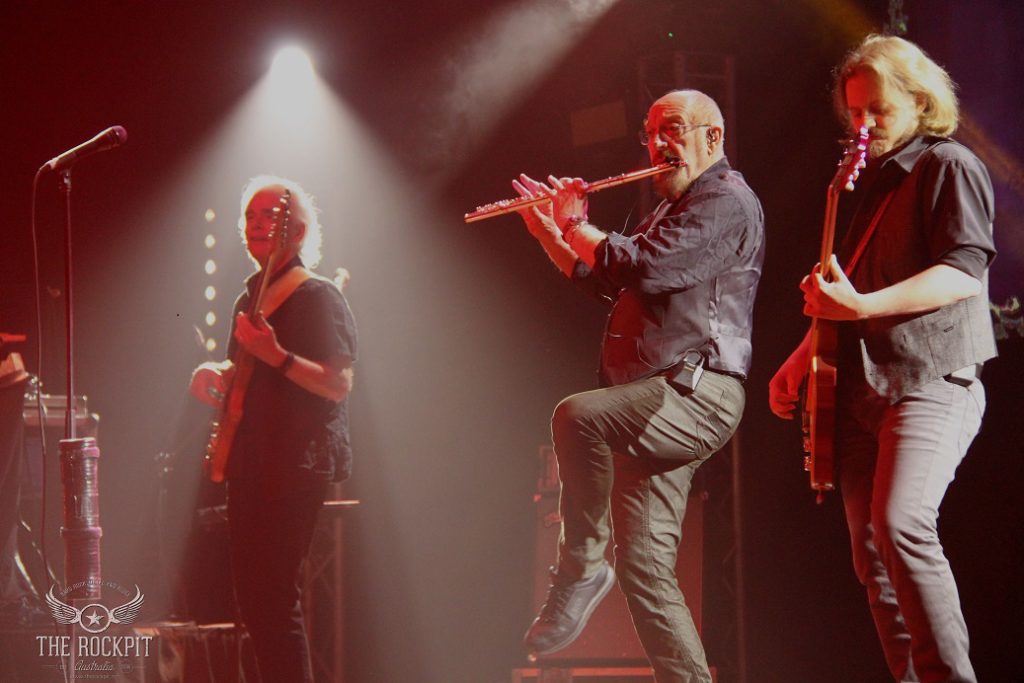 It's easy to get confused by the intricacies of the use of band names and the personnel involved in various tours and individual shows. Last year Australia's premier Festival Bluesfest announced 'Jethro Tull' as performing at their 2017 event but when side dates were announced for Perth, Melbourne and Sydney they were billed as  'Jethro Tull by Ian Anderson'. Ian's own website lists the Bluesfest date as 'Ian Anderson Best of Jethro Tull' amidst the 'Jethro Tull by Ian Anderson' tour that starts in Australia and continues to New Zealand, the USA and Europe. By the time we get to June we're back to 'Ian Anderson Best of Jethro Tull' tour and then in August we switch back again. As far as I'm aware (and I may be wrong) the last time 'Jethro Tull' the band itself played was for the Aqualung 40th Anniversary tour in 2011.
All we really needed to know tonight was that Jethro Tull's creator Ian Anderson would be be there to deliver some 'Tull' with his inimitable wit and style. More precisely as the man himself puts it, this tour will showcase:  "… a collection of best-known Tull classics with a few rarely-played pieces".
Tull of course are one of the Classic Progressive Rock bands of the Seventies (formed in '68)  and one of the bands I needed to see before I expire. With a back catalogue as varied and extensive as theirs it's hard as a rather studious but casual observer to make any comment at all on the setlist, though looking round the crowd its clear that many here are fans of long standing and so pleased to see Mr Anderson take his show to the West Coast who missed out last time he visited these shores.
Before we start though I must admit to still being confused – what will the difference be between the Bluesfest 'Best of Jethro Tull' and tonights set be? The answer by the end of the night was a resolute who cares! This was two hours of fine music enjoyed by a crowd who listened, it's so refreshing to go to a show where no one reaches for a mobile phone all night.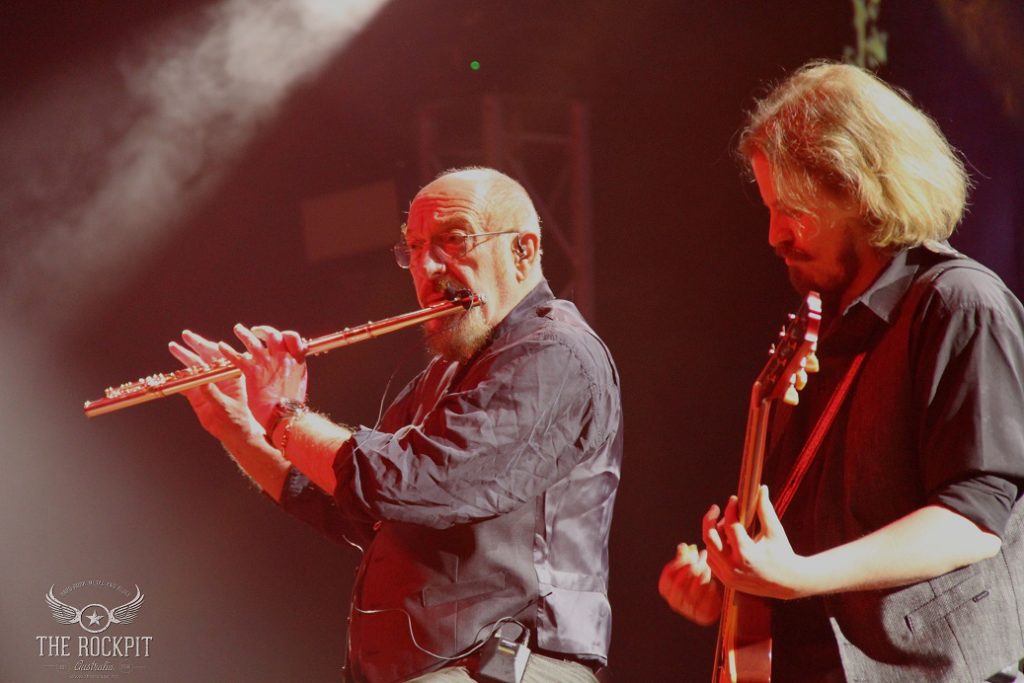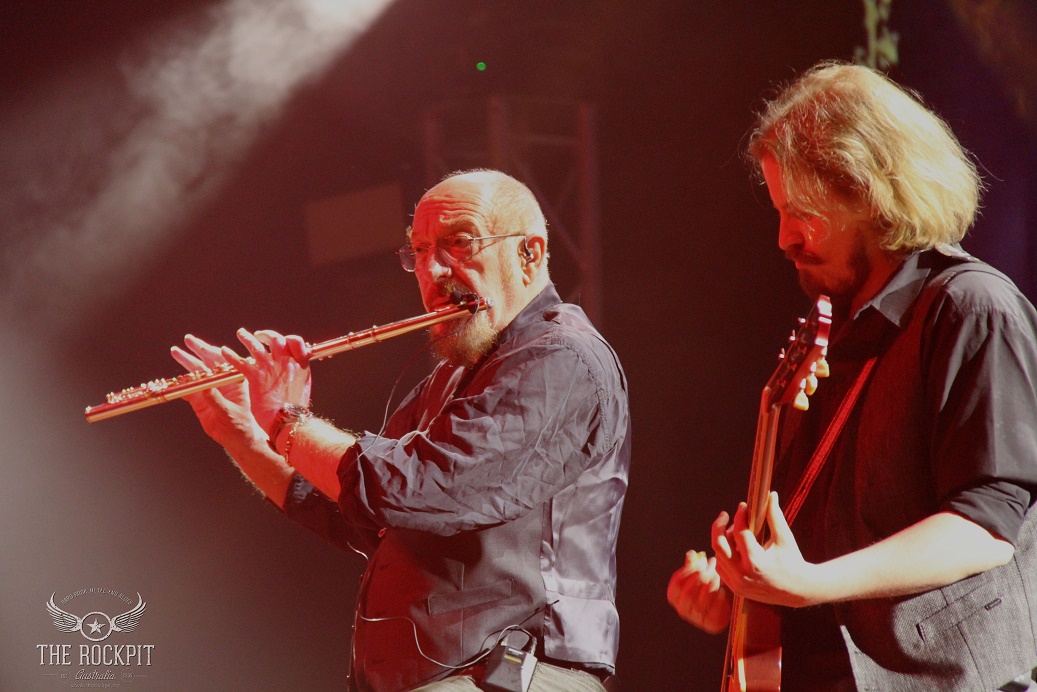 The good news for fans and casual acquaintances alike is that there's plenty of great and familiar Tull material tonight, indeed it's a great mix of venerable 'Greatest Hits' and a few lesser known or at least more recent  outings and the balance is just about perfect. Two songs in after as a formidable an opening as you could wish for in 'Living in the Past' and 'Nothing is Easy' Anderson greets us with the declaration that the band are 'five jetlagged souls', not that you would have guessed with such a frantic introduction.
Aside from the real classics tonight it's great to see Anderson dipping into his huge catalogue: of course we love the likes of 'Living in the Past' (which opens the set), and together with evergreen gems like 'Heavy Horses', 'Aqualung' (which closes the set proper and features a 'virtual' vocal from and 'Locomotive Breath' we tick the casual observer boxes swiftly.
There's an interesting aside after 'Heavy Horses' when Anderson regales the crowd of a tale of Tull's first visit to Australia in 1972, and the first question he was asked upon arrival was "Are you homosexuals?" he replied he wasn't sure. How times have changed.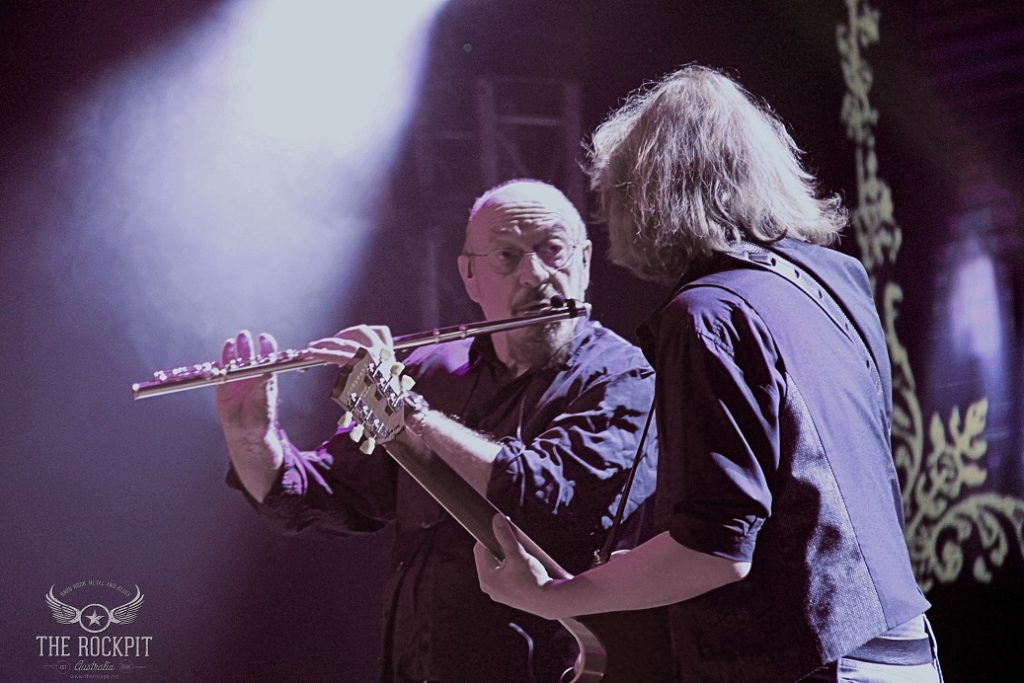 The temperature of the room raises though with the likes of seasoned Tull devotees favourites like 'Songs From the Wood', 'Jack-in-the-Green' (what a wonderful song that is), 'Dhama For One' and 'A New Day Yesterday' which really gets the blood pumping.
Throughout the set Anderson is less subdued that you might imagine for a man of "sixty nine and three quarters" as he tells us, and when he does venture to lift his leg in his trademark fashion it draws cheers and ripples of applause from the crowd. His soloing with the flute is simply sublime and he stalks the stage at times seemingly drinking in the music, ensuring it's just so, and at times tip-toeing as he does – again to warm applause.
Seeing a man like Ian Ansderson perform is a joy, he may not be the jaunty minstrel that danced and sprang around the stage a few decades ago, he may not wear his long coat and knee high boots these days either but he still has a prescence that's had to explian.  There's still somehow a certain jauntiness in his demenour that he just can't fully conceal. It's as if he gets as much joy out of the echoes of the past as his audience do, and that's why he's still such a compelling performer.
The rest of the band aren't slouches either and never put a foot wrong all  night, and collectively manage to really bring the music alive. And its the music that wins you over. Some may argue that the music of Jethro Tull is rather anachronistic, but I'd venture that its progressive nature and drawing, as it does, on the traditional – both Folk, Blues and Classical is far from old hat, and adventurous to the point that present day bands just can't comprehend let alone attempt. It's music steeped in tradition that transports the listener – and whether that's back to the 70's or even further in time really depends on your ear and your appreciation of the finer detail.
Despite performing for almost 50 years over the last few years Anderson has been supremely active both composing and performing. Let's hope we get many more visits from this iconic artist and true original. I for one am so glad I experienced this.
SETLIST:
Set 1: Living in the Past  | Nothing Is Easy | Heavy Horses | Thick as a Brick (excerpt) | Banker Bets, Banker Wins | Jack-in-the-Green | Bourrée (Johann Sebastian Bach cover)  | Farm on the Freeway | Songs From the Wood
Set 2: Sweet Dream | Pastime With Good Company (King Henry VIII of England cover)  | Fruits of Frankenfield (Ian Anderson)| Dharma for One | A New Day Yesterday | Toccata and Fugue in D Minor (Johann Sebastian Bach cover)  | My God | Aqualung
Encore: Locomotive Breath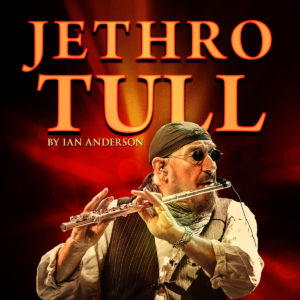 Ian Anderson Australia dates
April 11, Perth, Concert Hall
April 13, Melbourne, Hamer Hall
April 15, Sydney, State Theatre