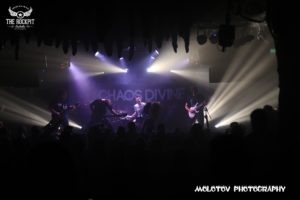 Being a fellow metal head & lover of the Perth Metal scene you'd be hard pressed not to have heard of local lads Chaos Divine and to celebrate the gents 10 years of service to the world of metal, they graced us with one of the finest evenings I've seen them play at a local level.
As you enter Badlands bar you are greeted by $5 happy hour drinks & music in the beer garden to which set the mood for the patrons for what was to be an epic night of metal & boganly shenanigans.
The first cab off the rank was the return of the mighty Defect Notice which saw bassist Rhett Ashby dressed as Duffman handing out beers to the audience and the rest of the band followed in dress accordingly. For a band that hasn't played in many years they were able to engage the crowd with their tight grooves, crushing blasts and sheer comical performance that set a solid pace for what was to come during the night. Their set included guest performances from Chaos Divine & Ex Devour the Martyr members to add further brutality to the already mosh worthy tracks.
Following on from Defect Notice were the local legends Forstora, who need no instruction on directing a crown of half liquored up mosh happy Perthians to keep the air warm & mood intense. They certainly did not disappoint and as per usual their crowd engagement was paramount and suitable to get the warming of the necks occurring.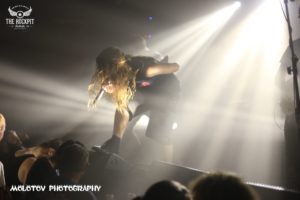 Now with 2 acts down and increasing crowd attendance which saw almost every inch of Badlands covered, stepped up the acclaimed Tempest Rising and from track 1 they meant business. These lads had a job to do and delivered with vocalist Vin Trikeriotis running through the heavy crowd screaming in their faces to give every punter a close up taste. These guys work hard and it's not hard to see why they were awarded the task of seeing in one of the most acclaimed Heavy Aussie acts Chaos Divine.
The mood has been set, the audience was beyond amped and it was a perfect time to enter the 10 year anniversary of what everyone was there to celebrate, Chaos Divine & their 10 Years of Chaos. To the delight of many of the local fans they wound back the clock and gave us a couple tracks from their debut EP 'Ratio' and believe me when I say this ignited the evening from a turbo 6 cylinder Ford into a raging fire breathing supercharged  V8 Holden. There were bodies flying everywhere and mini circle pits and for a set that was to last for just over an hour, the intensity did not let up for 1 second. Flawless vocals from Dave Anderton and crushing riffs from Ryan Felton were on par for an internationally successful band that had reached a 10 year milestone. The lads were simply breathtaking and the crowd had smiles from ear to ear as they swept us through their catalogue of hits and mesmerizing song structures.
As Chaos Divine closed for the evening, the crowd was satisfied with what they had witnessed, which was an end to end destruction of necks, ear drums and livers. A special 'horns up' to the staff at Badlands bar for hosting such a successful evening that went so seamlessly.  I certainly look forward to seeing what the boys come up with next and here's to another 10 years of Chaos for the Perth local legends Chaos Divine.
Review by Matt Ellis
PHOTO GALLERY
Photos by Tammie Molotov – Molotov Enterprises And Photography