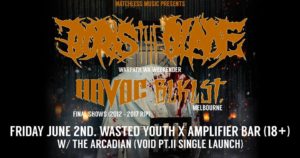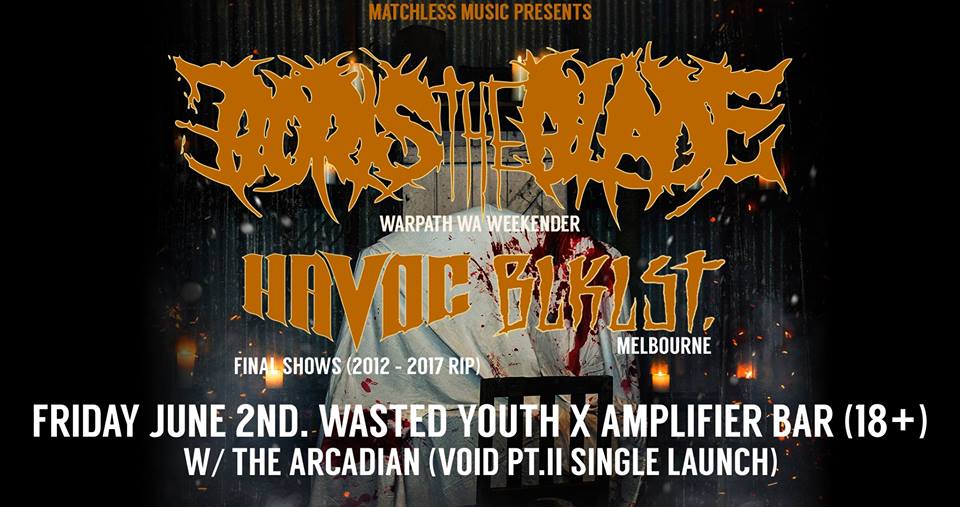 Melbourne deathcore stalwarts Boris The Blade returned to Perth on Friday night for some metal action along with fellow Melbourne buddies BLKLST and Perth's own Havoc and The Arcadian. It was a prelude to what the rest of Australia can expect as they kick off a tour with Aversions Crown next week.
Tonight it was Perth's turn for some home grown heaviness with the mighty Boris The Blade ready to rip the Amplifier Bar in half! The Arcadian opened proceedings to a very small hand full of people with very little fanfare, the band gave everything they had blending heavy/hardcore with some serious shredding guitars and hellish vocals. Certainly a great way to kick off, well worth checking out.
Next up on stage was the suprise package of the night for me BLKLST. Now go write down this name, memorize it, do what ever you have to do to check these guys out. The best way I can describe this band is as follows: the frontman Josh Westwick is a combination of early Jonathan Davis from Korn, Corey Taylor from Slipknot and a touch of Chino Moreno from the Deftones with a stage presence that would leave most people shaking. With pure unadulterated pissed off energy, jumping off the stage up in people's faces, it was the equivalent of witnessing an exorcism! Sounds far fetched I know but very true! The rest of the guys in this band did a stellar job, also of particular note was the drum tone which for some reason it took me back to "Life Is Peachy" era Korn, I for one am looking forward to seeing this band again.
Next up for the final time ever Perth's very own Havoc took to the stage with their take on metalcore/hardcore. These guys really packed a serious punch looking every bit as engaged and making the most of this performance with a blend of crunchy guitar riffs, snappy vocals and anthemic choruses.  These guys went out in a blaze of glory and it was a privilege to see front man Mitch Harding close out the set with a dedication to his late sister with "Forever In Our Hearts", a fitting way to close a musical chapter.
The main event has arrived Boris The Blade take to the stage! Two words to sum this band up –  evil and relentless. If you want to talk about an evil stage presence then frontman Daniel Sharp has your measure in absolute spades, before even beginning the set he was spitting water in the air like a raging bull. Utter annihilation was to follow slaying the now assembled masses with tracks like Back Stabber, Warpath, and like wolves everything about this band is tight and professional as they come. Karl Steller on drums and Camerin Eyre on guitar is a force to be reckoned with not to mention the sonic boom that occurred when Coby Chatz hit with the bass. Undoubtedly there will be some ringing ears in Perth today and with good reason, they got a real  work out!
Also I wanted to mention all these bands richly deserve all of our support so without you who is reading this they don't exist so come down have a beer and support your local scene as much and as often as possible. Cheers!
Special thanks to Matchless Music Australia and Wasted Youth
Catch Boris The Blade at the following tour dates around Australia
June 3rd – YMCA HQ, Leederville. Tickets here
June 8 – The Small Ballroom, Newcastle. Tickets at http://bit.ly/2ldqv4Z
June 9 – The Factory, Sydney. Tickets at http://bit.ly/2kbFU4E
June 10 – Crowbar, Brisbane. Tickets at http://bit.ly/2kDsXnP
June 15 – The Basement, Canberra. Tickets at http://bit.ly/2ldwrem
June 16 – Enigma Bar, Adelaide. Tickets at http://bit.ly/2ldwd68
June 17 – Workers Club, Melbourne. Tickets at http://bit.ly/2ldieND