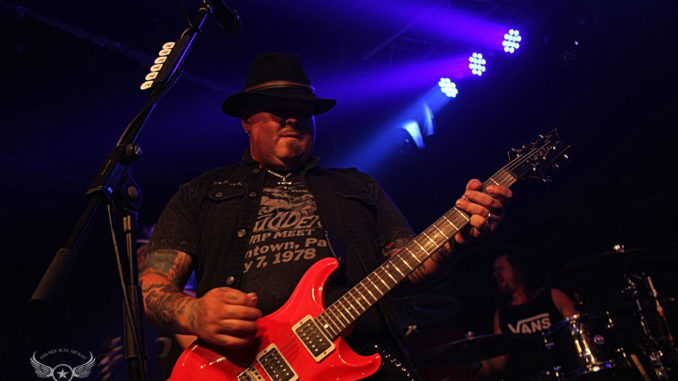 Some shows you know you're going to remember for a very long time, some shows you know you'll be counting the days till the band return: this was one of those shows. Black Stone Cherry's First headlining Tour of Australia ended tonight in Perth on a huge high and everyone in the house was hoping that they'll make it back here again soon.
On a Monday night before ANZAC day the crowd at Perth's Capital theatre was a vocal one and people in the room had flown in from as far away as the UK to see Kentucky's finest in a more intimate setting than you might get anywhere else in the world.
Tonight's  support came from the rather fine Blues Rock combo 'Chase the Sun' who did a rather excellent job of warming up the crowd with a fiery take on the Blues, and they certainly looked like a band most of the patrons would be keen to see over again in their own right.
The main attraction of course was Black Stone Cherry and the final night of their first "4 dates in 5 days" headlining tour of Australia. With Kentucky, their latest album  just a year old and memories of their excellent support slot for Steel Panther younger still a lot of those in the room could scarcely believe it when they hit the stage, sauntering on in Darkness and breaking out 'Devil's Queen' from the excellent Folklore and Superstition' album. And from then on in it's a non-stop night of rock and roll from a band at the peak of their powers and ably backed by a crowd who seem to know all the words to all the songs.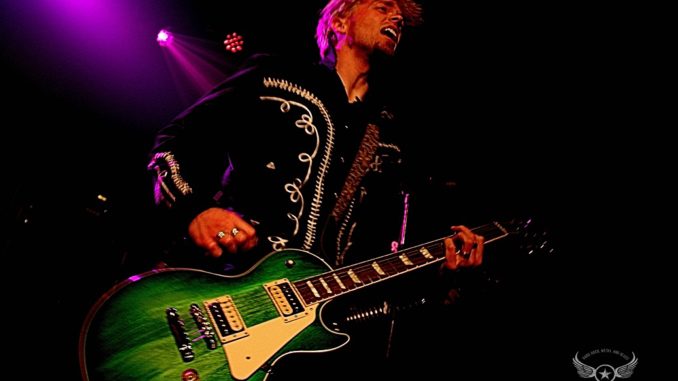 Finding as setlist for a new market has to be the hardest task in the world – after all Australia has five albums to catch up on, but what we got was a great mix of cuts from the new album, plenty of classics and some fiery covers thrown in. It was the perfect balance and even included a song 'Black Woods Gold' the band hadn't played in two years due to some very vocal pleading between songs by a die hard fan.
Seeing Black Stone Cherry live especially in a small club like Capitol is a real treat, my UK family and friends will be incredulous that for most of the show I was inches away from the band. Watching Chris bend those strings was a real treat and a great lesson that I'll try and put into my own playing; indeed Chris is a revelation as a guitarist holding down the mic whilst sharing solos and the antithesis of Ben – all fire and brimstone and guitar held aloft while running to stage like his life depends on it. Equally impressive though are the rhythm section – Jon rather like John Deacon or John Paul Jones holds it all together with such style I found myself in awe. It's John Fred though behind those drums that really sets it alight – the Bonham of his age – we were even treated to a drum solo that kept the crowd's attention, which is no mean feat.
The set of course is astounding from the best of Kentucky through the real sing along crowd pleasers like 'Me and Mary Jane' and 'Blame it on the Boom Boom' through some inspired covers like 'Whole Lotta Love' and 'Built For Comfort' and some tender moments like 'Things my Father said' and a wonderful acoustic rendition of 'The Rambler' which are a couple of the real highlights.
Best of all? It's impossible to pick – the whole night feels like to goes in a blur but we get a 20 song set that doesn't let up – maybe it's 'The Rambler' stripped back and acoustic? Maybe its Chris and Ben playing the final encore 'Voodoo Chile' with their guitars aloft and behind their heads? Maybe it's the crunch of 'Lonely Train' one of the songs where it all began? Maybe it's the fact that we got to see one of the very best Rock bands in the world today in a small club in Perth on a Monday night with no work tomorrow.
If you thought that Rock was dead, even for an instant, come and see Black Stone Cherry bring it to life again right in front of your eyes…
PHOTO GALLERY