The 
Seventies was of course the best decade for music ever, when even the bad stuff was good and all of the really important forms of popular music either burned briefly and died or were given birth. Seventies Glam was a peculiarly British thing and whilst the Bay City Rollers were really far more Pop than Glam, they did coincide with the likes of The Sweet, Slade, Marc Bolan and David Bowie. If you were a kid in the 70's then you loved the Rollers and looking around the packed Astor Theatre tonight (after a sellout on Friday) you know that most of the crowd in attendance are here to feel like kids again for the evening and to recapture some of that misspent youth!   
Sadly no one told the support act we were having a 70's night and that the mood was set to P.A.R.T.Y. if they had we might not have been subjected to half an hour of mildly inoffensive covers and really rather morose and even depressing original material. If you looked out into the sea of tartan and Scottish flags, looked at the fun people were having then the last thing you wanted was slow tempo breakup songs, self-absorbed lyrics and to cap it all we get a Zutons song 'Valerie' attributed to Amy Winehouse (who didn't even do the first cover version) and an Adele snooze fest to close. 
Pop gloom has a time and a place I'm sure and some of the crowd appeared to appreciate it but as Perth has it's very own Slade cover band I think they missed a trick there.  No offense to Bloom who had a lovely voice, but really there's a time and a place and I like to know in advance when I'm going to be subjected to something like that. Bloom did admit that 'She made someone cry on Friday' and I just nodded my head, I could well believe it.
Maybe the whole idea was to get you all depressed ready for the Rollers? From the moment the band took the stage they owned the Astor and whilst I've seen the odd few shows there where the standing crowd has been ushered back to their seats as soon as the lights went down the front of the stage was instantly transformed into a tartan-sporting, flag-waving sea of middle-aged women! And it was far scarier than a seething mosh-pit at a Metal show our photographer informed me later! 
Tonight of course is all about the memories and we're dealt them in spades from the off, as a grinning Les surveys another packed house and launches into 'Summer Love Sensation' and the classic Dusty Springfield Cover 'I Only Want to be With You'. It's hard to know if some are crying or smiling but there's certainly tears and a seismic wave of singing from the crowd who move and chant and wave as one. It actually does feel a little like it must have done 40 odd years ago!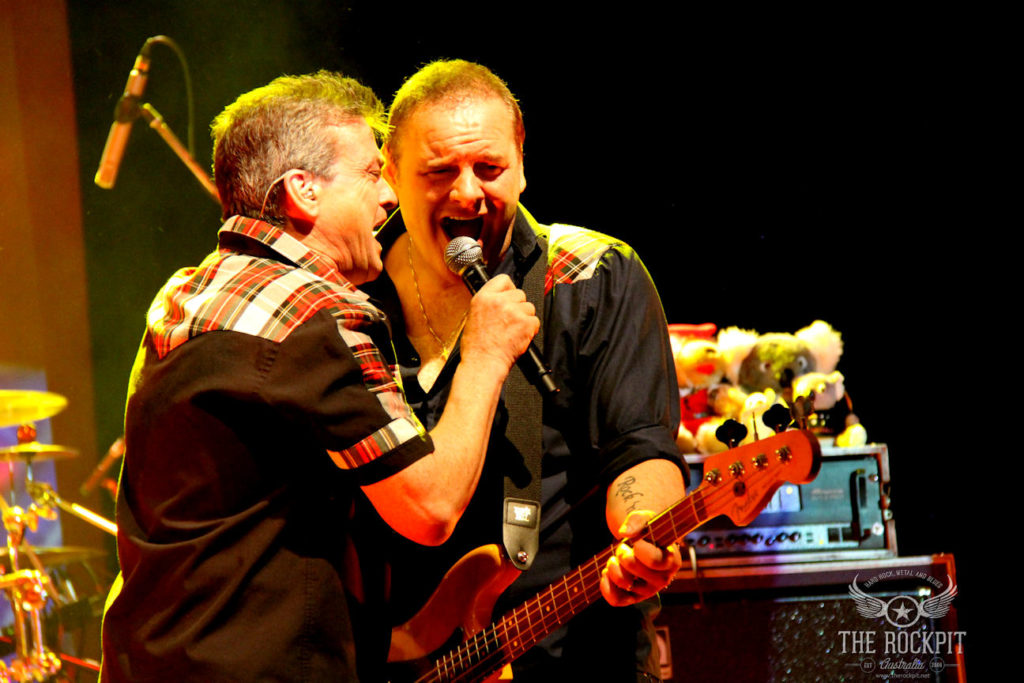 And the classics keep coming with the Ronettes' evergreen 'Be My Baby' threatening to raise the roof and the band giving it everything including the kitchen sink, you could tell these guys were seasoned pros including the drummer who may well have been the youngest person in the room tonight.
'Give a Little Love' saw plenty of tartan, with fans arm in arm swaying and swinging their Scottish flags as Les raised his mic along with the guitar and bass to close the song. I wondered how you could top that as Les introduced the band – the bassist Si  a 28 year veteran meaning he's served longer than any of the original band excluding Les himself. Les of course got a rather large ovation before introducing the very first Bay City Rollers single (an Avanti's cover from 1963) – 'Keep on Dancing' a song that predated Les joining the band. You could almost feel the 'proto rock n roll' sound that the Rollers' appropriated and made more sophisticated over the years but the reason it might not have hit even greater heights was surely the chorus we commanded we: "keep on dancing and a prancing". And indeed the crowd went wild!
The novelty dance hit 'The Bump' came next with its 'clap along' refrain and brings with it a sudden flashback of childhood birthday parties; whilst next up we get a taste of Les' latest album 'Lost songs' which is made up of songs he'd composed between 1974 and 1976 and if 'Beautiful' the single from that album was anything to go by it then it does certainly have that 70's swing to it. It also got a roaring approval from the crowd both before and after. 
"We were gonna do 'Please Stay' next Les tells us,  but everyone cried so we're doing 'The Way I Feel Tonight'" it is of course a little disingenuous as 'The Way I Feel Tonight' is an equally tear-wrenching slow ballad. Scarfs are firmly hoisted in the air for that one and indeed it's not a million miles away from the sound of those huge 80's arena-filling power ballads.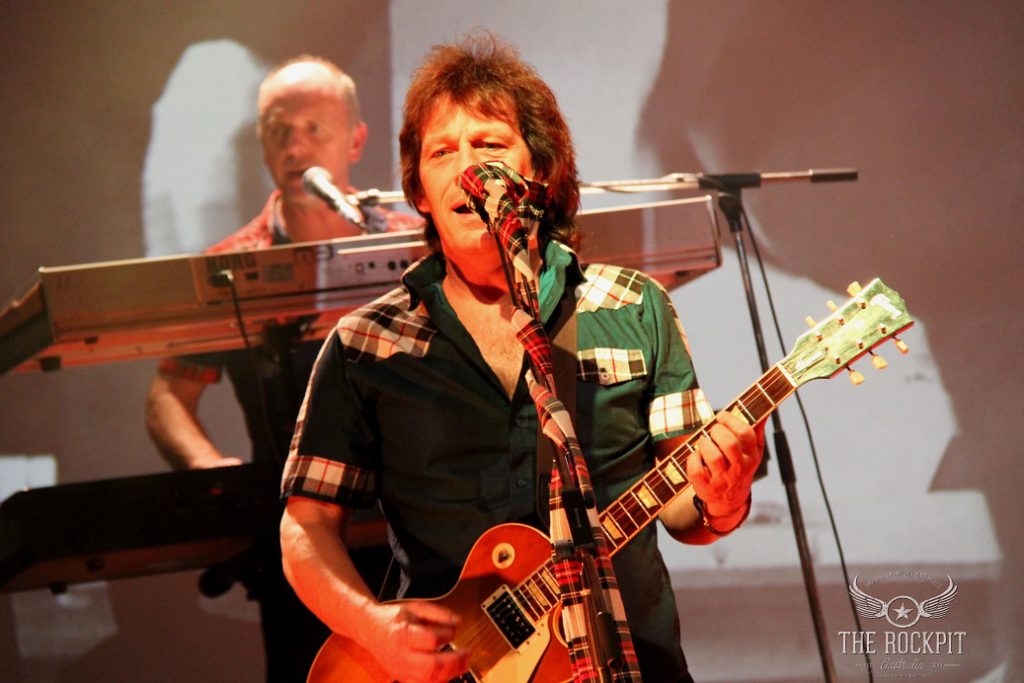 'Saturday Night' The Roller's only US no.1 launches a huge sing-along with the crowd adding the S.A.T.U.R.D.A.Y. in time-honoured fashion then it's a sweeping guitar that launches us into a rousing 'Bonnie Banks o' Loch Lomond' surely the most emotional Scottish song ever and here beautifully free of bagpipe. Starting out slow its at a frenetic almost punk-like pace by the end and the crowd is singing and clapping for all they are worth. 
One of the nicest touches of the night and one that puts the music of the Bay City rollers into context is the tribute to all those fallen 70's heroes, or as Les puts it: 'A medley from that great concert in the sky'. 'Bohemian Rhapsody' starts us out with the crowd taking the lead vocal before we run through Bolan's '20th Century Boy'; The Sweet's 'Blockbuster'; Alvin Stardust's 'My Coo Ca Choo' (with all guitars and Les lined up); 'Tiger Feet' by Mud and Bowie's 'Rebel Rebel' before we close again with Queen. Man, it's heart wrenching to think of who we've lost and indeed both I and Les are genuinely moved by the end of that wonderful seven minutes or so.
It's hard to catch a breath after that but the show rolls on with 'Remember': the first song Les sang with the Rollers and the John Paul Young song 'Yesterday's Hero' and then it's "Thanks to the people of Perth" before that most Glam of all the Rollers songs – and one of their finest – 'Shang a Lang' Hold on a minute I think and the crowd understandably chants "We want MORE, we want MORE" – where's 'All of Me Loves All of You'?
But the encore comes without that song, though it does begin with a nice a Capella snippet of the Righteous Brothers' 'You've Lost That Loving Feeling' before the final song – that glorious cover of the Four Seasons' classic 'Bye Bye Baby'.
I have only one disappointment tonight and that's there was no 'All of Me Loves All of You' one of the finest Rollers songs ever. But even though it's a personal favourites I can forgive it because tonight was one of those nights that rekindles your belief that music can bring people together  or if you don't want to get that soppy about it ask yourself "What can be wrong about getting to dress up and act like a kid again for two hours?"
The Bay City Rollers is an excellent night's entertainment!
And if you enjoyed that don't forget to check out our recent interview with Les himself. I've no doubt after a run of shows like They've had in Australia they'll be back sooner rather than later.