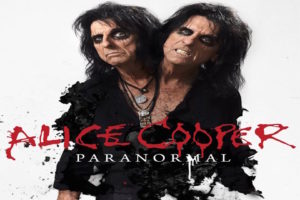 It's been six long years since we had a studio album from the legend that is Alice Cooper (which coincidentally that was the last time we got to speak to the man himself) and there's always a feeling of real anticipation that grips the office as the countdown begins to a new release.
"Paranormal", Alice Cooper's latest , is set for release on July 28th earMUSIC and not only do we get a spanking new 10 track album, we also get a very special bonus CD – containing two new songs written and recorded together with the original Alice Cooper band members Dennis Dunaway, drummer Neal Smith and guitarist Michael Bruce. If that wasn't enough then throw in the magical name of long-time collaborator Bob Ezrin AND… wait for it – a further 6 carefully selected live recordings. There is of course even more as "Paranormal" also features special guest appearances by U2's Larry Mullen Jr., ZZ Top's Billy Gibbons and Deep Purple's Roger Glover.
It begins with the title track 'Paranormal' and there's that 'vintage' feel to the opening bars and Cooper's initially softly spoken lyric. The guitars sound wonderful and as the track builds and passes through a sweeping breakdown and solo you begin to really feel this is going to be something truly special as it falls back on the acoustic refrain which brushes up against seeping electric chords before that soft lyric closes things. It's four minutes and eleven seconds of Cooper at his enigmatic best.
'Dead Flies' that follows is of course a typically Cooper-like title and one that will have old school fans like me recalling 'Halo of Flies' the majestic eight minute epic from what is still one of my favourite albums after all these years – 'Killer' (the fourth release by the Alice Cooper band). It's a song though that starts with a drilled drum and wailing guitar before a really funky groove that sees Cooper completely change pace to deliver a crisp fun and funky adrenaline hit that's almost the antithesis of that 'other song'.
'Fireball' the longest song here at just under five minutes is a harder rocker that builds a rolling groove and again captures a real vintage feel with Cooper's underplayed vocal contrasting beautifully against the driving riff and wailing guitar that undercuts it. It's another great track at is crying out to be  cranked up loud!
It's already looking "so far so good" and 'Paranoiac Personality' adds to that – it's a song driven by a thick bass line and Cooper's bitterly melodic lyric which is joined by a wailing guitar again to great effect: it's snappy, to the point and fun and these guitar parts are simply sublime.
'Fallen in Love' that follows has a swing to it and a blues-based riff that takes it all back to basics with a real rock and roller that you can't help tap along to as it sways and swaggers about the place.
'Dynamite Road' sets up a harder groove – a fiery rocker that sets itself up as the perfect road song, with a rolling shuffling beat and Cooper in full growl, he even adds a Johnny Cash style breakdown for good measure.
'Private Public Breakdown' follows with a clunky riff and Alice sounding very melodic as the band belts out an Arena-rock style roof-raiser before 'Holy Water' – a swing style number lightens things up in quirky style.
That leaves just 'Rats' a rip-roaring old times bluesy rocker and album closer 'The Sound of A' a cool slightly trippy almost Pink Floyd-like soundscape  to round out an extremely satisfying return for everyone's favourite rocking reprobate.
 OUR TAKE ON THE BONUS DISC OF ALICE COOPER BAND AND LIVE TRACKS
Over on disc two the two tracks by the original Alice Cooper band members and Alice aren't half bad either. Starting out with the tongue in check lyric of "Genuine American Girl" which has a garage almost surf rock sound, Alice and co. bring it all flooding back. Both tracks are lighter fare than you might imagine though and "You And All Of Your Friends" ups the 'Pop' quotient  with an earworm of a chorus that shows that old guys certainly can rock. If that's the initial 'toe in the water' of a potential more expansive collaboration I say do it Mr Cooper, do it!
The 'Live' tracks are of course as you might imagine are pristine and the selection spot on -marrying the real classics with a great version of the 80's monster hit – 'Feed My Frankenstein' – it might not be essential but it's the coolest way to round out this two disc return to form. God bless you Alice Cooper.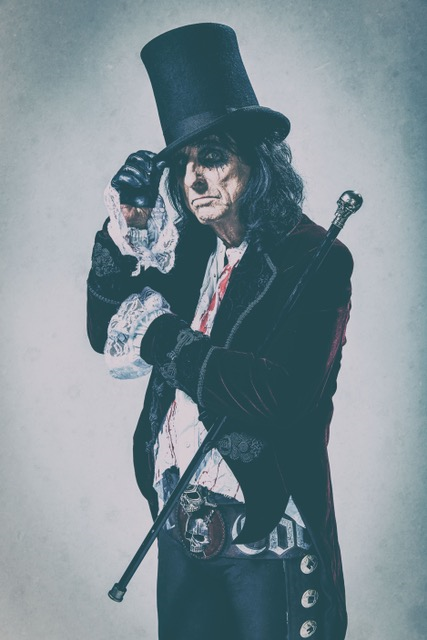 Alice Cooper will be touring Australia in October, celebrating the 40th Anniversary of his first Australian tour! Joining him is the one and only Ace Frehley.
TOUR DATES Tuesday, October 17: Perth Arena, Perth Thursday, October 19: Thebarton Theatre, Adelaide Friday, October 20: Rod Laver Arena, Melbourne Saturday, October 21: Hordern Pavilion, Sydney Monday, October 23: AIS Arena, Canberra Tuesday, October 24: Entertainment Centre, Newcastle Wednesday, October 25: Convention Centre, Brisbane
Presented by TEG Live
Tickets on sale now!
www.alicecooper.com  www.ear-music.net www.facebook.com/earMUSICofficial www.youtube.com/earMUSICofficial