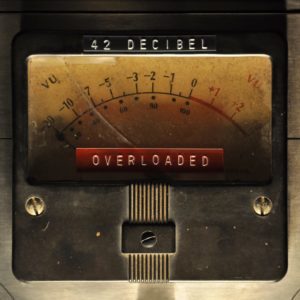 42 Decibel of course already have plenty of solid runs on the board: if you heard them before and liked what you heard then you'll love this. Blues based hard rock may well be one of the most overpopulated genres in Rock these days but it's also one of the most constantly rewarding to a modern day listener with plenty of bands out there globally making some beautiful noise in the AC/DC / Airbourne vein. 42 Decibel are one of those bands that just get it – they understand what the audience wants and deliver it hard and deliver it well.
With their impressive debut album 'Hard Rock 'n' Roll' (2013) and an equally impressive follow up 'Rolling In Town' (2015), Overloaded' is another winner and remarkable for its relentlessness and consistency. It's also notable here that they take that hard blues rock template from their first two releases and crank it up even further here.
Check out 'Whiskey Joint' the opener if you want to hear them really crank it up like Bon; or 'Brawler' if you wanna hear them drunk. If it's 12-Bar you want then it's 'Lost Cause' and if it's blues then its 'Roadkiller'. You've heard it all before but has that ever mattered if the music hits you in the sweet spot?