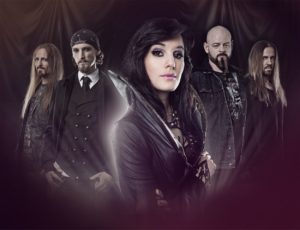 German Epic Symphonic Metal maestros Xandria have found lineup stability with singer Dianne van Giersbergen and are ready to take things to the next level with their seventh studio album Theater of Dimensions. We get a few words from bass guitarist Steven Wussow on the new songs and how the band are going.
Andrew: Congratulations on the new album, how does the band feel about how the songs have turned out?
Steven: We are really, really happy with "Theater Of Dimensions". But I guess that`s what everyone says  about his or her latest record, so if you ask me again in one or two years I might have something to  complain about or something that could have been done better, but for now it is the best record we have ever  done! [laughs].
Andrew: What kind of feedback have you been getting from the fans and press?
Steven: The response so far is more than overwhelming! We went in sales charts all over the world and it is  already the best received Xandria record so far. As I said we knew we had a great record with Theater Of  Dimensions, but the best record in the world doesn`t take you anywhere when no one wants to hear it. So I  would love to thank everyone who got the album for their support. We really, really appreciate that!
Andrew: Do you take notice of both positive and negative comments on your music and do you engage with fans  on social media?
Steven: Yes of course. It is not that I am googling after every review. We do get a press feedback by our  label and yes I do read the reviews there of course. But in the end WE have to be happy with the songs,  because only then the fans can  be happy with it too. And if the press people also like it? Well even better  [laughs]. And yes of course we do engage with our fans on our social media channels. We try to answer every  mail, though it is not that easy with the amount of mails we get. But we do our best! The fans are the  reason why we are allowed to do this, to lead this kind of life! So we try to give back as much as possible.
Andrew: How was the creative and recording process with Dianne van Giersbergen this time around?
Steven: Oh actually it is her 3rd release with Xandria, if you include the "Fire &A shes" EP. So we already  found our perfect way to work with each other. Compared to "Sacrificium", which was actually written for  Manuelas voice, we now had the chance to arrange the songs around and with the vocals. So everything fits  like glove. Custom made so to say! I guess on T.O.D. Dianne shows what she is really able to do with her  voice. "Sacrificum" and even "Fire & Ashes" were more or less appetizers vocalwise [laughs].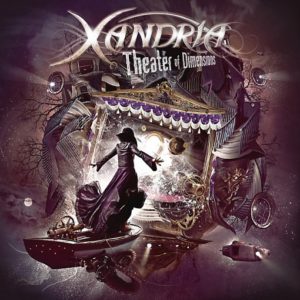 Andrew: Bjorn Strid from Soilwork makes a guest appearance on "We Are Murderers (We All)", what was it like  to work with him?
Steven: Hmm quite relaxed and unspectacular. We just asked, he said, 'Yes', we sent the files over to him  and he did a KILLER job! You know I am a huge Soilwork fan since "Natural Born Chaos" and now one of my  favourite singers sings on our new album, on one of my favourite tracks. How awesome is that?
Andrew: What were the main inspirations for the new songs? What generally inspires you to make new music?
Steven: Marco, our maestro, always collects ideas on his phone. So inspiration comes from everywhere and  everything. Whether it is something he sees on the news, a book he reads or something that is happening in  his private life. There is always a song or a melody in his head that he is trying to save somewhere to make  another song out of it. He is like a creative well that is never going to run dry [laughs].
Andrew: Your last tour was massive and the biggest in the bands career, did that have much of an impact on  the new album?
Steven: You know we did more than 150 shows all over the globe. From Europe to the USA to Asia, to Russia,  to India. We tried to soak up as much as possible from all those different and, for us, exotic cultures, all  those different people we have met. It was one hell of a ride! Hey, I spent more time with those 4 people  and our crew than with my friends and family at home. So you start to end the sentences of the others and  all that stuff. And that also happens musically. We found out what we can do the best, where our weak spots  and how to make the best album out of it.
Andrew: What do you have planned for touring in 2017? Can Australia expect to see you in the country?
Steven: Oh we would LOVE to come to Australia! Especially as Australia is the only continent we haven`t  played on so far. Logistically it is an absolute nightmare to make a full tour happen over there.
But, hey, "never say never"! If the offer would be there, I would be in! Definitly!
Andrew: What does a Xandria live show look and sound like? Is there a lot of production and theatrics or do  you focus primarily on the music?
Steven: Hmm I would say a good mixture of both. We always have a nice stage setup that goes hand in hand  with the latest album artwork and some nice light effects whenever possible. But live everything is a bit  more raw and edgy and Xandria is definitely a band that puts on a good Rock`n`Roll show. Sure otherwise you  could have stayed at home to listen to the CD, right?.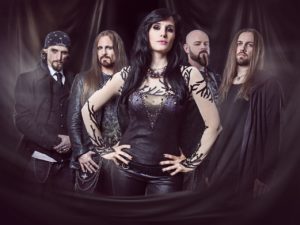 Andrew: Who are your main musical influences growing up and what inspired you to be in a band?
Steven: Oh my Dad always used to listen to Purple, the Stones and Springsteen. And I have a seven years  older brother and he introduced me to Hard Rock & Metal in the mid/late 80's. So I soaked it up with the  mother`s milk [laughs]. The moment when I knew that I wanted to play bass came during my first concert, Skid  Row in 1991. I saw Rachel Bolan, their bass player storm the stage and it hit me like a hammer! From that  moment on I knew what I wanted to be when I grow up, well if I ever do grow up [laughs].
Andrew: Can music change the world?
Steven: NO! But music can inspire people to change their opinion about life. And a new focus on life will  change a person. And this people can influence other people  to follow this way. And then, all those people  can have an effect on changing the world. So music is the spark to start the fire within the people that  have the possibility to change the world!
Andrew: What is your view on today's metal and rock bands and the state of the music industry?
Steven: Hmm the toughest question in the  rock 'n' roll universe. I guess I should now start to complain  about how shitty the whole business is nowadays, yes it is. It is hard to make everything work. But to be  honest I don`t know if it has ever been better. So we just keep going!
Andrew: If you could be a witness to the recording of any classic album in history, what would it be?
Steven: Oh there would be sooo many, Maybe Mötley Crües – Dr.Feelgood? One of the best productions in  history and a great band on its peak. Guess this would be interesting to see and experience that.
Andrew: What is the meaning of life?
Steven: Birth, Life, Rock`n`Roll, Death. It is as simple as that! So let us make the best out of it.
Get a copy of Theater Of Dimensions now at the link below:
www.nervegas.com.au