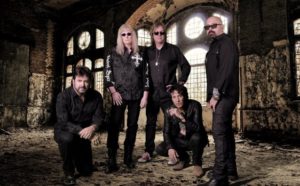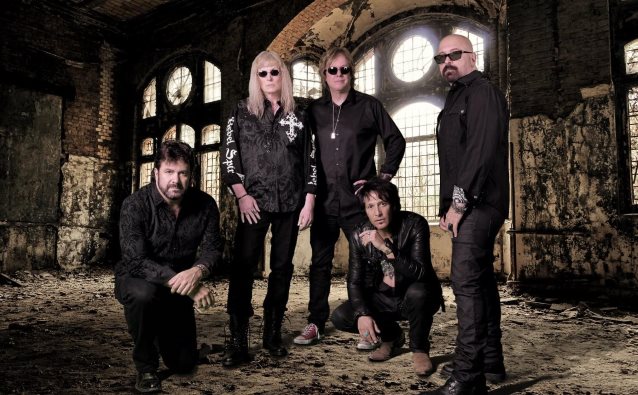 If you crave lush melodies, a golden voice and a swathe of great songs then you are probably already familiar with UNRULY CHILD, if not then welcome to one of the best bands in Melodic Rock in 2017. UNRULY CHILD's new album – 'CAN'T GO HOME' is out now…
Mark: Thank you so much for taking the time to talk to The Rockpit today Marcie, we've been listening to the new album for a few weeks now and I have to say if you love your Melodic Rock it's impossible to turn off.
Marcie: I'm so glad you like it
Mark: You must be so happy with how it sounds?
Marcie: It's amazing, it just makes you feel so good. I just love to sit in headphones and ay back and by the time it ends I just feel like I got off the 'Demon Drop' at the amusement park or something!
Mark: It is, it's such a feel-good album, it sounds like such happy music. So uplifting and hopeful, is that how it makes you feel?
Marcie: Yeah it makes you feel good, it makes your whole body vibrate!
Mark: It must be great again working with the original Unruly Child line-up?
Marcie: It's like working with your family, everyone is so close.
Mark: What was the writing process like this time, how do you put together an album like 'Can't Go Home'?
Marcie: Well when you work with two guys as talented as Bruce and Guy are and they're getting into this mode they get into you've just gotta step back and say "Go guys". They wrote everything on this record, it doesn't need any more cooks in that kitchen right now, as they do such a wonderful job and guy is so prolific when it comes to melodies and lyrics. So I just kind of stepped back, I didn't write anything on this record.
Mark: Is that hard not being part of that writing process?
Marcie: No, no, I don't have any ego about that. I've always thought of myself as being a team player and I'm more than happy to let someone else take the ball and run with it, because that makes the team so much stronger and everyone has a chance to score.
Mark: I know what you mean exactly. With you not being involved in the writing them, you should be able to let me know your favourite tracks to sing on?
Marcie: Wow, I have so many. Personal favourite just because of the way it makes me sound is probably 'Point of View', or maybe 'See if She Floats'… But every song is just so great individually. The first time I listened to the record mixed down I said to Bruce, "Oh my God, it's an album full of hits". Every song on its own could be a radio hit.
Mark: We've had some great songs released to us over here so far 'The Only One' was the first and just recently that final track "Someday Somehow" which has that faux-live feel. It really suits the song but what was the thinking behind that addition of 'audience noise'?
Marcie: I think the nature of the song lends itself to that, like when Journey were in their heyday touring with Steve Perry in front of huge crowds enjoying every night. That was the picture that song gave us and being able to appear like that in front of a live crowd would be so exciting.
Mark: And that brings me on nicely to my next question which is about touring: and the possibility of Unruly Child playing some live dates. I know that some of the bands that I've loved that you've been in – Signal and lesser so King Kobra didn't exactly play a lot of live dates, and Unruly Child back in the day probably only played a handful of dates. Are you likely to take Unruly Child out on the road in 2017?
Marcie: You know we all want to. Times have changed a little bit, for years I was working a job and Guy was out on the road constantly with The Doobie Brothers and Jay and Larry had their usual gigs and Bruce was doing his thing so it was hard for us to all get it together, but certainly we've always wanted to do it but it takes money you know. It takes promoters, scheduling, crew and we just haven't had that opportunity because where are our fans you know? (laughs) Where are they? I mean we've obviously got a few but that's not going to get us off the launch pad!
Mark: I think you hit the nail on the head, they are all over the place, I know there's more than a few Downunder, but they're in the UK, the US, Europe – all over the place. We should just tell Unruly Child fans to turn up at a particular location on a certain day!
Marcie: (laughs) and we'll have to get there with all of our equipment and road crew. It's hard when you don't have the backing and finances to do that. But we are going over to play a live show in Italy for the label (The Frontiers) we're going to record it and play our whole first record. So that will be made into a live DVD and so I guess fans will finally get to see us perform.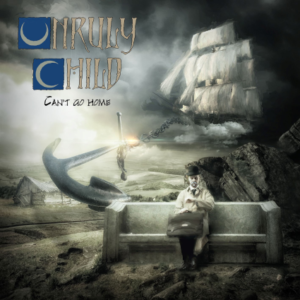 Mark: That's great news. I think one of my favourite live albums ever is the set you played with Signal at 'The Gods' (an excellent UK Festival that preceded Firefest) back in the nineties. That was the only time I ever saw you perform.
Marcie: Oh man, I wish that the original guys in Signal could have toured too! Before we broke up we did persuade the label to fund us to play four shows and we started in the East and made our way back West. But by the time we got to the fourth show we were really starting to click, man that band was so good, we just could have been scary good if we'd managed to stay together.
Mark: And I still love that album today. The other thing that has you on our radars at the moment are the re-releases of the first two King Kobra albums – 'Ready to Strike' and I guess the more Unruly Child sounding AOR of 'Thrill of a Lifetime'. How do you look back on those albums now as part of your musical history?
Marcie: Well I mean I'm proud of those records and being a part of that experience. I look back with fond memories, but at the same time I think it's a shame that were individual conflicts within the band that were too strong to keep us together. It's a shame, but we did do a lot of fun things that were very memorable for me and I still think of fondly today. I was grateful that we were able to get out on the road, and though it was grueling at times I'm glad we did that.
Mark: You started in music quite young. When did you decide that music was going to be your life? Was there a defining moment or did it kind of creep up on you?
Marcie: Well I wasn't that different from a lot of kids of that age who saw The Beatles on Sunday night on the Ed Sullivan show. We all wanted desperately to be famous and to be able to play guitar or drums or sing. Instantly every kid on my block started a band and everyone was playing an instrument. And it was no different for my circle of four or five friends, and for me it was always the drums! Drums were it for me, I always wanted to be a drummer. In my junior high school and high school years I got some drums and taught myself to play by listening to records and playing along. I just couldn't wait every day to run home the two miles from school and get home and play my drums for as long as I could before my Dad got home, because the minute he got home I had to stop playing. (laughs) He couldn't stand the noise! Then I started to get into bands and in the junior high school band all the high songs that the singer couldn't hit those notes were given to me, then after a while I was just the lead singer / drummer which is kinda difficult. To me it always seemed more appealing in a band to have a focal point – someone out front to talk to the audience and just walk the stage. Then after I left High school I was faced with reality: "OK kid what are you going to do – college and a degree or work, if you live here you can pay rent". I didn't know what to do, but as dad was the VP of the local bank he got me a job there, so I worked in the cash vault at Michigan National bank, at 18 I was supervisor in the cash vault. I did that for a couple of years until friends of mine who I was in bands with who now lived in another city 45 miles away, they called me one day and asked me to come down and play with them.
Marcie: I said I wasn't sure, I had no way of getting my drums don. But they said, no, they already had a drummer they just wanted me to sing. So I went down, I was a little insulted that they didn't want me to play drums (laughs) but we practiced and practiced and practiced and it was a real fun thing for me to do on the side. But they didn't all have jobs and had a promoter interested in booking them and they came to me and asked me if I was going to come with them or not. Well… I quit the bank and went with them and that was a big decision for me. I was 19 and I moved out of my parents' home, moved 50 miles away and we all got a band house together. We based ourselves out of Flint (MI) and played all over Michigan in different clubs night after night and that was our job for like 2 and a half years. About two and a half years later we were playing in our home town club and one of the ladies in the audience was a step-sister of one of the waitresses and during one of the breaks we were introduced. She lived in Las Vegas Nevada and she knew all these famous people and she wanted to manage me and move me out to Las Vegas and get me connected, but what she really wanted was for me to be her boyfriend. She was like ten years older than me so it wasn't that appealing to me, but I went out there and stayed in Vegas for four years and I did some music but then went back to a regular job, I got married, worked in a casino in the cage, back to working with money again! After four years my wife said "we've gotta move to L.A. Your destiny is in Los Angeles. And though I'd always felt that I didn't have the courage to go out there by myself so having here there with me was a good thing at that time, I needed someone with me and to help me get established out there. So that's what happened – we moved to Los Angeles in 1979 and three years later I met Carmine Appice.
Mark: … and that's where it all started with King Kobra, it's wonderful to hear that from you. Thank you so much for taking the time to talk to The Rockpit today. We traditionally close with two questions, the first is: If you could have been a 'fly on the wall' in the studio for the creation of any great album, what would it have been for you and why?
Marcie: I would have loved to have been there for King Crimson's 'In the Court of the Crimson King'. That album freaked me out – just everything from the artwork to the music – I can spend countless hours listening to that! Either that or 'Dark Side of the Moon' by Pink Floyd.
Mark: Two of Progressive Roc's finest. And the easy question we always close with: 'What is the meaning of life'?
Marcie: Hmmmm… life is to learn as much as you can, educate yourself and to be at one with nature.
Mark: A great answer. Thank you so much for your time today Marcie, it was great to be able to finally get to talk with one of my favourite vocalists, I hope we hear a lot more from you in the future and good luck with 'Can't Go Home'.
Marcie: Thank you Mark, thank you so much I've really enjoyed talking to you, give my love to everyone down there.