Over in Australia and New Zealand in May and June to provide the voice on 'The Music of Cream' Tour, the evergreen 'Voice of Rock' is back, indeed Glenn has never been busier.  With a fantastic solo release 'Resonate' out last year and a new Black Country Communion album recorded, there's this tour and the ongoing 'Kings of Chaos' supergroup.  Did we mention that he was also a member of Deep Purple MKIII and MKIV and was recently inducted with them into the Rock and Roll Hall of Fame?
The Rockpit: Good morning Glenn, and thank you so much for talking to The Rockpit today. How are you?
Glenn: Hey, I'm good thank you man. I just got back in the house; I was in Denver last night. How you doing?
The Rockpit: Very good thanks Glenn.
Glenn: I'm just a bit run ragged, I was in Denver last night, but I'm doing good..
The Rockpit: I saw you on stage last night playing 'American Woman' via the wonders of modern technology.
Glenn: Yeah, Eric (Church) is a good friend of mine and we've been talking for about ten, fifteen years about (laughs) working together and we just started having some fun, so long may that continue.
The Rockpit: You've got a lot on at the moment musically but let's start with the great news that has Australia rejoicing?
Glenn: Yeah, I'm really looking forward to coming back, I mean, how do I say this. It's a Country I had not been to, except of course in nineteen seventy five, and I didn't come back till maybe twelve years ago so it was a long time between visits for me. So when I returned twelve years ago I said "there's something here, something I can relate to, something that's in my blood here in this country" and I still don't know what it is but I feel a connection, I love the country I love the people and I love playing in Australia. And I don't say that everywhere I'm playing. So I'm glad to get another chance to visit.
The Rockpit: And we're glad to have you back. This time it's to celebrate the 50th Anniversary of Cream as part of 'The Music of Cream' show which hits our shores in May. How did you get involved in that project?
Glenn: Well Simon contacted me through Drew Thompson, as Jack Bruce was a really good friend of mine, hence the connection was there to call me and see if I'd come and do this with Malcolm (Bruce), and Kofi (Baker), and Will Johns (the son of Andy Johns -Led Zeppelin's studio engineer and Producer) who is Eric's (Clapton's) nephew. Andy was also a good friend of mine. So I started to think about the fiftieth anniversary and thought that there wouldn't be anything like this happening with the families of these guys, and remember Jack was a good friend of mine, a really good friend. And so for me to be asked to come in, and I am from the 60's and so I did learn how to play and sing around the Cream songs, this to me was the perfect opportunity to honour the legacy of Cream.
The Rockpit: It sounds like it's going to be a great night, and I'm sure it will sell really well.
Glenn: I hope so, today it's my first interview day and I just hope we can get out to as many people as we can and just let people know how special this band were. I know they're a band from the 60's so a lot of people unless they're of my age group might not be familiar with them, but Cream was not only great music, they were the first band, along with Hendrix, to really have that great flower-power vibe. Then you have Eric's amazing guitar playing, Jack's amazing voice and bass playing and Ginger's over-the-top drumming. I just feel really honoured to be part of that experience.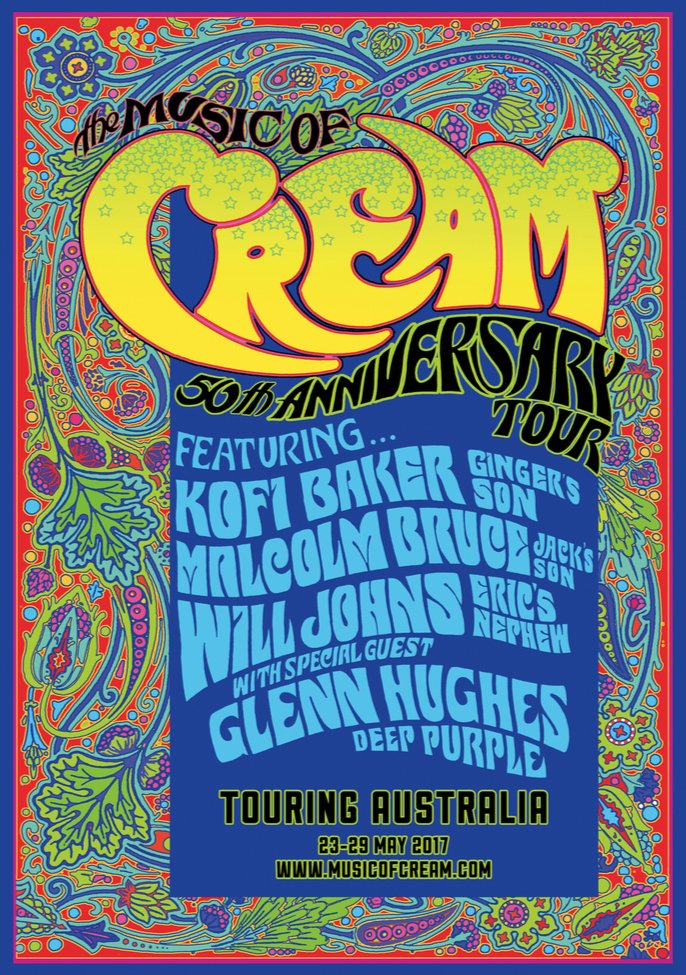 The Rockpit: Well we did have the 'Experience Hendrix' show over here last year and that sold well so I don't think people forget bands like Cream, and great music like that gets passed down the generations.
Glenn: I'm hoping it will be a great night. We're all coming over, we're gonna rehearse this and put on a great show, a great production, we're not just coming over to jam these things! We're going to make sure everything is right, and if it's got my name on it then I've got to make sure I show up and bring my 'game' because I don't want to be involved with anything that's not ready to go. So I'm really excited about that prospect.
The Rockpit: You've a lot of other things on the go at the minute too, I think you just finished the next Black Country Communion album?
Glenn: Yeah we just finished it two weeks ago. That comes out in September. There's so much going on in my life at the moment and so many new things I'm doing, and so many new people I'm working with that I'm so grateful that in this part of my life I am so busy. Maybe some people at my age don't want to be this busy but I've turned a corner in my life, I live a good healthy lifestyle and have done for a long time now so the key for me is to keep busy with the right people. I am still am hippie – I still live in that world so I love that nurturing environment, it's all still about 'peace and Love' for me.
The Rockpit: That's great to hear. Let's just catch up on the last few years then: there's a new Black Country Communion album in the can, an updated autobiography, solo shows, and the last time I caught you was in Sydney at the Stone Music Festival with Kings of Chaos.
Glenn: That's right, that was a great afternoon.
The Rockpit: Are you still an active member, for those that aren't aware Kings of Chaos has to be the biggest most super of supergroups playing great music from the 70's and 80's.
Glenn: Yeah, we go out again in July. The only problem with Kings of Chaos, and when I tell you this then you'll realise the solution, is there are so many A – Grade players in the band that have their own 'bands; – Joe Elliott is with Def Leppard; Steven Tyler is which Aerosmith, Duff is with Guns N Roses, and I could carry on, but it's difficult to plan a window. So we do it when that window opens and allows us all to be around and ready to go. There should be a lot more shows this year than there were last year, but July's when we'll get together again.
The Rockpit: You've also just put out last year your latest solo album 'Resonate' – now what a great album that was after a few years away from solo releases!
Glenn: Thank you people are saying it's my best work. When I went into the studio ten months ago I went in prepared with these songs, I wrote them in my studio in L.A. and I played them to my band and of course Chad Smith flew in to play on a couple of tracks. So for me I was all ready, going in the studio with everything ready to go so it only took a couple of weeks to record this album, very live and very organic. I don't write reviews of my own records that would be ridiculous but when people say this is Glenn's best work it's something that I'm very honoured to hear. It's getting a lot of nominations for various things so I'm pretty happy with it.
The Rockpit: I've been pretty happy with all of your recent work, I was very happy with 'California Breed' prior to that…
Glenn: Me too!
The Rockpit: But your best work? I'm not sure I love a lot of it for me yes maybe, or maybe the Hughes Thrall album from 1982?
Glenn: Hmmm, I think this is a wacky answer but Hughes Thrall has sold at least a million copies alone to musicians, every musician I meet has got this album, it's like a bible to a lot of musicians. So yeah it's a really good piece of work.
The Rockpit: With five minutes left, talking to Glenn Hughes my one dilemma is with a million questions what do I ask next!?
Glenn: Just talk to me, it's better to talk 'cause that way we get to know each other better and we'll feel comfortable.
The Rockpit: That's great because I did have some Football questions for later!
Glenn: Go for it!
The Rockpit: What is your take on Wolves this year? My dad's a huge fan and he'd want me to get your take on it. (Glenn is a passionate Wolverhampton Wanderers fan, and the club have had a difficult few years)
Glenn: Our club, my club, is, how can I put it, and you're English so you'll understand… Jack Heyward (Wolves sadly deceased former owner) was a friend of mine so I've been around the club and the board room for 25 years. But it seems to me, and you might understand this with your Dad being a supporter, that there's been some 'hoodoo' on the club. We've had so much bad luck and so much bad image, but we find ourselves now with the richest owner in English Football worth upwards of seventy billion pounds, and now we're buying players worth 15 million pounds. We've just won the last five in a row after a six game losing streak and now all of a sudden we're finding our feet so it would appear that we are alright, but we won't know for sure until next season. So it's a matter of getting this season out of the way. I kick every ball man! I kick every ball, whether I'm watching on TV, or listening on the radio, I kick every ball. I'm very much invested with my club!
The Rockpit: It's something that never goes away does it that love of your team, no matter what you do or where you are in the world?
Glenn: No it really doesn't and I've got a lot of fans that support other teams and they really fight between each other, but I never get involved in it. I never talk Football from the stage because that's dangerous territory! But I am a sporting man I do like to watch a good game of football. When I was in Sydney I went to see that other football, that huge pitch they have over there, you know the Aussie Football. And oh my God it was a helluva day. It's a huge pitch and as I say I'm a sportsman so I like to get involved in knowing other sports and that game is one I'm really interested in, it's pretty whacky!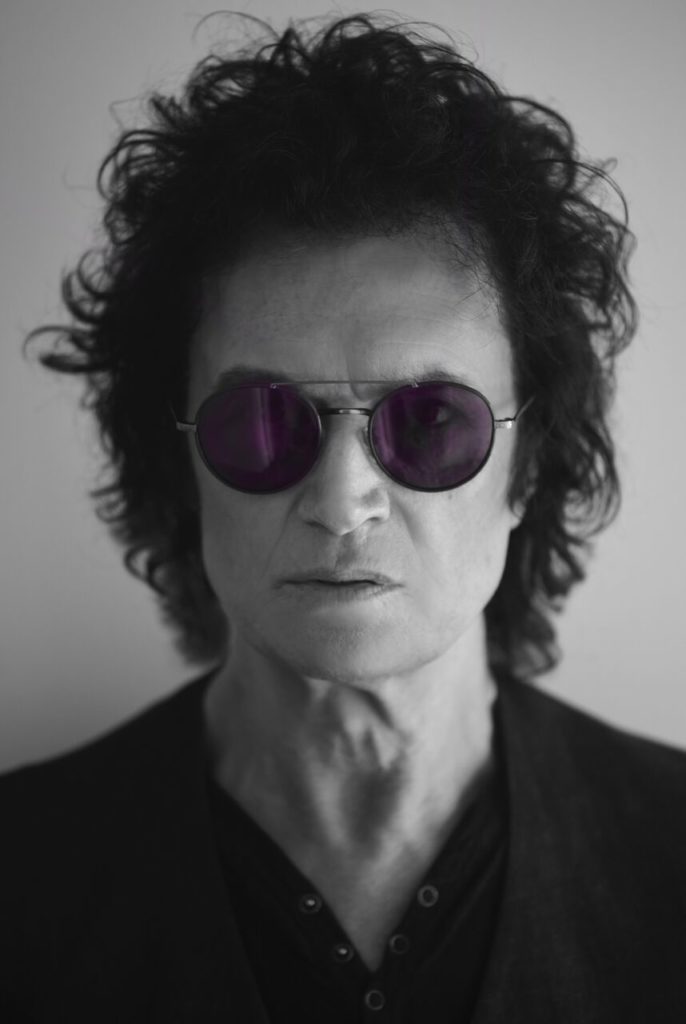 The Rockpit: Looking back now to Deep Purple – tell us how it felt to finally get inducted into the Rock and Roll Hall of Fame with them ? I know the US has a million Halls and Walks of Fame but it really is a big deal isn't it?
Glenn: It is, it's a huge deal because being in America the country that gave birth to Rock and Roll with people like Chuck Berry and all of that, the Rock and Roll Hall of fame is the greatest honour a Rock and Roller can get. Sure I know there's a Football Hall of Fame, a Baseball Hall of Fame, a Basketball Hall of Fame; but it was great to be a part of that, and it is something special.
The Rockpit: And finally to close – what is the meaning of life?
Glenn: … Sorry, I don't normally get asked that… Living life with love in your heart, living life to the full extent of what God has given you.
The Rockpit: That's wonderful; I always wanted to ask you that. Thanks you so much for talking to the Rockpit today. Stay safe and see you in Australia soon. So much we didn't get to ask…
Glenn: You're welcome, we'll talk again when I get over there.