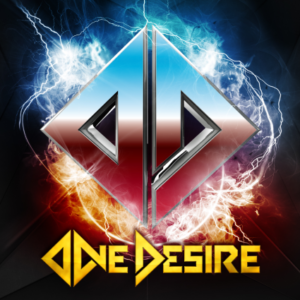 There's a certain Hard Rocking goodness that underlies the classy melodic rock of 'One Desire'. You might miss it on the slick opener 'Hurt' but it's there waiting to bust through on 'Apologize' that follows it. For  a band who professed they got together to "create music that could change the world" the most interesting thing initially is that you don't doubt them. This might not change the world but it is damned good and you can fee the passion and belief in every note.
As a new band there's a real maturity here – not maturity in any negative sense – more in the fact that this music is firmly rooted in classic melodic hard rock yet remains remarkably fresh and at times strikingly bold in outlook. The addition of a dab of metal and a layer of AOR smoothness is also just about the perfect balance.
One Desire – Hurt
So what's to like? Well it all comes down to the wonderfully crafted songs – from those two classy openers to the smooth and very ear-friendly 'Turn Back Time' and Whenever I'm Dreaming' or the first single 'Hurt' – in truth it's all remarkably good, driving stuff. There are variations though – there's the almost Power Metal feel of Buried Alive'
If you want to hear what they do at the lighter end of the scale then ballad 'This Is Where The Heartbreak Begins' will more than satisfy with its stripped back nature and amazing building vocal.
This is very good, so good it will take some beating not to be up there in contention with the best Melodic releases of the year.
ONE DESIRE
Jimmy Westerlund – guitars
André Linman – lead vocals
Ossi Sivula – drums
Jonas Kuhlberg – bass guitar