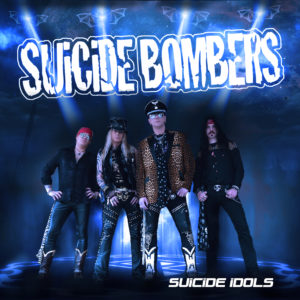 Welcome to the most explosive band in history – the Suicide Bombers, or at least that's what the 'intro' track 'A Divine Transmission' tells you after name-checking the impossibly Glam names of the band. As much as I dislike 'intros' there's plenty of balls on display by a band as distastefully named as you could imagine. And that my friends is a big part of the charm. Music should be the one area where we can put everything aside and either become connected or not .
In truth Suicide Bombers as you might expect aren't doing anything new. Bands have tried to shock since before these guys were born  and 'Suicide Idol' the title track that opens proceedings proper is 80's sleaze with modern day attitude, it's a more than decent introduction but it's the 'whole' that grabs you here rather than that first track. With gruff vocals and big guitars wedged on monumental melodies 'Suicide Idols' isn't the best Sleaze Rock album you've ever heard but it is some of the most fun this side of the millennium.
'Ready for Tonight' hits with a nice crunch and 'Next World War' plays all the right chords in the way they did back on The Strip almost 30 years ago now, and if at this point you've bought in, then for the rest of the album there's not a foot put wrong. Think of the feeling you got when the first Reckless Love album hit and imagine that these are the plainly more deviant, far more unwashed cousins and you get an idea of the sound. It's not classy, it's not big and clever but it is damn good fun.
'Never Gonna Change' has a nice mid-tempo aspect and the sort of sounds to make you sway, and the guitars shine; while 'We Got Tonight' ups the ante and goes for the back door to the party. After a few listens the sheer thrust of 'Keep an eye on You' makes it one of my favourites here, its just got the X-Factor that will have crowds lapping it up and singing along. Half way in I'm still being entertained and what more can you ask than that?
'Generation Kill' keeps the quality up but sadly doesn't really go anywhere after a promising start, the fact that it's still perfectly listenable tells you a lot about the quality here.   'Sex Star Icon' is far more brooding than the Glam mess the title suggests, and like a lot here it's a grittier side of Sleaze – less Poison, more Metallic, for the darker, broodier denizens of the City of Angels. It's altogether more Crashdiet, more  Hardcore Superstar, more Gemini 5 even than any 80's band  you might have in mind. Indeed as the band hail from Oslo rather than Hollywood you can imagine  them not only appreciating the old guard but also the new.
The album runs out with two of my personal favourites: 'Waiting' ups the melody and the Glam and works really well, a little more 'old school' than some here; while closer 'Just One Fuck' almost veers in Steel Panther territory and it does it with aplomb! It's a great rocker, maybe even the best here and rides a great chorus.
Suicide Bombers – a little like Faster Pussycat met Pretty Boy Floyd had a few bourbons and woke up 0 years later – it's not bad at all!
If you dig this then you better checkout 'Suicide Bombers' first two releases too. That's just what I'm about to do.