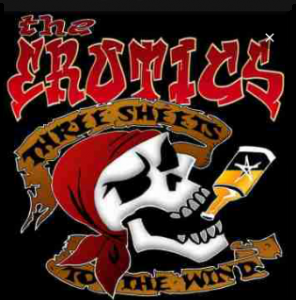 After the full Metal riffage that opens the title track of The Erotics' latest EP you have to step back for a second to appreciate that one of the world's Sleaziest bands has managed to do the impossible and take the sheen off the top of their already down and dirty sound and get even grittier and sleazier. It's an accomplishment to raise a barrage of glasses to!
'Three Sheets to the Wind' is gloriously sleazy and manages, like The Erotics always do, to raise a smile and bang a few heads.
'Last to Arrive First to Die' has a Dogs D'Amour meets New York Dolls crunch to it that just works so very well, and Mike's keen ear and eye for a great lyric as always elevate the song to a minor classic.
Closer 'Little Miss Miserable' takes the foot off the gas a little to get the barroom rocking and rolling. It's so catchy there will be a vaccination around soon I hear… It's also further proof that one of my favorite songwriters just gets better with age.
Of course three tracks from The Erotics is never enough, but a great way to end the year.
The Erotics harness an authentic sleaze, one that has real dirt under the fingernails, and takes the booze and sex rock and roll however it comes without the preening excesses of the Sunset Strip sound that eschewed real grime and dirt for, at times, disturbing gloss and glitter.
 There's none of that here, just real dirty down and out rock and roll, just the way it should be…