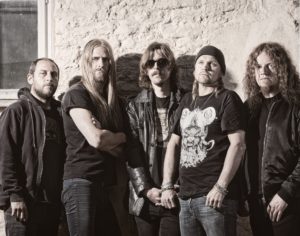 Swedish metal titans Opeth are returning to Australia for another headline tour which will also include a sold out show at the Sydney Opera House. With a new album out, "Sorceress" and a worldwide tour in support of it's release, we caught up with guitarist Fredrik Akesson to discuss all the latest with the band and the upcoming tour.
Andrew: So how's things with Opeth at the moment?
Fredrik: Well we had a bit of a break since we got off the European tour, we did an American tour before that so we've done about 41 shows and we've had about one and a half months break now and starting to prepare for the Australian tour and New Zealand show.
Andrew: Yeah we are looking forward to seeing you back in Australia. I guess it was only about a year or so ago that we last saw you in Australia.
Fredrik: Just a year is it?
Andrew: Yeah 2015 I think.
Fredrik: Oh excellent! Yeah it's always a pleasure to come down and have great support, we're really stoked about it. On this run we play [some different places] like Northridge and Fortitude Valley and of course playing the Opera House is a real big gig for us, like one of the biggest things you can do since it's such an iconic building. Yeah it's amazing.
Andrew: Yeah absolutely. There's not many bands that can say they have played at the Sydney Opera House so how does it feel to be playing at such a prestigious venue like that?
Fredrik: We feel honoured and we thank all the fans for buying all those tickets so quick and also great work from our promoter in Australia.
Andrew: Yeah and it's tied in with a couple of other shows around the world with London and New York and playing these cool and interesting venues, what was the idea behind that? Was that just a sort of promotion thing for the album?
Fredrik: Yeah in a way but also when we play Wembley in London which is iconic of course and also Radio City Music Hall in New York and also we did a show in L.A., we play a longer setlist as well. So those are special, almost 3 hours so we play an extended setlist with a compilation of songs from "Damnation" and "Deliverance" albums and some songs from those we never played live before. The show in Sydney is going to be the very last of that concept kind of thing. We try to play different venues every time we play in bigger cities like in London and New York and also you want to try and step up and play slightly bigger venues as well and we'll have bigger production out and all that, step up the game a little bit. It's also nice to frame it in a beautiful venue, it affects the show I think in a visual way.
Andrew: Yeah I can imagine so. Playing venues like that probably inspires you to step up your live shows I guess.
Fredrik: Yeah absolutely. We have to do something more, we have to bring out the stonehenge and all that stuff – No I was joking! It's challenging you know? But it's also very inspiring, like we will play Radio City Music Hall [which] is a beautiful venue and you look out and you have to pinch your arm after a while to focus on the show instead of looking like, 'Oh that looks nice'. So it's definitely inspiring.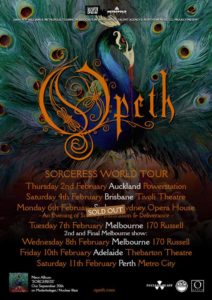 Andrew: From all the years that you have been in the band, what has been the coolest venue that you have played at so far?
Fredrik: I guess it has to be the Royal Albert Hall in London and I would say also Radio City Music Hall is one of my favorites. But also on this last tour we did up in Canada we played Massey Hall which was also a new place for us to play where Rush did their very first live album "Exit To Stage Left". So it's really fun to be able to play those kind of venues but one very different venue we played last was when we played in India up in Chennai, it was an outdoor kind of Amphitheatre built in stone and there was maybe 8000 people in there in the Jungle basically. So that was very exotic and diffeent.
Andrew: Oh wow! So it must be cool to be playing at all these different venues as musically you guys do a lot of different things to keep things fresh so your live show is a big part of keepng things interesting for yourself as well.
Fredrik: Absolutely! I forgot to mention another show we did on the Pale Communion tour we did, we played in Bulgaria with a symphony orchestra, outdoor in an ancient Roman amphitheatre which looked like it was going to fall apart actually and apparently Julius Caesar had been at that venue so it was very different. And also playing with a big choir and played all the songs like "Demon Of The Falen" with male and female choirs, it became really spooky sounding, it was pretty cool.
Andrew: Awesome! Well I'm jealous of all the people that will get to see you at the Opera House, I'm sure you guys will sound fantastic at that venue. As far as the setlist and all that kind of stuff, I know you mentioned about changing it up, can we expect the same at all the other Australian shows outside of the Opera House?
Fredrik: Yeah that's our main setlist, that's based around the Sydney gig as well. But we're going to give you a good show, we play at least 2 hours depending on how much we're going to start jamming and the way Mikael (Åkerfeldt, vocals/guitar) interacts with the crowd is different every night. It's basically the same songs but we want to focus on the new album "Scorceress" and we play 2 or 3 songs from that and apart from that we are going to try to play 1 song from each album. I believe we are actually playing 2 songs from "Ghost Reveries", it's a pretty heavy setlist. A lot of heavy stuff combined with the new stuff as well and we've picked the more heavier stuff from the later albums actually. We couldn't fit in any songs from the first 2 albums but I think it's a really good set and it feels good to come down to Australia and with 41 shows down we feel confident even though we have had a break now for one and half months. It's going to be 2 months total but it's going to be good to have that 41 shows in the back because when you start off a tour after an album cycle starts, it feels a bit like starting all over again so it's good to have that.
Andrew: When you have your break time during your spare time, do you do a lot of rehearsals and stuff or does that sort of come at the last minute before you go on tour again?
Fredrik: It's going to come up at the last minute because Martín Méndez our bass player lives in Barcelona, the rest of us is based in Stockholm, Sweden so he is going to fly up to us and we are going to have a few rehearsals right before we take off for Australia. But as soon as I get home I get up and start playing guitars and trying different amps, I had this Eddie Van Halen thing I had to learn "Eruption" properly sitting around nerding with that [laughs].
Andrew: [laughs] How is that song to play?
Fredrik: Well it's just guitar solos basically right? So it's just fun, I grew up listening to him and sometimes I get these ideas where I have to learn this song just for the hell of it.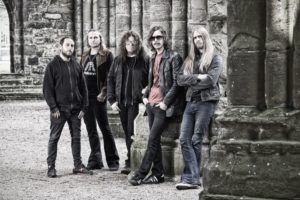 Andrew: Yeah it's a great song, I definitely love that one from Van Halen's back catalogue. Was he a big influence on your guitar playing?
Fredrik: Yeah absolutely! Eddie Van Halen, Frank Loreno, Ritchie Blackmore, Uli Jon Roth, Michael Schenker, Gary Moore and guys like that was kind of the early inspiration for me. And Yngwie Malmsteen absolutely, those were the early heroes. I probably forgot a few but there's so many of them but those are a few of the inspirations definitely.
Andrew: What do you think of Ritchie Blackmore's latest stuff, his solo thing?
Fredrik: The Blackmore Night's stuff I haven't really listened to all the albums but I really enjoyed the first one he did "Shadow Of The Moon". It was nice and he's a great acoustic player, maybe too much of the Renaissance stuff after a while but can be a bit samey but as I said I haven't heard all of the albums. I bet they are amazing but I did go see them live once and it was a very enjoyable show, he played it very good. Heard of a reunion of the Rainbow thing which I was a big fan of, the Rainbow era with Dio, that's kind of what I grew up with. It was one of the first hard rock stuff I started listening to so it's very iconic I think.
Andrew: Yeah and it's funny that with Opeth as a band who goes into a lot of different directions, I feel that with Ritchie Blackmore when he left Deep Purple and started doing a lot of different stuff that there is a little similarity as far as you guys always wanting to try and do different things. Do you ever feel that way with Ritchie Blackmore and your own guitar playing as well?
Fredrik: That's a cool comparisment. I believe we have a lot of those acoustic parts that he's interested in a way, all these kind of forresty, folk sounding parts. That's always been a big part of Opeth and maybe that doesnt have much to do with Ritchie Blackmore entirely but it's definitely in there but we still do the heavy stuff as well.
Andrew: Well we are looking forward to seeing you in Australia again, it's great to see you back so soon. Have fun at the Sydney Opera House, I'm sure it's going to be a great show so we will see you in a few weeks time!
Fredrik: Yeah we are really looking forward to it and we are very thankful for the great support from our Australian fans so excited to be coming back.
OPETH AUSTRALIAN TOUR 2017
Thursday 2nd – Auckland, Powerstation  (Sold Out)
Saturday 4th – Brisbane, Tivoli Theatre
Monday 6th – Sydney, Opera House- (Sold Out)
Tuesday 7th – Melbourne, 170 Russell  (Sold Out)
Wednesday 8th – Melbourne, 170 Russell
Friday 10th – Adelaide, Thebarton Theatre
Saturday 11th – Perth, Metro City