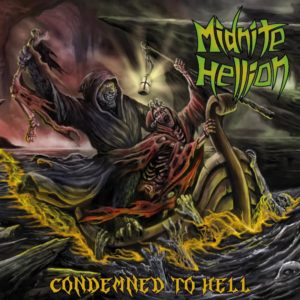 Heavy Metal trio MIDNITE HELLION are streaming "Cross the Line," a track from forthcoming album Condemned to Hell. Check it out exclusively at:
http://www.toiletovhell.com/track-premiere-midnite-hellion-cross-the-line/
Condemned to Hell will be released on September 15 through Witches Brew. Pre-order it and stream album tracks "Enter the Nightmare" and "Soldiers of Hades" at https://witchesbrewthrashes.bandcamp.com/album/condemned-to-hell
Blending a healthy mixture of Heavy Metal and Thrash Metal, MIDNITE HELLION creates an addictive, crushing sound, a combination as evident as ever on Condemned to Hell. Among the pure metal bliss is a tune called "Teenage Bloodsuckin Bimbos,' which will be the theme song for an upcoming B-movie of the same name. 

MIDNITE HELLION will play a Record Release show on September 17 at Sayreville, NJ's Starland Ballroom along with EXODUS, OBITUARY, POWER TRIP, and DUST BOLT. As it turns out, the gig comes five years and 10 months to the day of the band's first demo release show opening for OBITUARY.
Condemned to Hell Track Listing
:
1. Black and White
2. Death Dealer
3. Cross the Line
4. Enter the Nightmare
5. Soldiers of Hades
6. The Fever
7. Rip it Up
8. The Morrigan
9. Teenage Bloodsuckin' Bimbos
"Midnight Hellion, now ten years into their career as one of New Jersey's best thrash descendants, is here to riff away the doldrums of your daily life and crack open an ice cold can of kick ass."
 – Toilet ov Hell