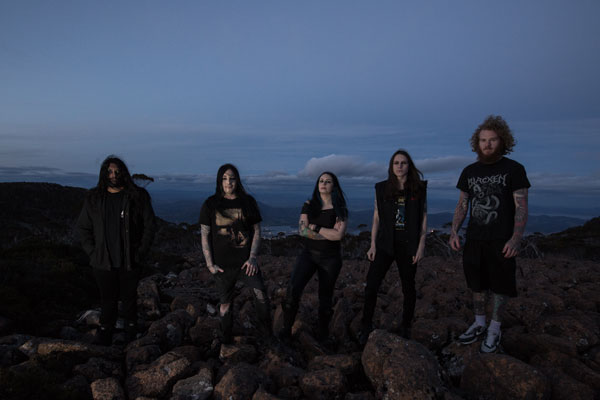 Perth, Australia's depressive black-metal dwellers Deadspace have dropped a new song from the band's forthcoming spilt-release with US ambient black-metal duo Happy Days titled "Glass Houses".
Featuring five Deadspace tracks, including a reworked recording of "Nostalgia, Like A Plague, She Rapes Me To Sleep', "Reaching For Silence" was mixed and mastered by Nish Raghavan and features guest vocals by Sam Dishington (Départe) and Mares Refalæða (Rise Of Avernus). The release date is scheduled for September 30th via Talheim Records and pre-orders are now available at this location.
"Reaching For Silence" track-listing:
1. Deadspace -Glass Houses
2. Deadspace – Flesh To Chew, Teeth To Swallow …
3. Deadspace – Phantom Limb
4. Deadspace – Epilogue
5. Deadspace – Nostalgia, Like A Plague, She R…
6. Happy Days – Y Cuando Encuentren Mi Cuerpo…
7. Happy Days – Soiled Flowers
8. Happy Days – Death Knows Best
9. Happy Days – Drowning
10. Happy Days – Schrei Schrei Mein Heim
Originally conceived in 2014 by Chris Gebauer (Earth Rot/Sensory Amusia) as an outlet for his continuous feelings of depression, Perth, Western Australia's Deadspace soon morphed into a tight unit of musicians from Perth's underground metal scene.
With the line-up now completed by Oliver Royer (Guitar/Vocals), Thomas Major (Guitar), Shelby Jansen (Bass/Vocals) and Zebadee Scott (Drums), Deadspace create a genuinely depressive and gloomy sound, characterised in equal parts by elements of black metal, death rock, goth and ambient music.
Based around the darker aspects of life like depression and suicide, the band released their debut album "The Promise of Oblivion" in 2015 to great critical acclaim, "Deadspace have succeeded in putting out some of the better depressive black metal I've heard in more recent times," stated AngryMetalGuy, while Meta Talk commend the album saying "'The Promise Of Oblivion' is a disturbingly addictive and moving listen. It's the most powerful album I have listened to in some time and the more I listen the more I love it."