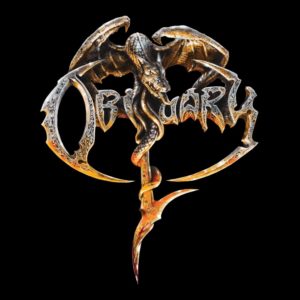 Obituary return with their 10th studio album, a self titled release that continues where "Inked In Blood"  left off. Containing 10 brand new tracks including "Ten Thousand Ways To Die" which was originally released  as a single in 2016. Here Obituary do what they do best, a slab of death metal incorporated thrash and  groove with a little doom to measure.
I do have to say that over the last couple of albums and on this release in particular, I feel the death  metal tag isn't as so obvious with Obituary. Sure there are more than enough elements of it to be heard like  on tracks like "End It Now" and "Kneel Before Me" but right out of the gate Obituary pretty much start this  album off with a more thrash metal feel which seems to be really where the style fits more. "Brave" is an  all out thrasher, there's just no question about it with it's fast pace and not so overly growly vocals.  It's also a little more old school than usual but whatever you want to call it, Obituary do it very well.  "Sentence day" again has an almost classic thrash feel, the solo alone screams early Metallica and Slayer  but then the album takes another direction with "Lesson In Vengeance" where it's more groove based, foot  stomper stuff but the solo? It kind of has an almost southern rock feel to it in a very roundabout way.  Again it works here and it's cool to hear that kind of thing in a traditional extreme metal band.
The tempo pretty much slows down about halfway through the tracks as the band begin to incorporate more  sludgier, doom elements along with a more obvious death metal style that they are known for. Aside from the  aforementioned tracks, groove and doom are the main pieces here; "It Lives" is a dark beast, "Betrayed" kind  of throws it down a few steps while "Turned To Stone" has some great dynamics with momentum picking up as  the song goes on.
Even with a few variations in style here, it's still first and foremost an Obituary album through and  through. John Tardy still sounds the same even if his vocals have gotten a little tamer over the years while   his brother and the rhythm section of the band keep things well inside their trademark sound. It's not  spectacularly fresh as far as extreme metal goes but it's enough to keep Obituary fans satisfied and  possibly pique the interest of those that never got into death metal.
TRACKLIST
Brave
Sentence Day
Lesson In Vengeance
End It Now
Kneel Before Me
It Lives
Betrayed
Turned To Stone
Straight To Hell
Ten Thousand Ways To Die