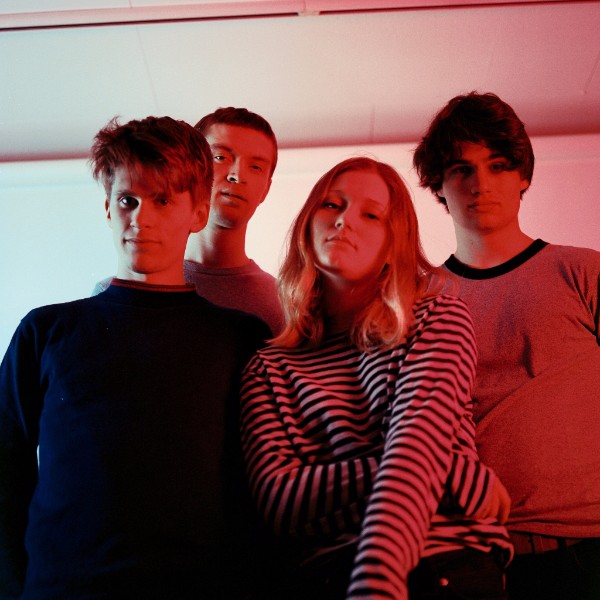 Norway's Sløtface today release their new single "Pitted" — a ferocious, spirited introvert's anthem about not wanting to go out, but having the greatest night when you do. 'Pitted' is the new single from their upcoming debut album Try Not To Freak Out due September 15 via Propeller Recordings / Caroline Australia.
"Pitted is our own little pep talk for getting out of the house when you would really prefer to stay in and chill on the couch" — the band explain. "No, not every night out is killer, but sometimes those nights make the best stories nd that song is full of good stories from bad nights out. Pitted is also the first song we've ever done with horns, so we're SUPER STOKED to release it. The trumpet is played by Norwegian jazz musician Simen Kiil Halvorsen."
Led by vocalist Haley Shea with guitarist Tor-Arne Vikingstad, bassist Lasse Lokøy and Halvard Skeie Wiencke on drums, with every move they make, Sløtface look to spin conventions on their head – with debut album, Try Not To Freak Out, set to follow suit.
Haley's forceful, firework-spitting punk slices through you with an immediacy and confidence of someone several records in. Whether it's a love song from an unexpected perspective or a critique on power and ego, the foursome's message and undeniably catchy riffs have inspired critics and fans across the globe.
The band's debut album, Try Not To Freak Out is nothing short of a massive rock record – one that weds the pop nous of Robyn and Blondie to the exuberant, freewheeling attack of bands like Joyce Manor and Little Big League. Guitars gleam, choruses soar, and Halvard's racing drums exude pure adrenaline. It's a record made for the height of summer, for punching a pillow, or for drowning out the rest of the world. And it's all the better for Sløtface's unique lyrical perspective; Haley's lyrics aren't explicitly gendered, but she transcends indie rock bravado and instead dismantles the patriarchal structures that hurt everyone.
2016 was a sensational year for Sløtface, between the two EP's released, they recieved full playlist adds on triple j for "Take Me Out Dancing", "Empire Records" and "Sponge State". To date, Sløtface have clocked up more than 6000 plays across international radio, including weekly spins from Annie Mac, Huw Stephens and Phil Taggart on BBC Radio 1 in the UK. Away from radio, the band are celebrated by the likes of The Guardian, Billboard, NME, Noisey, DIY Magazine, Kerrang! (where Shea was dubbed one of the "50 Greatest Rockstars In The World Right Now"), Rocksound, The Line Of Best Fit, Dork, CLRVYNT, Upset, CLASH, Consequence of Sound, alongside many others.
Before flying to Australia for headline shows in Sydney and Melbourne in September, the band recently completed two hugely successful UK runs with Los Campesinos! and The Cribs respectively – as well as 5 storming showcases at The Great Escape (not forgetting a memorable live karaoke party). The band are also set to play a whole host of European and international festivals over the summer, including Reading & Leeds (UK), Haldern Pop (DE), Best Kept Secret (NL), Latitude Festival (UK), Reeperbahn (DE), Art Rock Festival (FR) and more.
TRY NOT TO FREAK OUT
DEBUT ALBUM DUE SEPTEMBER 15
VIA PROPELLER RECORDINGS / CAROLINE AUSTRALIA
Pre-Order
AUSTRALIAN TOUR DATES
Wed 6th September – Oxford Art Factory, Sydney
Tickets available here
Thurs 7th September – Howler, Melbourne
Tickets available here